Tencent introducing microblogging gaming platform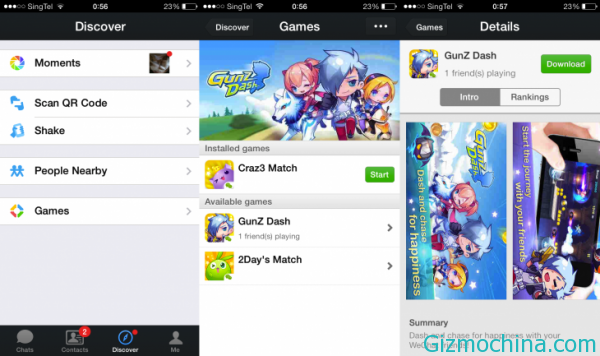 Tencent is the largest Internet company from China, Tencent spread to global market through WeChat apps, the Instant messaging services that available for any platform.

And after a long wait, Tencent has started to promote micro-channel gaming platform. Micro-channel "Game Center" that was place at Discover tab, the first on-line game has been available  such as "Craz3 Match", "Gunz Dash", and "2Day's Match".
Of course, as a social gaming platform, you can not only play the game for yourself, the game platform is also available to invite friends to join and expand the game experience.
Last year in August, Tencent has launch Game Center platform. In November, WeChat Game Center taking the pace of its overseas deployments in Hong Kong.
Even in China, Tencent and QQ has gained great success and those two micro-channel platforms has got a huge user base. Through these two platforms released 5 games in the three months to gather the 570 million registered users.
Of course, in the face of pleasing figures, it is necessary to maintain proper restraint and calm. According to a recent report from  a recent report from Chinese Android app Store Wandoujia – which Monitors Trends in China's Mobile Market based on its downloads – Noted that WePop , a game that SHOT to Popularity via WeChat, plummeted from its peak within One month, and Observed that "virality is no guarantee of retention.
Line is one of the major WeChat competitor from Japan is already facing communications service for about 300 million registered users worldwide which provide more than 30 games, and more than 200 million game has been download during September 2013.