Huawei HiSilicon Kirin920 specs is exposure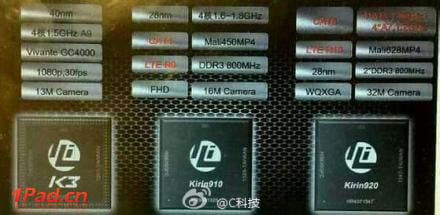 Huawei has launch their own mobile processor Huawei Hass HiSilicon for their own smart-devices, and now we have the new information that the Huawei has HiSilicon Kirin920 processor.

The new HiSilicon Kirin920 HiSilicon Kirin 920 clocked at 1.8Ghz, which will be a 8 core ARM big.LITTLE based microchip. Its said to be manufactured in 28nm architecture and there are 2 Cortex A15 and A7 quad core processors humming inside this single processor to make it 8 core.This processor will working to handle GSM/WCDMA/TDS/TD-LTE/FDD-LTE five-mode baseband.
And now we also has the information about the Huawei Hass eight-core more detailed information, will be able to determine with a 4-core A7 chipset, that's the quad-core A7, plus A15 plus big.LITTLE architecture.
The chipset is also support with  Mali 628Mp4 GPU, 28-nanometer process, dual-channel DDR3 memory, supports WQXGA (2,560 x 1,600) resolution and 32 megapixel pixels camera.
The first mobile device that ready to powered by Kirin Kirin920 processor will be available in September, and it's seems the K3V3 will be ended production and Huawei is focus tho Kirin processor.