Eton P1 Smartphone, packs with 3000 mAh battery capacity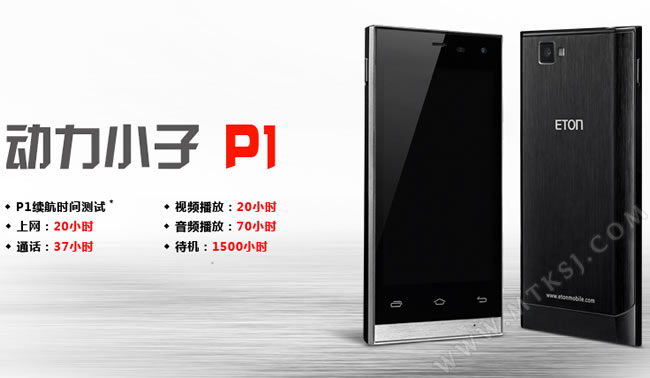 Smartphone is more powerfull today, but the battery life is becoming poor, that;s why so many manufacturer is increasing their battery capacity in their products.

One of Chinese smartphone manufacturer, Eton, has just kaunch their new smartphone, he Eton P1 Android smartphone. The phone has packs with 4 inch screen size and has 126.2 x 64 x 9.9mm body dimension, the battery capacity is powered by 3,000 mAh.
While it's phone is powered by  low-power MTK6572 dual-core processor, and there is a low-powere saving mode button for quickly enter a power saving mode; this phone is also has OTG charging for other devices and quick charging function, with full power, this phone can achieve 37 hours of talk time and 1500 hours of standby time.
Eton P1 has packs with 4 inch WVGA screen display and has 1GB of RAM and 4GB of ROM, coupled with 3 megapixel front facing camera and 5 megapixel rear facing camera. This phone is support for dual card dual standby and offers with only 699 yua price tag or around $112 USD price per unit.