Good news on the Millet: the price of the MI-3 drops down to ¥1699 ($271.94)
             On April 23, as companies from around the country held conferences showcasing their new products to compete with the Onplus One, Meizu officially announced that they would cut the price of the MX3 by ¥200 ($32.01), with the 16G, 32G, and 64G editions, now costing ¥1799 ($287.94), ¥1999 ($310.95), and ¥2399 ($383.97) respectively. It is seen as the beginning of Meizu's price cuts of its ¥1999 domestic products. However, yesterday, Xiaomi announced that something big was going to happen soon which many assume to be a price reduction of the MI-3.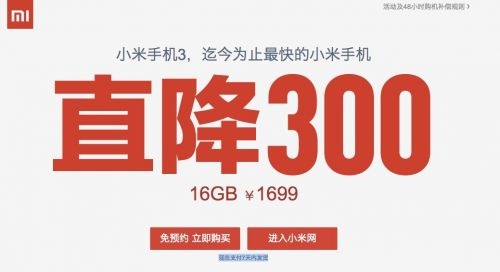 News of the MI-3's price cut has now been confirmed because we just found out in Xiaomi's official online store that the 16G edition would now be sold for ¥1699 ($271.94). Although we have not seen the 64G version, its price should also go down by ¥300 ($48.02) and cost ¥2199 ($351.96).
As of now, it is not clear whether Xiaomi will continue to sell the MI-3 in stores or bring back its policy of letting customers who made a prior reservation buy the phones online at a certain date. It is most likely going to be the former. Furthermore, this price reduction means that the MI-3's successor, the 3S, is coming soon. Who's looking forward to this?
Is selling MI-3 being sold for ¥1699 ($271.94) in contrast with the ¥1799 ($287.94) MX3 enough to make Meizu cry or will Meizu just further reduce its prices?