High-end Android showdown: Samsung Galaxy S5 vs. OnePlus One
Tech giant Samsung has a huge following and high expectations for new premium products like the Galaxy S5, while brand new Chinese manufacturer OnePlus is just entering the high-end Android market with its competitive flagship One smartphone. The smartphones are close in many respects; here are some of the pros and cons of each device.
Rumors have been circulating for some time on the design of the Samsung Galaxy S5, with many believing that the S5 would feature a re-design and make use of new materials like metal and composities in its construction. Samsung itself had even said that the S5 would be "different" than the S4, recognizing disappointment over the similarities between the Galaxy S4 and Galaxy S3.
The rumors have left many disappointed with the design of the Galaxy S5. It is clearly very similar to existing Galaxy S models, well-built and strong, but still features an uninspiring back panel of textured plastic. Samsung's lack of true innovation in the handling and feel of their Galaxy series has put them behind their competitors.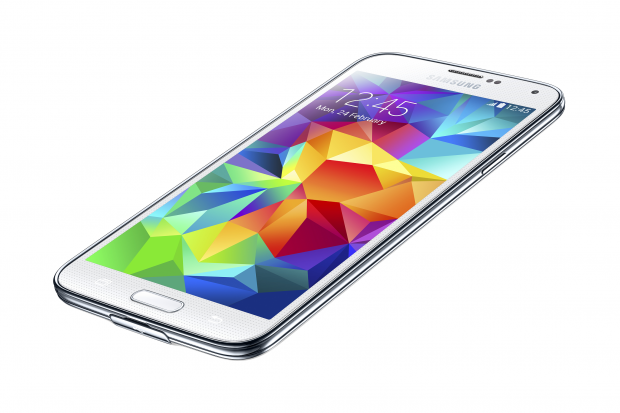 Where Samsung has clearly innovated is in durability, offering certified IP67 water and dust resistance. This allows the phone to safely spend 30 minutes under half a meter of water if the ports are closed and panels securely fixed. There are indications that the phone can survive much longer than the guaranteed time.
OnePlus has released a unique looking smartphone which only slightly resembles the HTC One X. The One smartphone is made from magnesium and high-grade polycarbonate materials. It features a removable back panel which can be replaced with stylish replacements made of denim, bamboo, Kevlar and wood. It looks and feels clean and is without the typical chrome trim found on Samsung smartphones.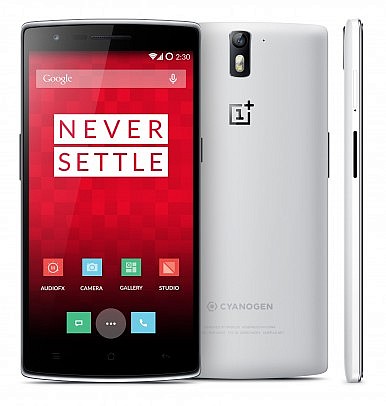 Samsung offers a superior display with Super AMOLED full HD 1080p providng 432ppi resolution on a 5.1-inch screen. The OnePlus One has a larger 5.5-inch screen, full HD 1080p resolution at 401ppi. Both screens are bright and colorful, the Galaxy S5 is just slightly more vibrant.
The OnePlus One can be bought in 16GB and 64GB versions, neither with a microSD slot. Samsung's Galaxy S5 offers 16GB and 32GB versions, both with expandable microSD slots.
Connectivity capabilities are strong on both smartphones, each offering 4G LTE, Bluetooth, Wi-Fi, DLNA, NFC, GPS and microUSB. Samsung offers an infrared blaster as well as a MHL TV-Out.
Audio capabilities are stronger in the OnePlus One, which has stereo speakers mounted on the bottom of the device. Samsung's rear facing single speaker provides average quality sound.
Batteries are replaceable only on the Galaxy S5, which is curious considering OnePlus One's removable back panel. The permanent battery in the One is a powerful 3,100mAh compared to Samsung Galaxy S5's 2,800mAh. Samsung offers a useful Ultra Power Saving setting which can stretch even a low charge to last a few days.
Memory supremacy goes to the OnePlus One, with 3GB RAM compared to the Galaxy S5's 2GB. Both smartphones run Qualcomm Snapdragon 801 MSM8974AC quad-core processors running 2.5 GHz. These are both powerful smartphones, and OnePlus has made a strong move to debut their flagship smartphone with 3GB RAM.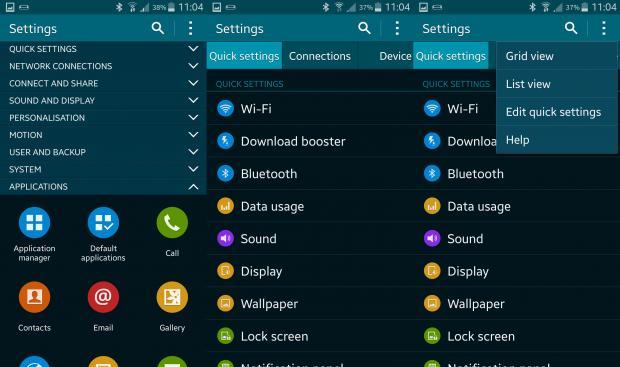 Android 4.4 KitKat is used as a base OS by both smartphones. Samsung couples it with their signature TouchWiz UI layer, which is significantly simpler to use than previous Samsung UIs.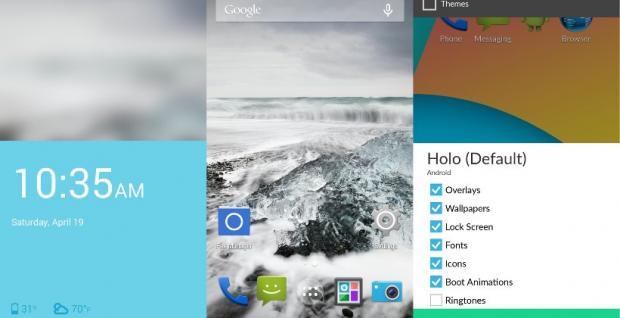 The OnePlus One uses the CyanogenMod 11S configuration which stays true to Android's style in many ways.
OnePlus One has built a competitive phone, with a competitive 13MP, dual-LED flash with video capture up to 4k. Photos and videos from OnePlus indicate the capture setup on the One is high-end and functional. The Samsung Galaxy S5 has a 16MP camera with LED flash, and also boasts a Selective Focus mode which allows users to edit the focal point of photos after they are shot.
These phones are both on the leading-edge of Android devices, and users can expect to pay high-end prices for high-end technology. That is correct in the case of the Samsung Galaxy S5 which retails for $600. The OnePlus One however, is available at $300 with 16GB and $350 with 32GB. The most significant difference between the two smartphones is clearly price.