The upcoming 5,5-inch iPhone 6 is revealed from protective shell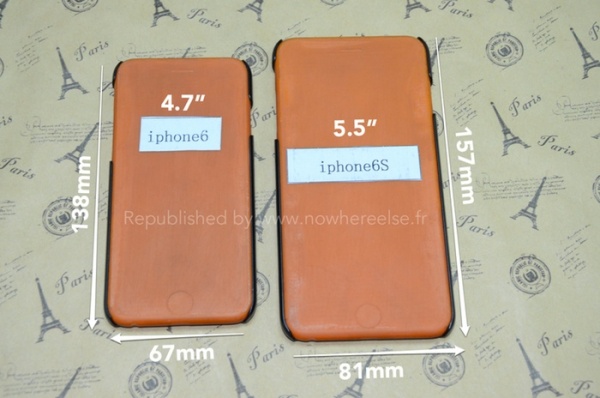 While for now we only found the news about the 4,7 inch  iPhone, but  how about the larger iPhone?, According to rumor, Apple will release two version iPhone 6 that comes with 4,7 inch and 5,5 inch screen size but in recent weeks, the news is focus on 4,7 inch screen iPhone since 5,5 inch iPhone is not revealed yet.
But now we found a coupled picture of protective shell of 4,7 inch and 5,5 inch screen size upcoming iPhone 6, according to that picture we can compare the upcoming iPhone 6 device. While the 4,7 inch iPhone will be come first and a month later the 5,5 inch screen iPhone will be available.
The two protective shells is taken from Nowhereelse.fr site, where 5.5 -inch version of the "iPhone 6s" In terms of specifications is 157mm long , 81mm wide , 7mm thick, compared to the 4.7 -inch version, the latter measurements of 138 × 67 × 7mm. The two shell sizes and the previously announced.