Here is the Qualcomm Snapdragon 805 performance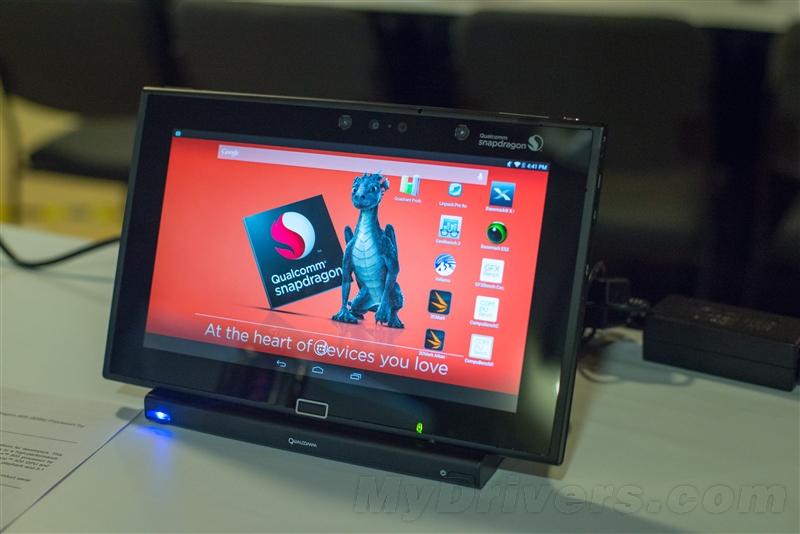 Qualcomm is one of the chip manufacturer is now also has several mobile processor products, the new chipset is Snapdragon 805 APQ8084.

The Snapdragon 805 is the latest Qualcomm's mobile processor that build using a 32-bit architecture, and Qualcom is preparing 64-bit architecture next year through their upcoming products, the Snapdragon 810 MSM8994, and Snapdragon 808 MSM8992 chipset.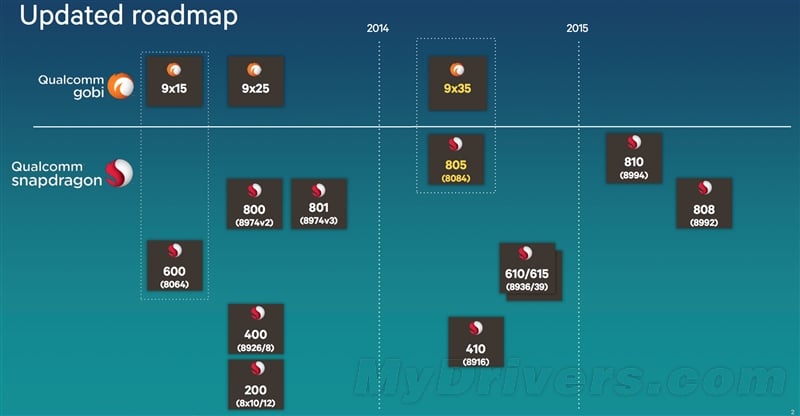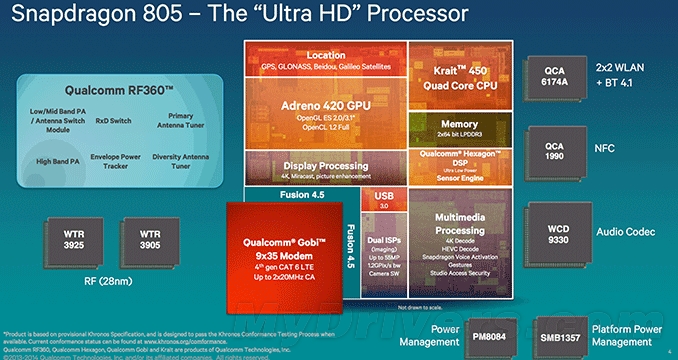 First, long-winded basis : the difference between the two are on the MSM and APQ series is on the baseband. Logically, the former is more suitable for mobile phones, but the latter will fire up unexpectedly at some time in the phone, the chipset is similar with Snapdragon 600 APQ8064.
The Snapdragon 805 APQ8084 not has integrated with baseband of the manufacturing process, this processor is built based on 28nm process, and the latest baseband is 9×35 which has to spend a 20nm.
Snapdragon 805 will also has the Krait CPU architecture farewell. Whilr the Qualcomm ARMv7 architecture has independent design, this processor was born in 2012, while the first version is Krait 200 chipset, and those chipset is for Snapdragon S4 MSM8960. It is in  starting point, while the Android phones started another round of hardware arms race.
Snapdragon 805 in the specification is naturally quite sturdy. CPU architecture evolved into the Krait 450, running up to 2.65GHz (also writing 2.7GHz) clock speed, and now Snapdragon 800/801 Krait 400 could only running to 2.45GHz. GPU graphics core also enhanced from Adreno 400 578MHz to Adreno 420 600MHz.
Adreno 420 GPU will be full support for OpenGL ES 3.1, OpenCL 1.2, DirectX Feature Level 11.2, also supports compressed texture formats ASTC ARM 2011 was proposed , in addition to better performance of texture.
It also improves the power management algorithm. Qualcomm claims that running GFXBench T-Rex HD/1080p high load graphics test when, Adreno 420 power comparable Snapdragon 800 Adreno 330 reduced by 20% of power.
Snapdragon 805 is equipped with two 64-bit LPDDR3-800 memory controller module (external interface is a 4 x 32-bit), before now they only has 2 x 32-bit. With 1600MHz frequency, the bandwith is reach up to 25.6GB/s, almost doubled.
The Krait 420 is take too much bandwidth, but the user no longer have to worry since the delay will be greatly reduced.
In order to accommodate such a high-bandwidth , and guarantee still applies to phones and tablets, Snapdragon 805 embedded with a special molded package (Moulded Embedded Package / MEP), can be 128-bit memory interface directly connected to the integrated package of DRAM memory chip.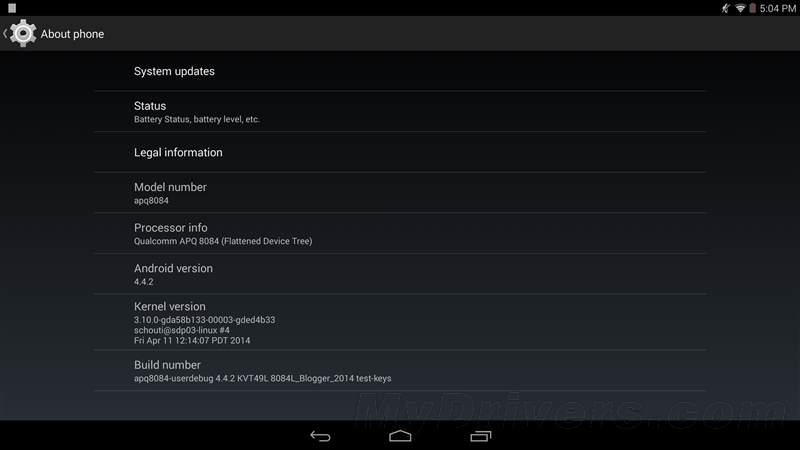 Qualcomm did not disclose specific details of this packaging technology , especially not given diagram.
Qualcomm Snapdragon 805 is the first chipset to support H.265/HEVC format hardware decoding processor, but does not support encoding, have to wait until Snapdragon 810 is released. In addition, the Snapdragon 808 is also has only decode without coding.
Here is the comparing CPU performance that test using several benchmark tool
Here is the GPU test, using several benchmark tools.
Conclusion :
From the test results, compared to Snapdragpn 805 APQ8084 Snapdragon 801 MSM8974AC CPU performance can be improved by approximately 6%, mainly thanks to increased CPU frequency 200MHz, but do not forget, it is still using the 28nm process, and then optimize the high frequency is also susceptible to bottlenecks and significantly reduced frequency heat, so the final performance also depends on the thermal design that has on the device.
Comparing between Adreno 420 to the current Adreno 330 in architecture, the technology has significant progress, in particular to improve the frequency of 100MHz, the final performance is very good, especially in high- load high-resolution , high-definition process. If you exclude 3DMark, Adreno 420 performance increase of 20-50%.
Adreno 420 will be support for 2K screen resolution, and the 2K screen will becoming the standard for upcoming smartphone and tablet device.
So, when the Snapdragon 805 chipset will available for the user? Qualcomm said that some partners are preparing to launch new products, but some chose to stay in Snapdragon 801, the upcoming 64-bit Snapdragon 810/ 808 maybe released on next year.
Finally, compare the overall specifications summary of Snapdragon 8xx series: that using 20nm process, the 64-bit eight-core processor, support for Adobe 4PU graphics core, LPDDR4 memory, integrated baseband Snapdragon 810 is worth to wait?, So what do you think?