CKCOM K3 coming soon; has 5-inch screen, uses MT6582 processor, and costs about 1000 RMB (162.90 USD)
After the release of the C-One, CKCOM is planning to release another cellphone. This phone's model number is K3 and though its specs are common among other phones in the same price race, they are higher than the C-One's. Also, it only costs about 1000 RMB.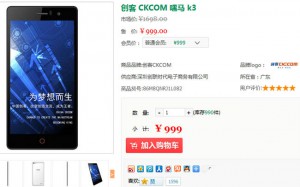 The CKCOM K3's main selling point is its simple desight. Its round HOME button at the front and the camera's position are similar to those in the Nubia Z5S mini's design. Its measurements are 143 x 71 x 7.9 mm. It is available in 7 colors.
The CKCOM K3's specs, though, are just so-so. It sports a 5-inch 720p OGS display screen, uses the 1.3GHz MT6582 processor, and has 1GB RAM and 4G ROM. It also sports a 2mp/8mp dual-camera and is powered by a 1500mAh battery. It supports WCDMA+GSM dual-SIM. Its OS is the Android 4.3 which is rare among devices that use MTK's processors.
The CKCOM K3's market price is 1698 RMB (276.60 USD) but costs 999 RMB (162.73 USD) in online stores like JD.