OONE releases promotional poster for student-aimed OONE Youth Edition phone
When the OONE O1 first came out, it was one of the most expensive cellphones in China, costing 5160 RMB (841.50 USD).
Now, OONE will release a new version called the "OONE Youth Edition."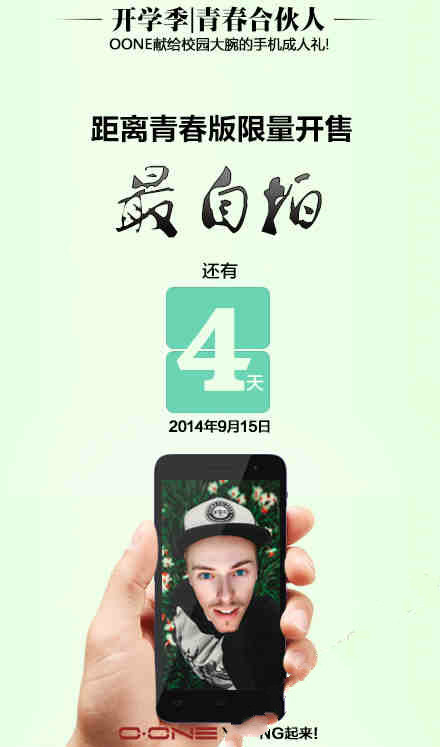 Recently, OONE released a promotional poster for the OONE Youth Edition which looks similar to the O1. The design of the receiver in the front as well as thefront camera, and menu button is similar to the O1's design. The Youth Edition may still retain the original's 5-inch screen. If no changes are made in the side, it may still weigh 99g and have a thickness of 5.5mm.
"Youth editions" of phones are watered-down versions of the original aimed at students. As such, it has weaker specs. The original O1 sports a 5-inch 720p screen covered by Gorilla 3 glass, and has 2G RAM and 16G ROM. It also sports a 8mp camera and is powered by a 2000mAh battery. Its processor is the MT6592H and supports dual-3G networks. For the youth edition, OONE may upgrade it to 4G and will probably still use an MTK processor.
No price has been announced for the OONE Youth Edition but it is set to come out on September 15.