Xiaomi iHealth blood pressure dock review
Xiaomi is no longer just a cellphone company. They have released all kinds of devices from the Mi Box to the Mi TV, from the Mi Router to the Mi Band… Now, Xiaomi has ventured into the territory for smart home applicances and medical devices.
On September 25, Xiaomi, along with Silicon Valley-based iHealth, formally launched a smart blood pressure dock which is said to be "completely compatible" with the Red Mi Phone and only costs 199 RMB (32.14 USD).
Related: Unboxing: iHealth Blood Pressure Dock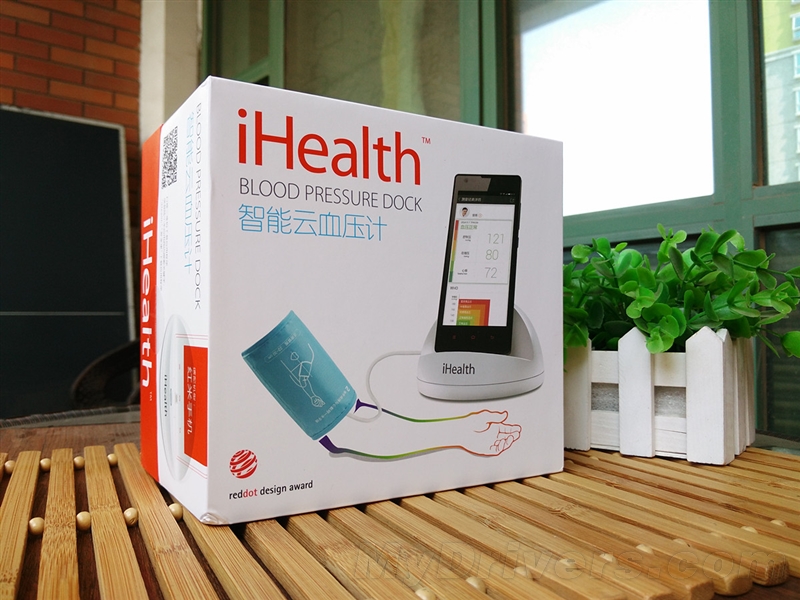 The Xiaomi-customized iHealth Blood Pressure Dock (model number BP3) only requires users to download its corresponding App to use it. It offers a Cloud synchronization feature that allows sons and daughters to find out their parents' blood pressure on time.
For many of those who are not familiar with iHealth, it first began a partnership with Apple and created Apple Health which released devices such as a blood pressure monitors, and devices that check your blood sugar levels, etc.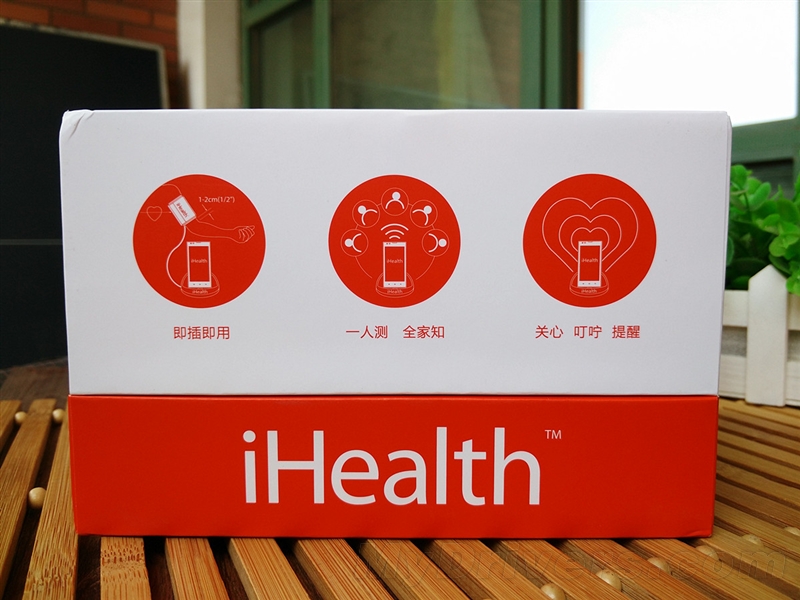 Xiaomi releasing an iHealth Blood Pressure Dock is not just a spur of the moment thing. This month, they invested $25,000,000 on iHealth starting a partnership with the them. This is why the iHealth device was first compatible with the Red Mi.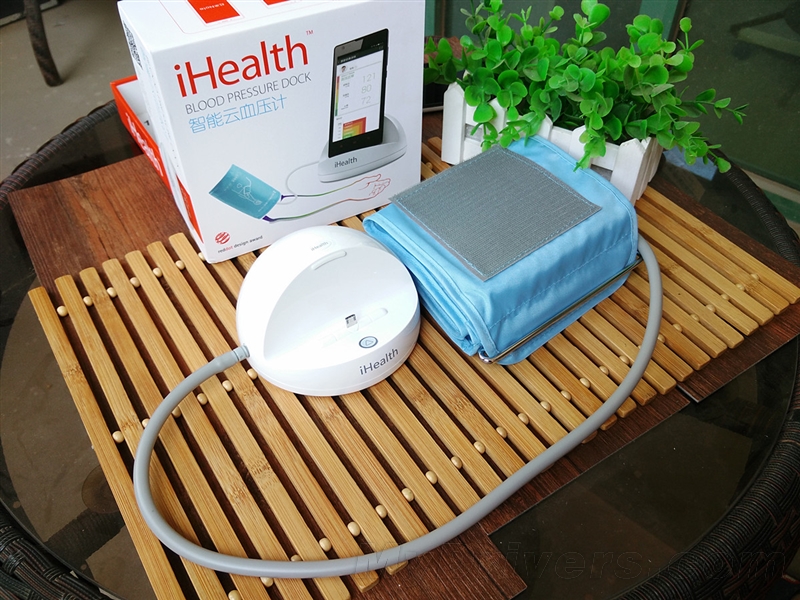 This device can be connected to a computer by USB connector to charge it. Because it has a 400mAh battery, it can be fully charged in less than half an hour with a 5V1A adapter. After using it 54 times within 24 hours, it is still 71% charged, so it should last for an entire month.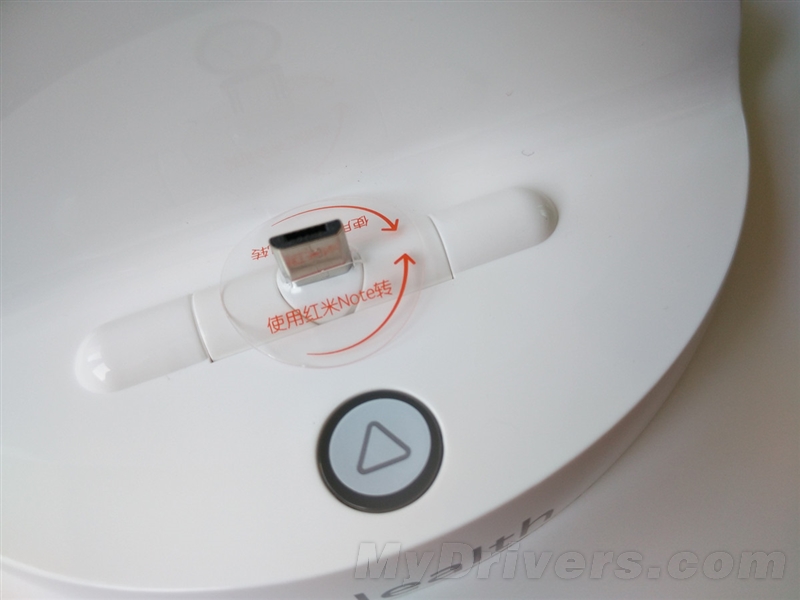 To adapt it for Android devices, iHealth replaced the Apple's Lightning Connector with a Micro USB port. In addition, they also added a rotating dock due to the fact that different phones might have different locations for their ports.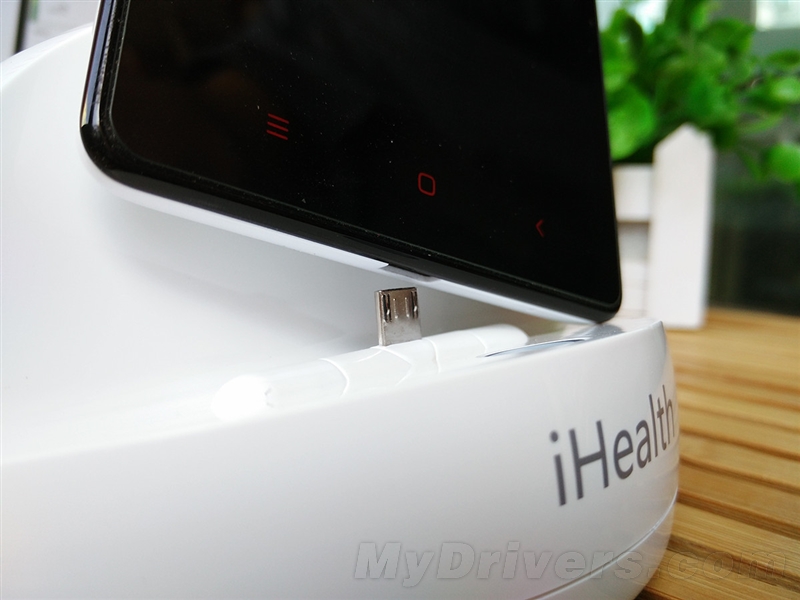 The port may be a bit too low so users should watch it for a while after they put their phone there. If it is loose, you can just have the phone lean on the base so that it will not fall.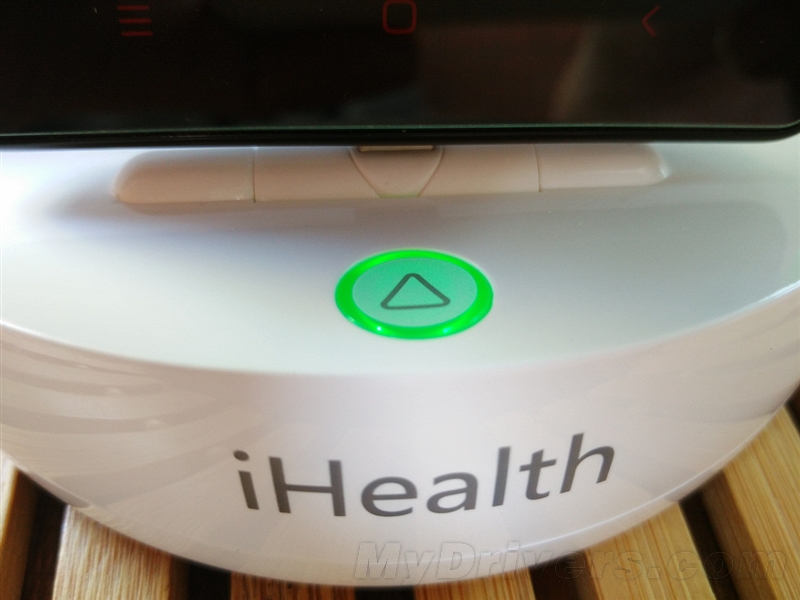 After inserting the phone on the dock, the reset button will automatically light up. If it is green, that means that the dock is fully charged. If it is red, it does not have enough power.
Some may wonder if this device can charge their phone. The iOS version can charge an iPhone but the Xiaomi version does not.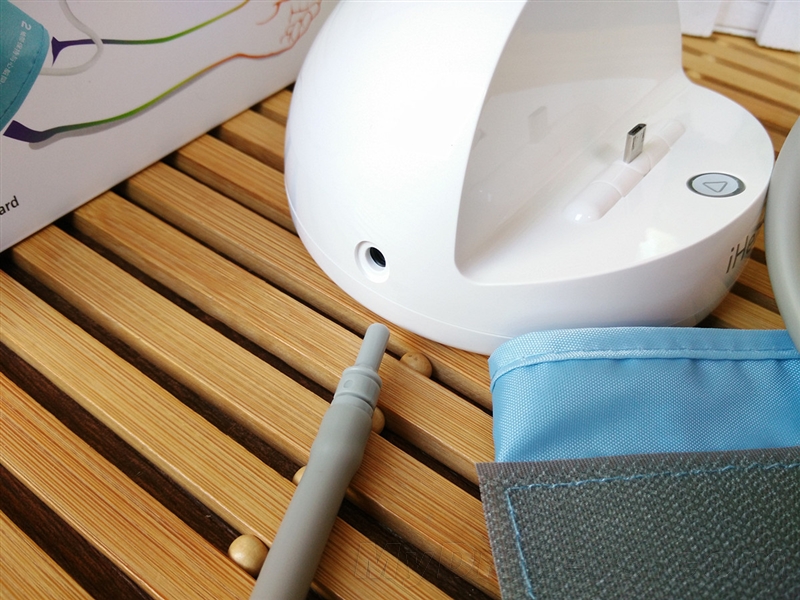 A rubber cable can be directly connected to the dock's charging port.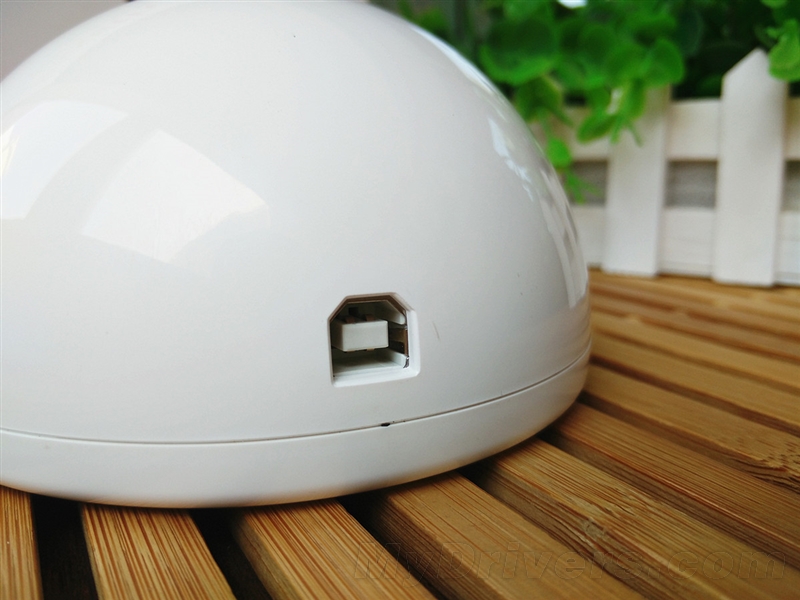 Power port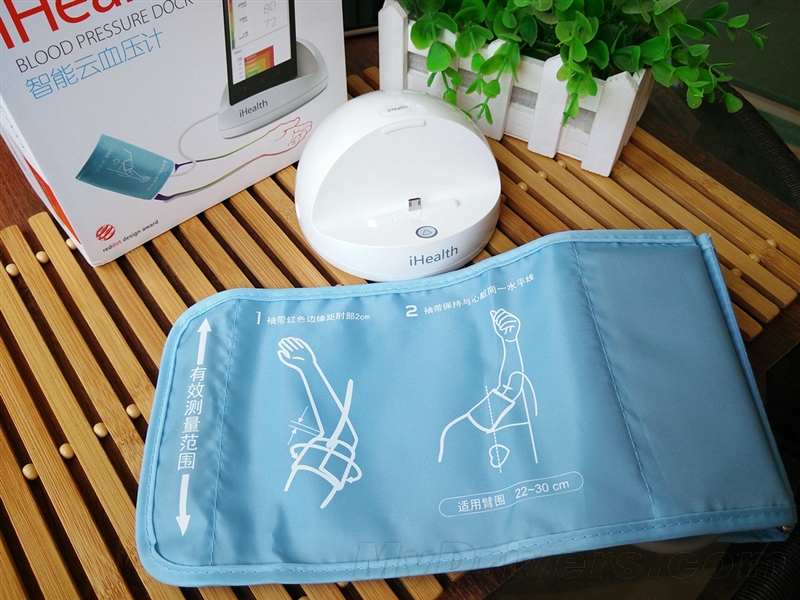 There are instructions on the armband.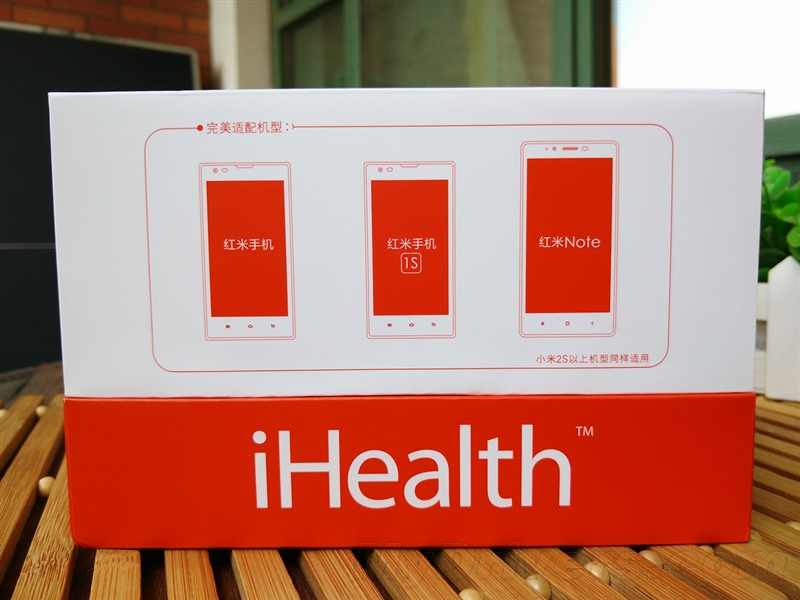 To use the iHealth blood pressure dock, you need to have an Android phone that is compatible with it. This version has been advertised as "completely compatible with the Red Mi, Red Mi 1S, and Red Mi Note, as well as the Mi 2S and above." This is mainly because the Red Mi's Micro USB port is place right in the middle of the front and fits perfectly when inserted in the dock.
Because Xiaomi allows data transmission by Micro USB not the Bluetooth like the iOS, it is compatible with recently released Android phones that are OTG-supported. The writer tried it with the OnePlus One, Vivo Xshot, and MX4, and all of them worked.
Next, we will show how to connect this device with the Mi 4.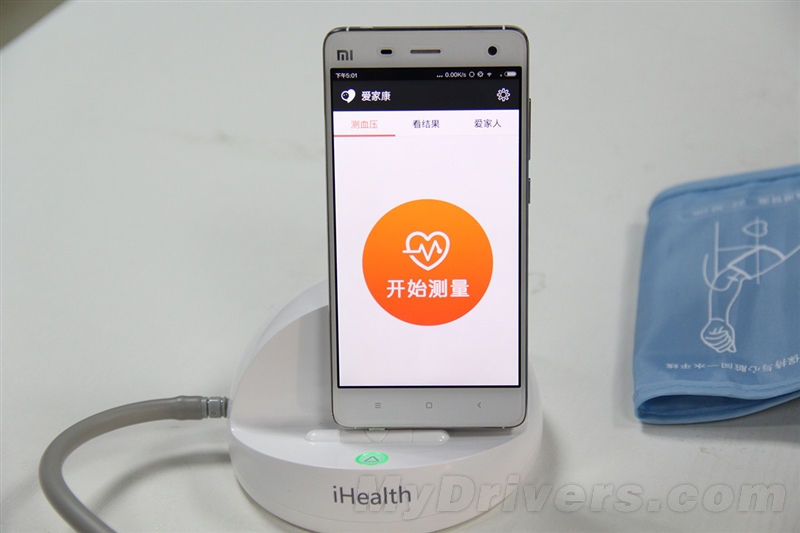 First, download and install the iHealth App on your phone. Afterwards, when you place your phone on the dock, your phone will automatically start the App and immediately go to the "Start measuring" interface. It is all very simple and old folks should not have any problems following these instructions.
Wear the armband around 2cm from your elbow.
Conclusion
       As Xiaomi's second health-related smart device, the iHealth blood pressure dock is worth the price. There is practically no difference between it and the iOS version except that it is 1/4th the price of the later and has Xiaomi's classic style.
Compared to using blood pressure devices with their own screens, using the iHealth blood pressure dock may seem a bit of complicated, but it is only the process of connecting your phone that is somewhat troublesome. When you connect it, the App automatically starts. After you familiarize yourself with the entire process, you should be done measuring your blood pressure in just 2 minutes. Older folks should have no trouble whatsoever using this.
As for the results, the results are shown more directly. Not only does it show high blood pressure, low blood pressure, and heart rate in different colors, it clearly takes note where they are in the graph, and suggest what you should eat or drink. This device supports Cloud synchronization. It can make a graph based on the entire week's tests which helps you monitor any problems with your body.