Huawei Honor6(kirin920) vs Huawei Mate7(kirin925) vs Huawei Honor6 extreme Edition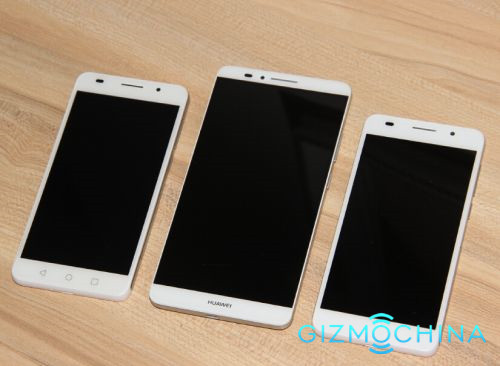 From left to right: The Huawei Honor 6,  Mate 7, and Honor 6 Extreme Edition
       Here we have three cellphones from Huawei: the Huawei Honor 6, Huawei Mate 7, and the Huawei Honor 6 Extreme Edition. These three phones were just launched this year and are all aimed at the high-end market. Their processors are from Huawei's own Kirin series: Kirin 920, Kirin 925, Kirin 928 respectively. How do they compare to each other? Let's find out.
First, let's start by describing the differences between their processors.
Kirin 920: It's built on the the octa-core big.LITTLE GTS (Global Task Scheduling). It integrates four 1.7GHz ARM Cortex-A15 processors and four 1.3GHz Cortex-A7 processors into one using 28nm technology. It also boasts an I3 smart sensor processor that can lower power consumption, and let's features like a gyroscope and accelerator run even when the phone is on standby. The Kirin 920 also comes with Huawei's LTE Advanced communication module which supports the LTE Cat6 standard as well as TD-LTE, LTE-FDD, TD-SCDMA, WCDMA, GSM, etc. Its GPU is the ARM Mali T628MP4 which supports H.265 and 4K videos.
Kirin 925: This is not that much of an upgrade from the Kirin 920, except that its frequency has increased to 1.8Ghz. Also, some smaller improvements were made such as adding the TrustZone which can protect the chip for the fingerprint scanner.
Kirin 928: The frequency has been upgraded to 2.0GHz.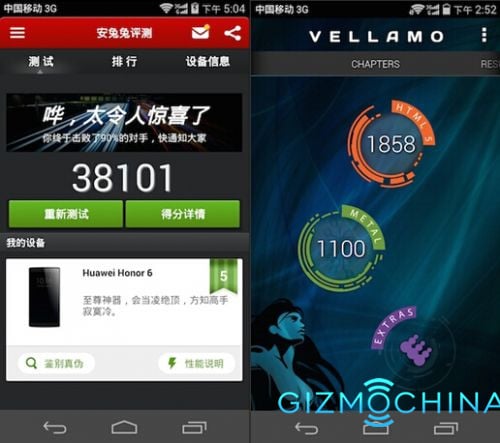 Huawei Honor 6 benchmark
        Above are the Antutu and Vellamo benchmark scores for the Huawei Honor 6. It received a 38101 in the Antutu benchmark test which is pretty high.
Huawei Mate 7      
       These are the benchmark scores for the Huawei Mate 7. It received a 42804 score in the Antutu test. Although the Kirin 925 isn't the strongest of the three processors, this phone still has powerful specs, so it is no surprise that it has a high score.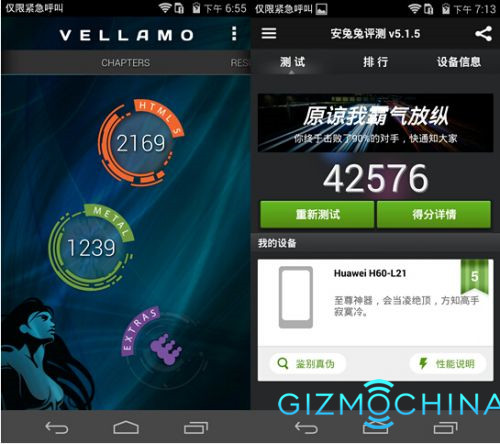 Honor 6 Extreme Edition 
Here are the scores for the Huawei Honor 6 Extreme Edition. It scored 42576 in the Antutu test.
| | | | |
| --- | --- | --- | --- |
| Product | Huawei Honor 6 | Huawei Mate 7 | Huawei Honor 6 Extreme Edition |
| Antutu | 38101 | 42804 | 42576 |
| HTML5 | 1858 | 1948 | 2169 |
| Metal | 1100 | 1179 | 1239 |
Analysis 
       Why does the Kirin Mate 7 have a higher score than the Huawei Honor 6 Supreme Edition even though it uses the Kirin 925? First, because as a series, the difference between the two of them is not that great. Second, the Huawei Mate 7 is a high-end product, so it should definitely have the edge in other parameters.