MTK introduces new SoCs like the 4G-supported MTK MT6753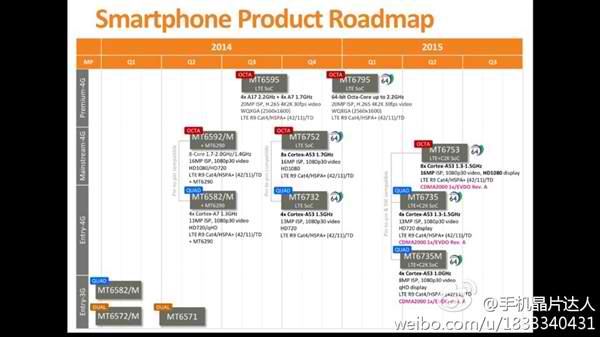 Recently, MTK has been releasing SoCs one after the other. Last night, MediaTek's newest product roadmap was published online featuring a new SoC called the MTK MT6753.
The MTK MT6752 was first announced early this year and will be released during the Q4 season. It is a 64-bit octa-core chipset that uses Cortex-A53 cores. This is MTK's second 64-bit processor since the MT6732. It uses the ARM Mali-T760 GPU and supports 16mp display screens. It also has support for TD/FDD LTE internet, and other types of networks.
The MTK MT6753 is more of a gift for China Telecom-supported devices. It comes with support for CDMA 2000 1x and EVDO Rev.A as well as 3G and 4G networks. This chip is a Christmas gift for both cellphone users and manufacturers. It only has a frequency of 1.3-1.5GHz, however, which is lower than the MT6752. It also only supports display screens with resolutions up to 1080p.
It seems to be mainly targeted at mid to somewhat-high end devices. Although the 640bit octa-core MTK MT6795 chipset is at the top of the roadmap, as you can see from the graph, it is not China Telecom-supported. Despite its low specs, the MT6753 is and hopefully an upgraded version will be released soon. We can expect one during the Q2 season of 2015.
If you do not like octa-core SoCs, you can also check out MTK's 4G quad-core processors like the MT6735 and MT6735M. Both use A53 cores and have a frequency range of 1.3-1.5GHz, and 1.0GHz. It also has support for 8mp photos and 1080p/30fps video recording. They should be released by the end of the Q1 season of 2015 or the beginning of the Q2 season.
It is worth noting that this graph was reposted by insider analyst Bo JiuTAng who verified the existence of the MT6735.