IUNI U2(Snapdragon 800)price deducted to only 999 RMB (163.43 USD)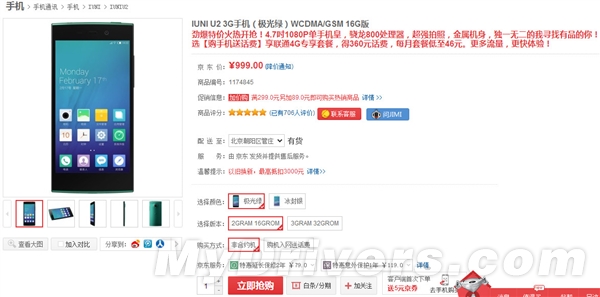 If you already thought that the Xiaomi Red Mi Note and Huawei Honor 4 are powerful for phones that cost 999 RMB, then you have not seen anything yet, as the IUNI U2 not only costs 999 RMB but also uses the Qualcomm Snapdragon 800.
Two versions of the IUNI U2 are on sale at Chinese online store, JD. One is the low-cost version (999 RMB) with 2GB RAM and 16GB ROM, while the other is the high-cost version (1199 RMB/196.15 USD) which has 3GB RAM and 32GB ROM. Unfortunately, it is only available in select locations.
The IUNI U2 sports a 4.7-inch 1080p touchscreen, the 2.2GHz Snapdragon 800 processor, a 4mp/16mp dual-camera, and 2200mAh battery. Its OS is the IUNI OS which is based on the Android 4.3. It only has support for GSM and WCDMA networks, not 4G.