Meet ZOOZ N910F, the Note 4 Clone
Love the new Galaxy Note 4 but can't afford it? Well, you have an alternative, thanks to a Chinese company called ZOOZ.
This Chinese mobile phone manufacturer has only a handful of smartphones up its sleeve and most of them are clones of famous models. For example, we recently covered the ZOOZS5.5, the Xiaomi Redmi Note clone which retailed for just $99.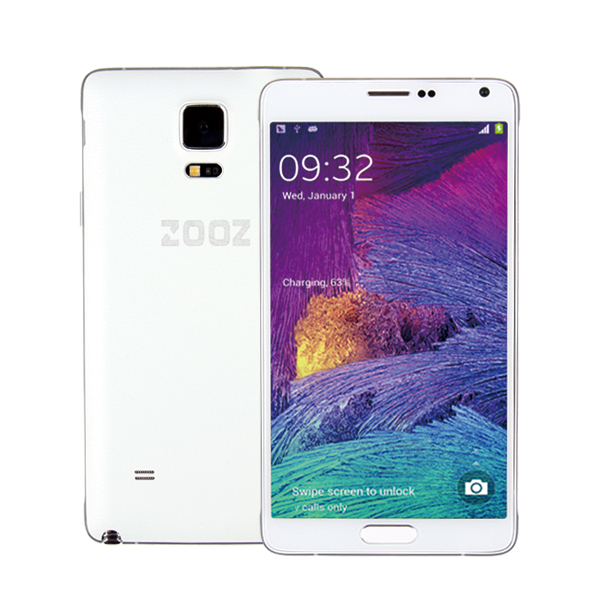 Today, we have yet another clone, the ZOOZ N910F which looks a lot like the recently released Note 4. While, as you may have guessed, the specifications and features of the device are no way near the original Note 4, the ZOOZ N910F does take its design cues from the Samsung flagship. In fact, the dimensions of the phone are exactly the same as the Galaxy Note 4 i.e. 153.5mm x 78.6mm x 8.5mm. The manufacturer has even included a stylus with the device, unsurprisingly called the S Pen.
The phablet comes with a MTK6582 1.3Ghz Quad Core CPU with 1GB RAM and 8GB internal memory which can be expanded up to 32GB via MicroSD card. On the front, there's a 5.7 inch OGS 1280x 720 HD display along with a 5MP camera on top. On the back, the N910F has a 13MP sensor with LED flash.
The Note 4 clone comes with standard connectivity features like Wi-Fi b/g/n, Wi-Fi hotspot, Bluetooth 4.0+EDR, USB 2.0, GPS/ AGPS and FM Radio. It runs on Android 4.4 Kitkat version.
Unfortunately, you only get a 2600 mAh battery on the device, which a big let down considering the size of the display. So, battery life would naturally be less than average.
However even with just average specifications, there are some features which make the device interesting. First of all, like we mentioned above, there's the capacitive pressure sensitive stylus called the S Pen. Then, there's infrared remote control function which lets you control gadgets at home like the air condition, television sets etc. You also have a heart rate monitor which records your heart rate and oxygen level in your blood along with a sports pedometer.
You can flip pages while reading an ebook with simple gestures on the N910F. Turning on the display too is quite easy as you just have to double tap on the screen.
Clearly, the ZOOZ N910F comes with plenty of features which are not usually found on phones in its class. The heart rate monitor along with the stylus especially are the two key selling points of the device.
Unfortunately, as of today, we don't know the price or the availability of the device. But we will update more details in the coming few days.
So would you buy this Note 4 Clone if it sells for less than $140?