Vivo PD1305: Could this be the new Vivo Xplay phone? Photos leaked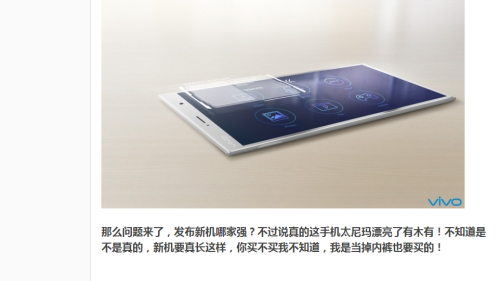 Not long ago, a phone with the model number "PD1305" was introduced in Vivo's official forums, and based on its specifications, it looks like it will be the company's heavy hitter for later this year. Recently, someone posted photos of this new phone in Vivo's forums. From the pictures, it appears to have a very high screen-to-body ratio and has a very beautiful design. From Vivo's product line, we can guess that this big-screened phone is the new Xplay phone.
Previous reports have said that this phone may have a 6-inch 2560 x 1440 display screen, the 2.7GHz Snapdragon 805 quad-core processor (APQ8084), 3GB RAM, and 32GB ROM. It also supports Micro SD expansion cards (up to 128GB).
Vivo has not issued an official response to these revelations, so stayed tuned for updates.