Latest Xiaomi Mi4s 3D schematics and specs leak from Foxconn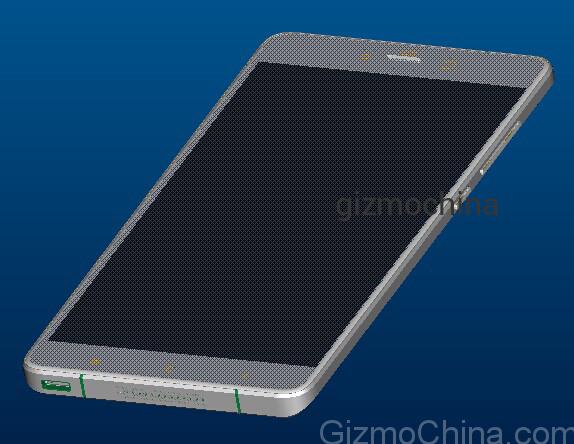 Xiaomi has been making the headlines for a long time now. The latest leak shows off "3D" schematics of the advertised "thinner than the cicada's wings " new Xiaomi smartphone. These pictures come to us from the Foxconn factory in China and supposedly were snapped (in low resolution) by someone with a connection to the supply chain.
The first thing that hits you about the Xiaomi Mi4s are the rounded corners on the device, which dovetails with many of the other leaks we've seen of the phone. Unfortunately, the leak does not reveal any measurements of the device, although it does appear to keep the extremely thin design that we've seen before. But if slimness is what the company is aiming for,  then it could have similar measurements to the iPhone 6 Plus's 158.1 x 77.8 x 7.1 mm or even better measurements!
The power key has been moved to the right, supposedly to improve the grip on the phone, and the volume buttons are now elongated. In addition, the flash has changed to an oval design from the lozenge used on the iPhone 5s.
In addition to the 3D images, we also got some specifications directly from Foxconn. The Xiaomi Mi4S flagship will reportedly feature a 5.5inch 2k display,snapdragon 805, 3gb ram, 16gb/64gb rom, 16mp + 8mp camera. These specs are in line with what we heard a few days back, except for the camera department which was said to come with a more powerful 20.7MP sensor.
Yes, you should take this with a grain of salt, especially when the Xiaomi Mi4S leaks are all over the place. It is perfectly fine to cast a cynical eye on the images, even if you believe that the next Xiaomi flagship will look just like this.
The company confirmed an event on 15 January 2015 for its flagship launch about a day back, so we don't have to wait too long to see whether these specs and the pictures are indeed of the upcoming Xiaomi Mi4S / Xiaomi Mi5.
The leaked Xiaomi Mi4s 3D schematics follow below.