Kingsing is one of the companies that decided that taking a lot of inspiration from the so-called Apple of China (whether Xiaomi likes being called in that way or not) is a way to go for their business strategy. This time they decided to take we would say the whole concept from the Mi4 device and make a cheaper version of it. Meet the Kingsin T8 in our full review.
Specs
| | |
| --- | --- |
| Display | 5.0 inches, 854×480 pixels |
| Processor | MedieTek MT6592M (Octa-core 3G chip)  Cortex A7 1.4GHz TSMC 28nm |
| RAM | 1GB |
| Camera | Back: 5 MP, front: 2 MP |
| Connectivity | Bluetooth, 3G, GPS, WIFI, GSM,EDGE, GPRS, UMTS, HSPA, HSPA+, |
| Battery | 2150mAh |
| Dimensions | 142×71.4×8.9mm / 160 g |
| OS | Android 4.4.2 |
| Storage | 8GB (can be expanded up to 64GB via Micro SD) |
As you may see, the specs of this device are far from being to top the line. However, if you consider a very low price tag of just $99, it is quite good device.
Design
As you can see, the device comes in black and white colours. What is more, it has 3 capacitive buttons on the bottom. Also, there is a speaker grill along with the front facing shooter (only 2mp) and sensors on the top.
Here we can see that the device back is made out of plastic, which is not like Xiaomi Mi4, is matte. Furthermore, the volume up and down as well as power buttons are placed on the right side of the device.
What is more, the back of the device spots a 5mp camera with a single LED flash. If you take a look at the bottom, there is a KinSing logo, some certification marks and mono speaker.
Display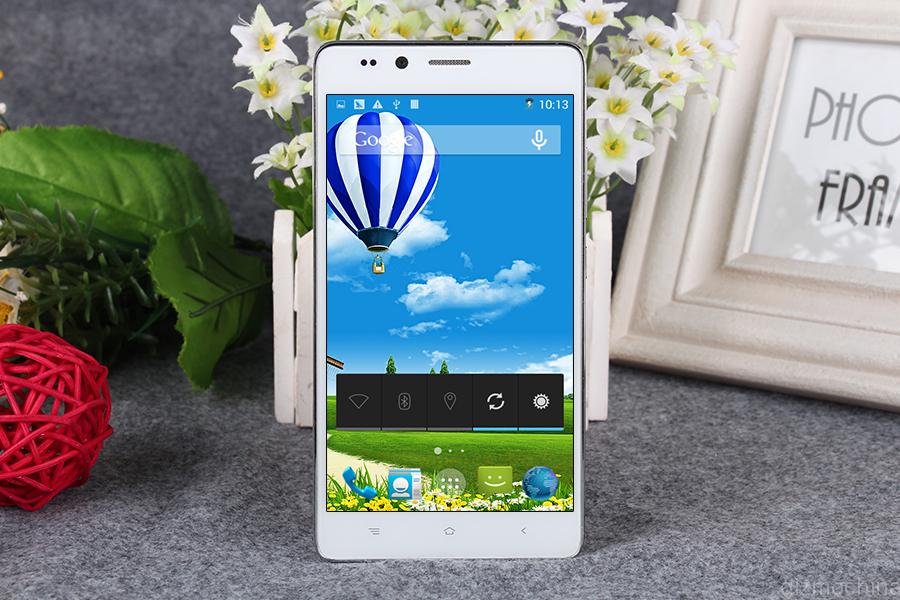 This device spots quite a low resolution panel (FWVGA-LCD, 854*480 pixels). Indeed, it is quite far from the best if you consider all those Quad HD panels in the market, but it is still enjoyable. The LCD technology makes it look sharp and vivid. Also, the colour reproduction is average, but viewing angles are decent. The sunlight legibility could be better, however.
User Interface
As you can see the UI is pretty basic and it is pretty much a stock Android experience. This differentiates this device from the Xiaomi's offering. Also, being simple, makes it fast and responsive, without any noticeable lag whatsoever. In addition to this, the device spots a full pack of languages, so you do not need to worry about it.
Performance
The Kingsing T8 spots a MedieTek MT6592M (Octa-core 3G chip)  Cortex A7 1.4GHz TSMC 28nm chip inside. It is backed up by 1 GB of RAM and ARM Mali-450MP4, 600MHz GPU chip.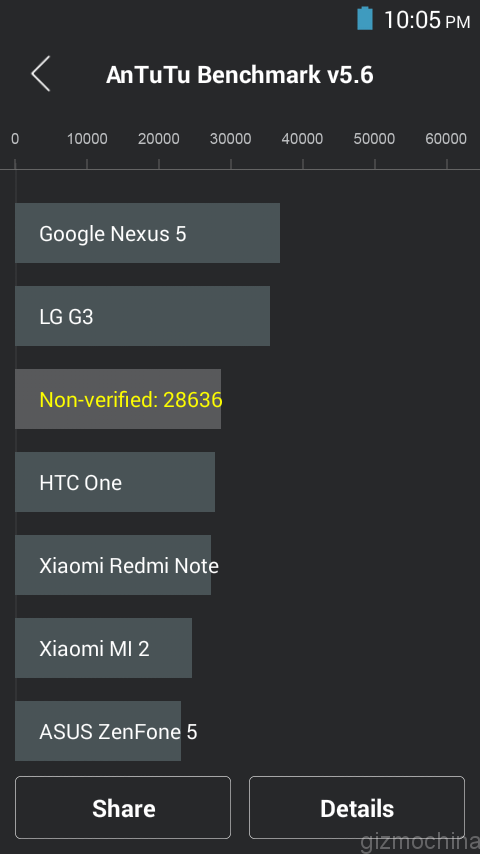 As you can see from the synthetic benchmarks results, the device cannot compete with the latest and greatest flagships, but its performance is still surprisingly good. It managed to score a bit more than the HTC One M7, which is a two years old flagship device. Again, for the price tag of just $99, it is impressive.
Besides benchmarks, we did not have any issues with the daily use, which included scrolling through menu, playing games, surfing the web, watching videos and youtube and taking pictures or recording videos.
Camera
As camera is on the smartphones has become a very important factor to a lot of users, the Kingsing T8 may be a bit of a let down for you by offering just a 5mp shooter with a single LED flash on its back. However, you should consider the main purpose of the pictures you are taking and where you will use them. We think it should be enough for social media and other purposes.
We took some samples, so you can see the image quality.
As you can see, we took some camera shots in different lightning conditions. Some turned out to be pretty good for a 5mp shooter, but some of them, especially those in dark areas have a great amount of noise and the detail level is pretty low. What is more, taking low light shots requires to have a steady hand since the device does not have an OIS. In the end, we say that this device has a pretty good shooter for its price tag and should be a decent companion for your social media life.
Battery Life
The device has a 2150mAh battery inside. It is not really juicy according to today's standards, but we should take into account a quite low resolution of the display. Therefore, without the need to push so too many pixels, we managed to reach the end of the day till we needed a recharge. Our test included some surfing the web, gaming, taking quite a lot of pictures, texting and calling.
Final Words
We have to say that the Kingsing T8 may not be the most innovative device as it has a lot of inspiration from Xiaomi's Mi4 and looks almost exactly the same, but there are some significant differences. It starts with much lower specs sheet, but ends with a much lower price tag of just $99. What is more, the device spots a stock Android UI, which is far different than Xiaomi's proprietary MIUI. We did not have any issues with its daily performance, which included both daily tasks like browsing the web, scrolling through menus, taking pictures and shooting video, and some gaming. Moreover, the battery life will easily get you through the day. Finally, the device is targeting the consumers, who look for a well-performing, yet low cost device. The Kingsing T8 may be just that one.