100,000 Meizu M1s sold out in just 1 min
About two weeks back, Meizu unveiled its latest budget smartphone, the Meizu M1 to take on the best selling Xiaomi Redmi 2. The company made sure that its device was better than Xiaomi's phone in almost every aspect at the exact same price tag. So, we expected tremendous response when the Meizu M1 went for sale earlier today.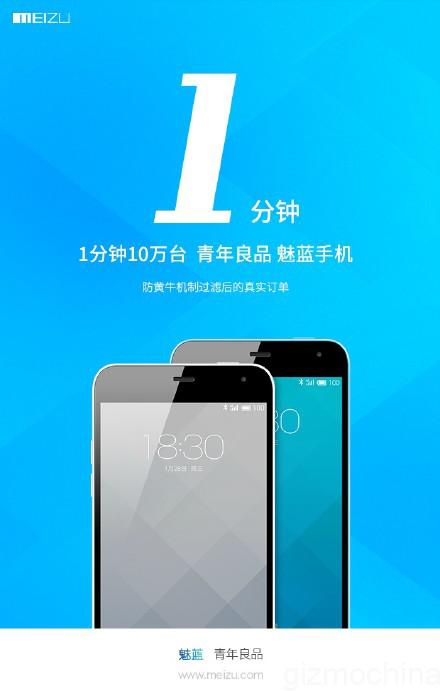 Today, at exactly 10:00 am Meizu's new device was available for purchase. And unsurprisingly, by 10:01, the device was sold out. Yes, those who tried to purchase the device 1 minute into the sale, came out disappointed. This kind of response for a phone with good specifications is not at all surprising. We have already seen Xiaomi's affordable devices getting sold out within minutes and now, it seems Meizu too is enjoying that kind of popularity.
A few minutes into the sale, Meizu confirmed that the device was sold out in a minute. The company even claims that all the 100,000 orders are legitimate as it is said that the company used an anti-fraud filter to make sure that there orders were real. However, Meizu did not explain how this filter worked.
To recap, the Meizu M1 comes with the new MT6732 64-bit 1.5Ghz quad-core processor with 1GB RAM and 8GB of expandable ROM. There's is a 5-inch screen on the front with 1280 x 768 resolution and gorilla glass 3 protection. There's 13MP+8MP dual cameras on the device with single LED flash at the back. The company recently reduced the battery capacity from 2610mAh to 2500mAh. Finally, the device will support 4G LTE networks, which makes it a very attractive package for its 699 Yuan i.e. $112 price tag.
Are you surprised with this kind of response for the 699 Yuan Meizu M1?