ZTE Announced Two iPhone clones:ZTE blade S6 and ZTE blade S6 Lux
It seems to be kind of a trend right now not to invest in a different design, but choose the one, which has a lot of success in the market. Does not how shameless it may sound, but many companies do that. We all know, that there are a lot of cheap iPhone 6 clones in China and probably not all of them are worth your attention. However, it seems that even major manufacturers following the same strategy and produce iPhone 6 clones or very similar (or inspired by..?) devices.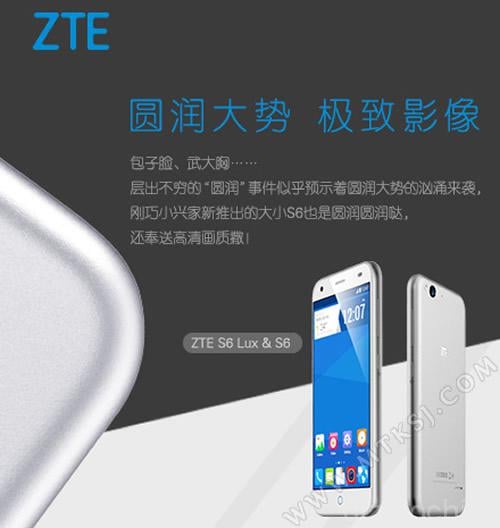 ZTE, one of the major manufacturers in the world, just announced their two new products – the ZTE blade S6 and the little better specced ZTE blade S6 Lux. Both devices are not exact clones of the iPhone, but are quite similar in looks and choice of materials used. First of, they both rounded aluminium shape. Also, there is a 2.5D glass (it seems that Apple re-made it popular and other manufacturers follow) on the front. Also, there is a front facing shooter (5mp), speaker grill and the home button, which lights up in blue colour (it can also flash as a notification light). Both devices spot a 7.9mm and 7.7mm thinness, respectively.
What is more, it seems that both devices have a great photography equipment, which include a 13mp Sony IMX214 sensor and there is a professional camera mode besides a regular auto mode. What is more, the 5mp shooter on the front is a 85 degree angle snapper. So as far as design and picture taking abilities are concerned, both devices are quite similar, but what does it make them different?
First of all, we have to mention that both devices have a dual 4G connectivity (FDD and TD-LTE) and a dual SIM dual standby functionality. However, this is being achieved using different processing packages. The ZTE blade S6 is equipped with a Snapdragon 410 Quad-core chip whereas ZTE blade S6 Lux has a Snapdragon 615 octa-core processor with 2Gb of RAM and 16G of storage.
Both devices spot a 5.5 inch displays, but the ZTE blade s6 Lux has a 1080p JDI panel as opposed to a 720p panel found on the regular blade S6. The official poster by the company also shows that the S6 Lux has a 3000 mA large battery. It does not say anything about the blade S6's battery, but it is said to be smaller. What is more, both devices will spot Android MiFavor UI 3.0, which is ZTE's version of Android.
So far, there is no more information available regarding full specs, the official sales time and the area where it will be sold (besides China, of course). What we know, however, is that the device will have a competitive price point, which will be 1699 Yuan for ZTE blade S6 and 1999 Yuan for ZTE blade S6 Lux.
After seeing one more product, which is very similar to the iPhone, one question comes to our minds if it is good for major manufacturers to take so much "inspiration" from Apple and its iPhone 6.
COPY COUPON: CBIQPHI8
COUPON PRICE + SHIPPING FEES = TOTAL PRICE = $245.80
Let us know in the social poll or comments section below.
[socialpoll id="2251348″]