Meizu MX4 Pro gets an official price cut, listed on Oppomart for just $379
Meizu MX4 Pro was announced back in November last year. It builds upon the positives of the MX4, bringing in a larger display with better resolution and a fingerprint sensor too.
Naturally, with its high end specs, the phone was priced well above $500 officially. However, like we reported recently, at third party retailers, the phone was selling at a much lower price, around $450. Now, it looks like the company has decided to cut down its flagship's price, officially.
Meizu MX4 Pro will be available to purchase from the company's official store for 2199 / 2399 and 2799 Yuan for 16GB / 32GB and 64GB respectively. This is a great price for a device with such high end specifications and will definitely boost the sales of the phone to a great extent. The exact reason of the price cut is not yet known, but it could be to directly compete with the 2299 Yuan Xiaomi Mi Note.
Naturally, seeing the price cut, the third party sellers too have decided to bring down the price of the device. According to our research, we have found the Meizu MX4 Pro on Oppomart for just $379.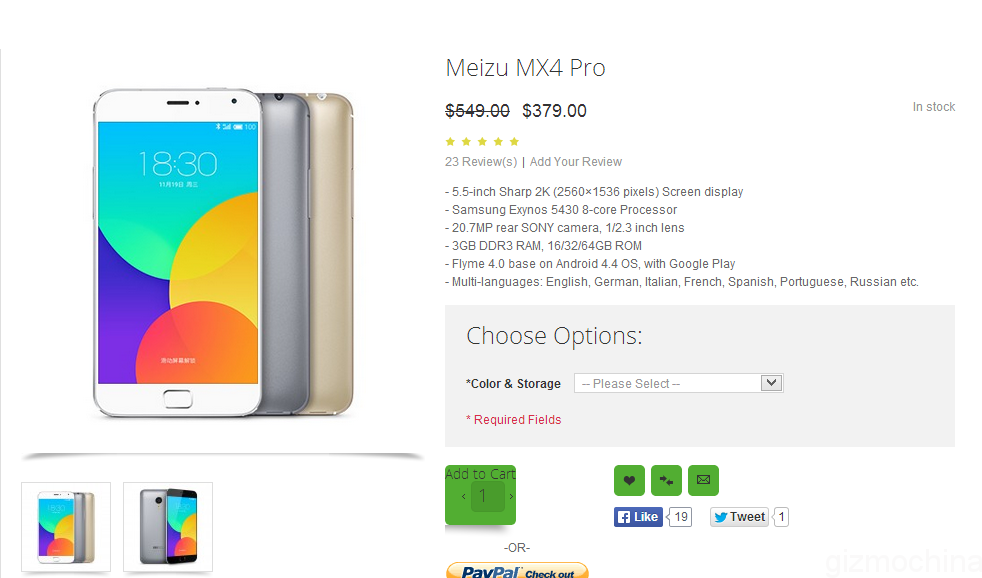 Oppomart usually stocks up high end Chinese products and the 16GB version in three different colors namely, gray, silver and gold are now available for $379 on the retailer's website. If you are looking for the 32GB variant, you can get that too in the above mentioned three colors for an additional $50.
At present, the Meizu MX4 Pro looks like a great buy. The powerful Exynos 5430 processor, 3GB RAM, 5.5-inch 2K display, 20.7MP Sony rear camera and the fingerprint sensor makes it one of the best value for money devices in the market right now.
So, would you prefer the new MX4 Pro at the discounted price or will you wait for the Xiaomi Mi Note to hit retailers?