Blackview Breeze Review – Crazy Cheap "OnePlus One Mini"
Blackview is one of those manufacturers that are producing more and more devices in the past months, so it got our attention. After reviewing their premium looking Blackview Omega and finding out that it is quite good offering for the price, we have decided to take a look at another device produced by the manufacturer.
VIDEO
INTRODUCTION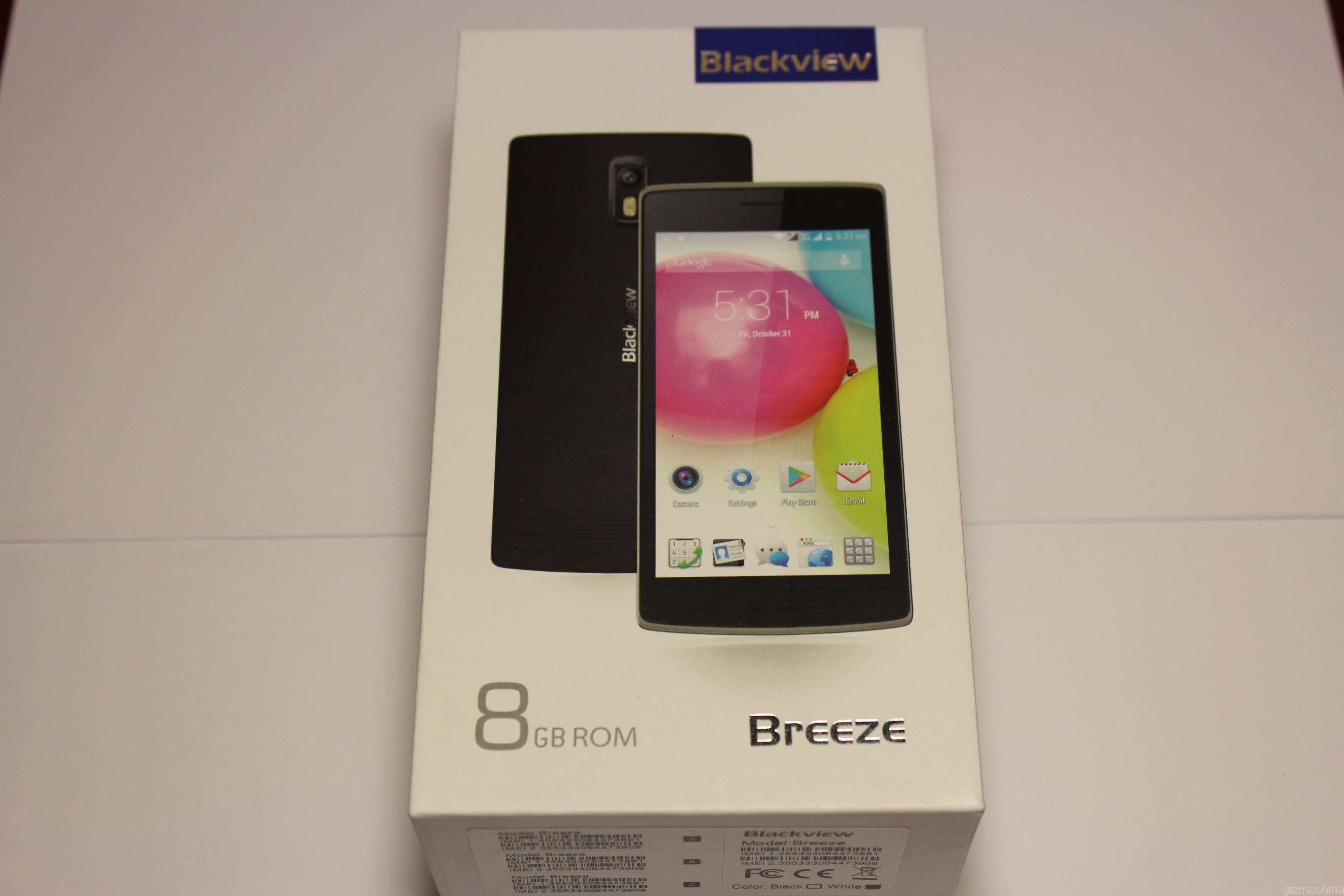 This time around we are looking at a very cheap (around $70-75 USD) device, which goes to the low-end category, but is designed for those who don't want to spend a pretty penny, but still enjoy the Android experience.
SPECS
| | |
| --- | --- |
| Display | 4.5″ 480ⅹ854 resolution (WVGA) |
| Processor | MTK6582 Quad-Core 1.3GHz |
| RAM | 1GB |
| Camera | 5MP Front/8MP Back, f/2.0 aperture |
| Connectivity | Bluetooth, 3G, GPS, WIFI, GSM,EDGE, GPRS, UMTS, HSPA, HSPA+, |
| Battery | 2.000 mAh |
| Dimensions | 13.3 x 6.65 x 0.94 cm / 5.23 x 2.61 x 0.37 inches |
| OS | Android 4.4 Kitkat |
| Storage | 8GB (can be expanded up to 64GB via Micro SD) |
Well, as far as specs go, we can clearly see that this is not the high-end device, but you can't ask too much for the $70 phone. Despite these low-end specs, we will focus on the feature set and real life performance in this review.
UNBOXING
The box is pretty simple, yet quite elegant and high quality for a budget device. One thing that surprised us was the "Designed in Italy" sign… We are not sure what it means exactly, but we will focus on the actual device.
Blackview has already impressed us with the rich contents of the devices they ship and we have the same story here again. The device comes with a quick start guide in case you are not sure about some things. Also, there is a standard 1amp charger along with the Micro USB cable. Moreover, there is a pair of headphones and the USB OTG cable to connect an external storage device.
What is more, Blackview Breeze comes in with a TPU gel case to protect your device from drops. A very nice addition by the manufacturer. The case seems to be made out of a decent quality materials, it is easy to install and remove it.
DESIGN
OFFICIAL PICTURES (Source: http://www.blackview.hk/blackview-breeze)
REVIEW UNIT PICTURES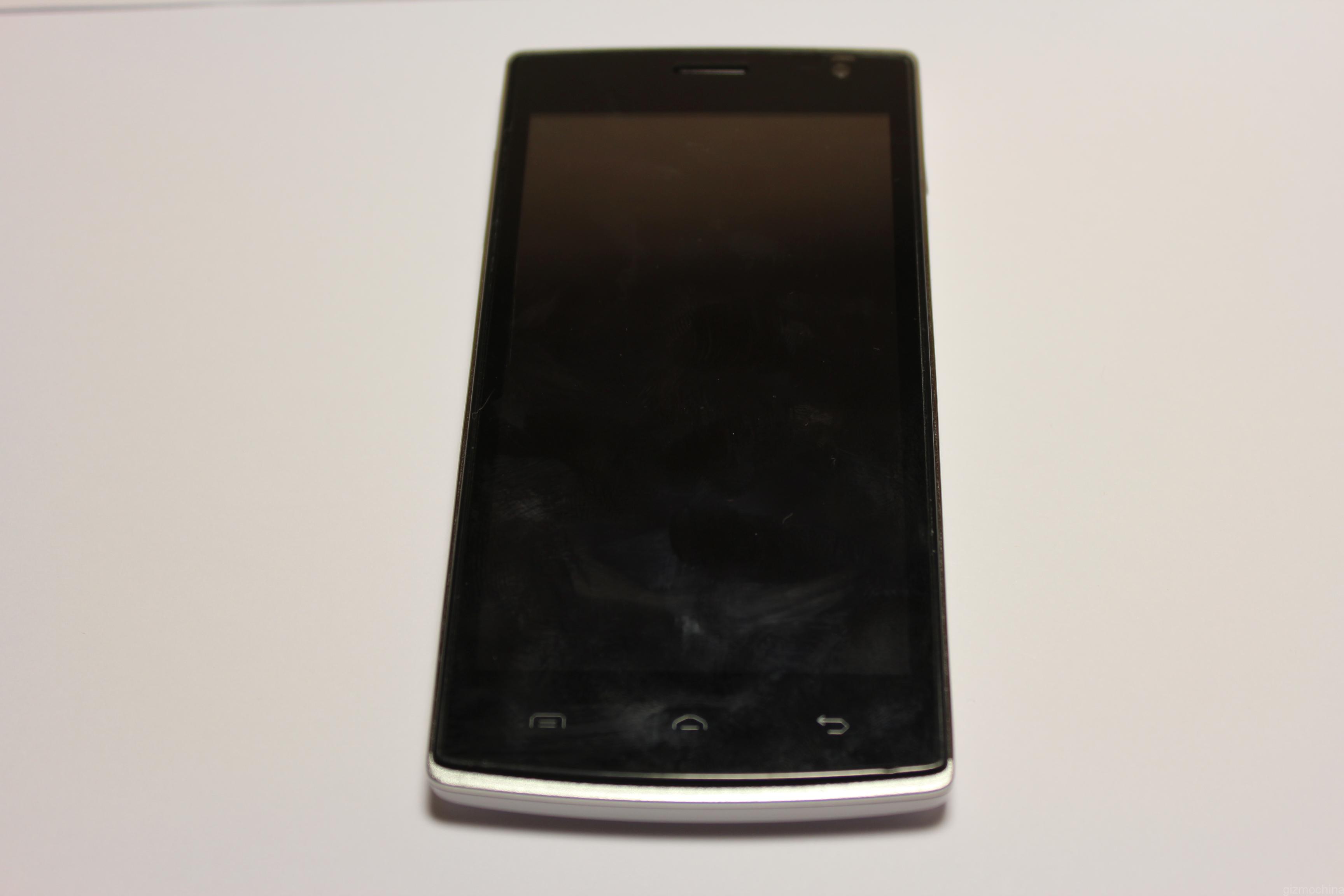 Is this OnePlus One Mini?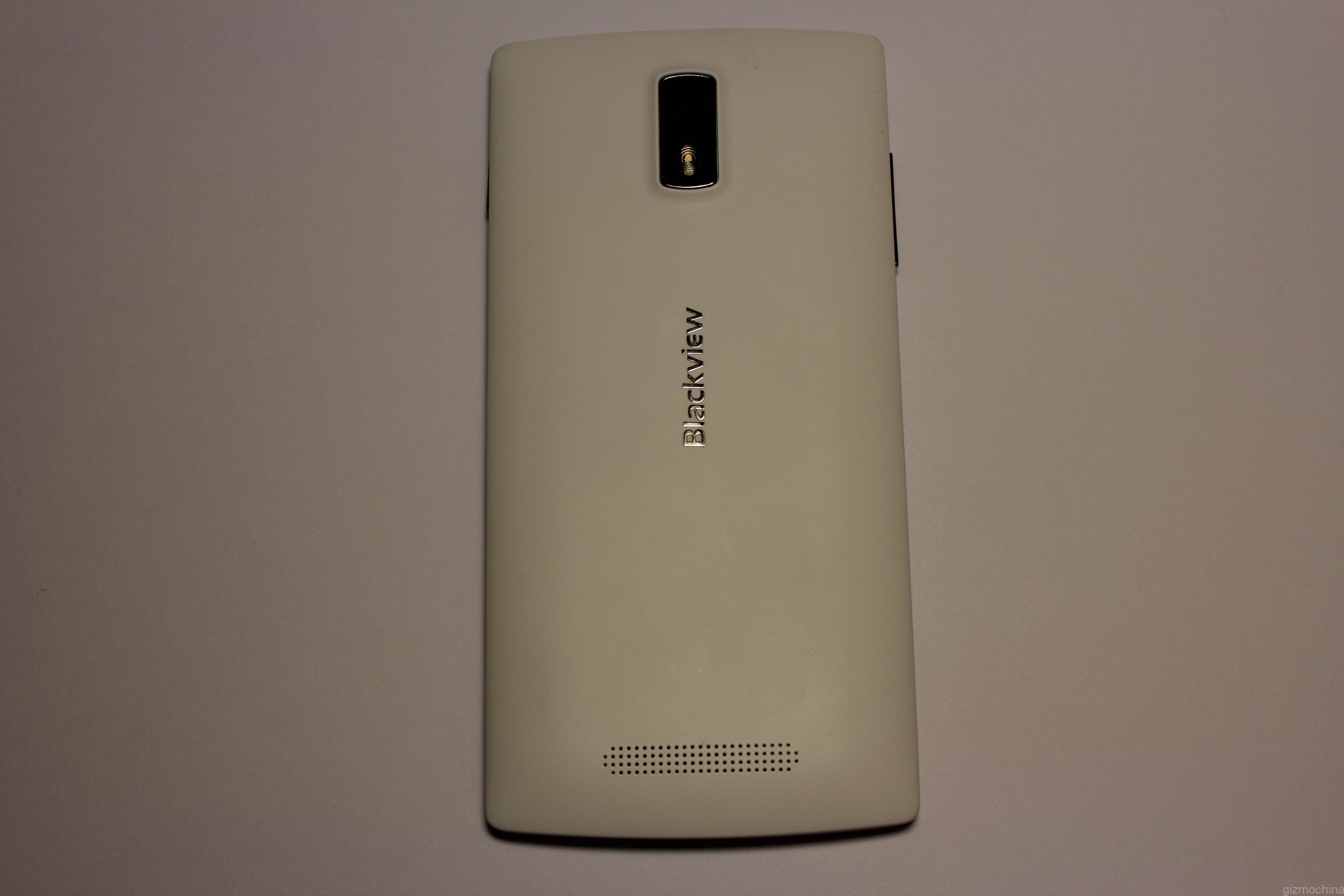 The first thing that comes to your mind is that the device looks very similar to the OnePlus One in terms of design and choice of materials. However, it is much smaller since it spots only 4.5 inch display in comparison to 5.5 inches.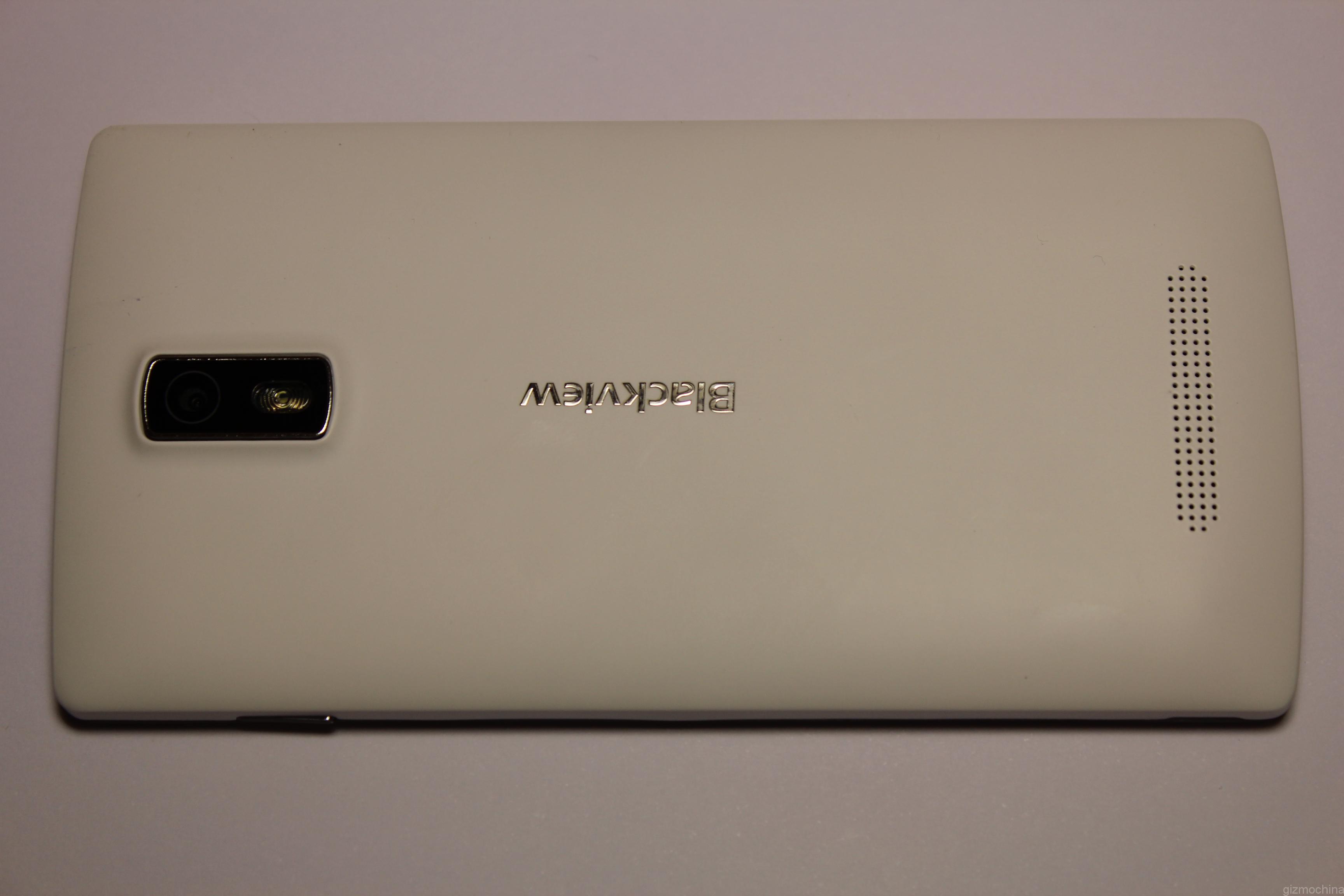 On the back there is a camera sensor with dual LED (single tone) flash. Also, there is a Blackview logo and the speaker grill on the bottom.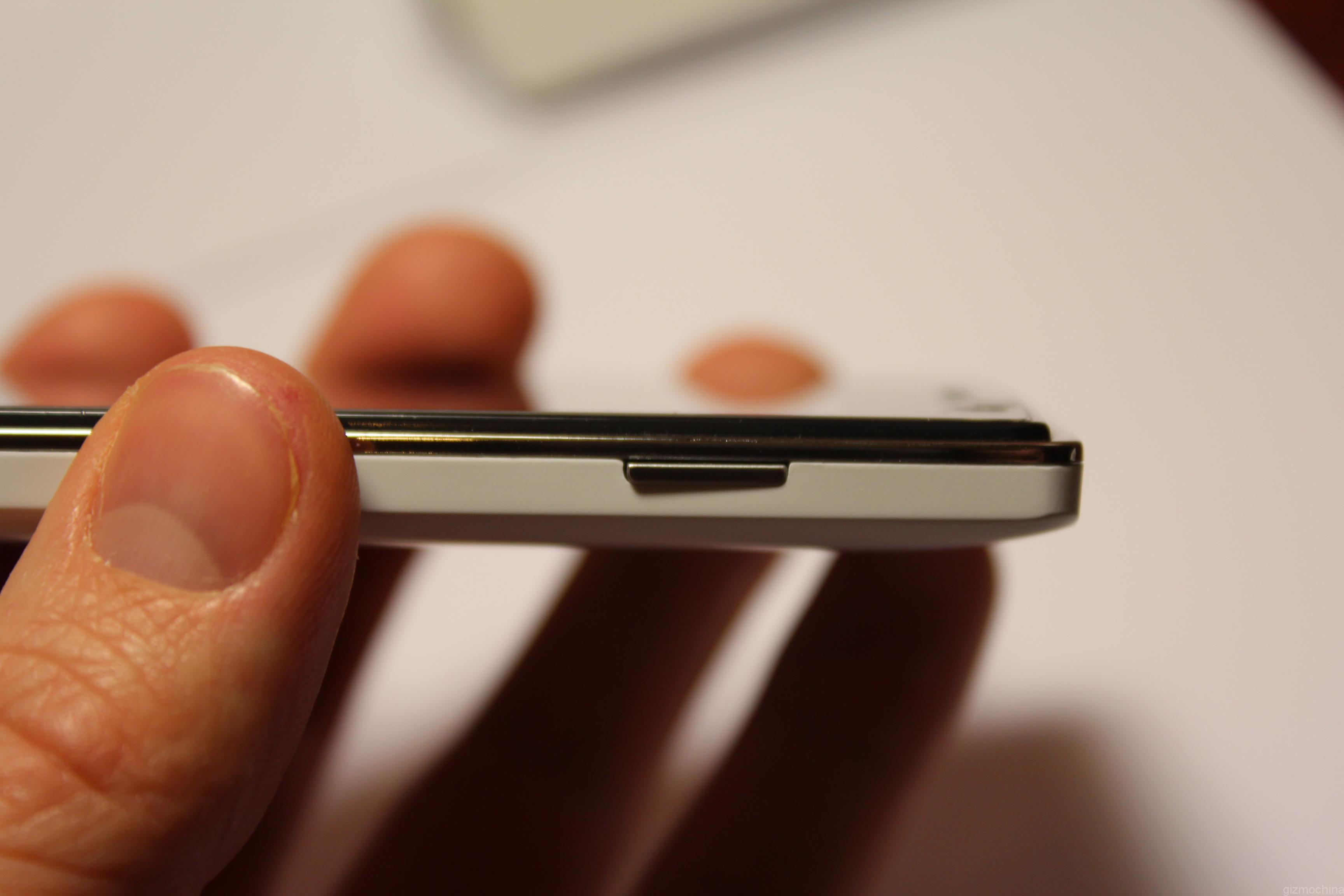 On the right, there is a power key. It is made out of plastic. It is not bad, but we've seen some better ones with a greater tactile response.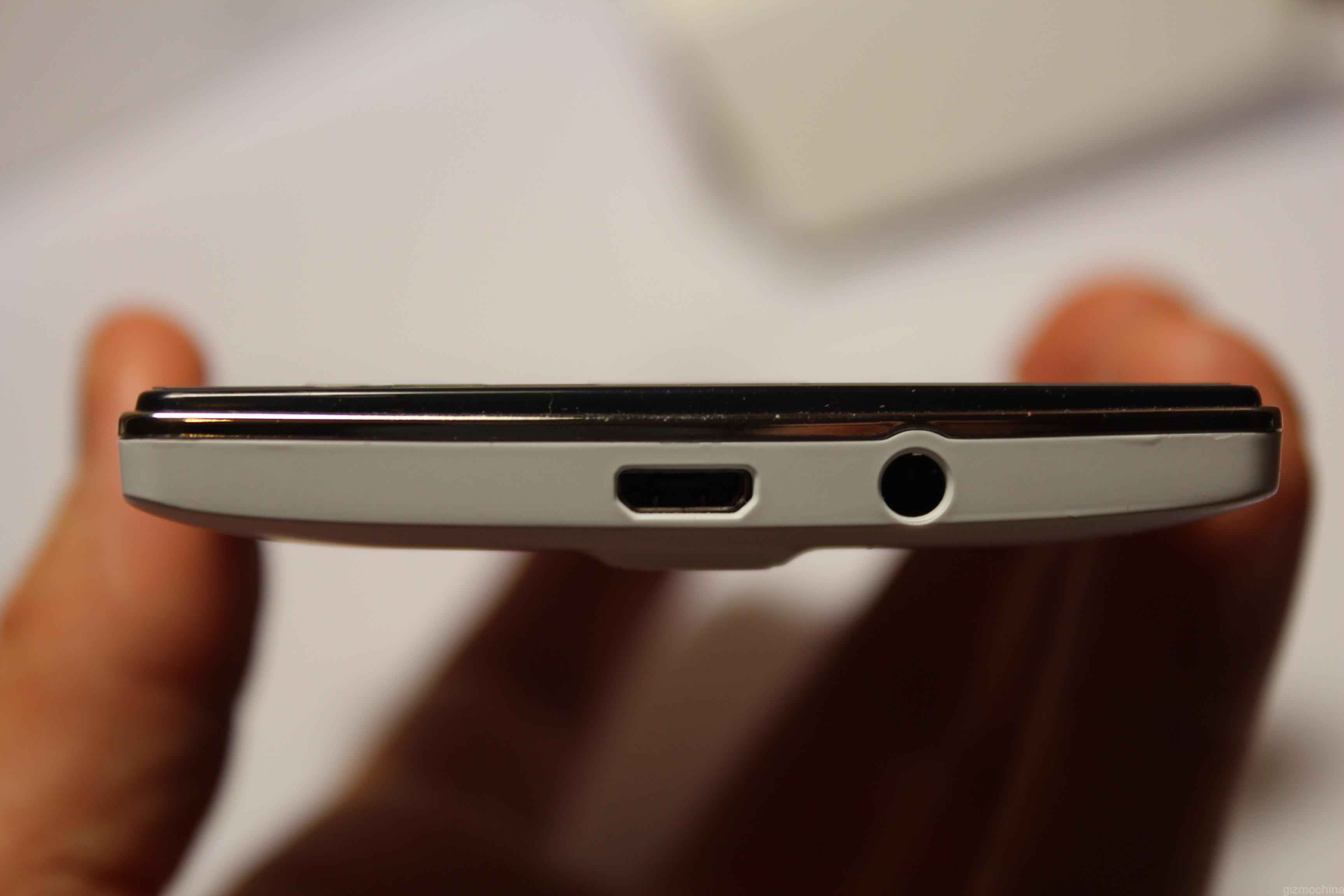 On the top side, there is a micro USB charging port and the 3.5mm auxiliary input.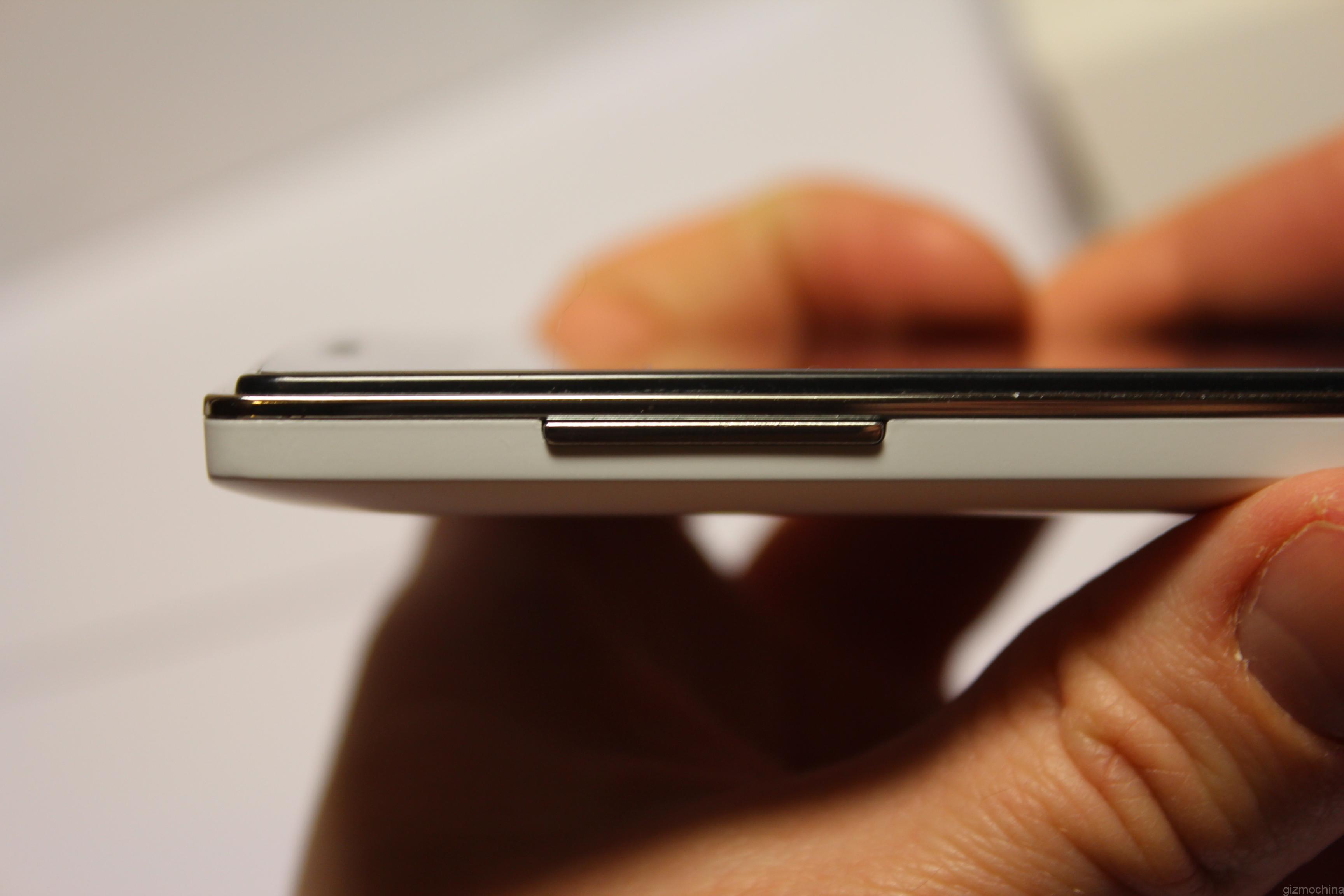 On the left, there are volume up/down keys.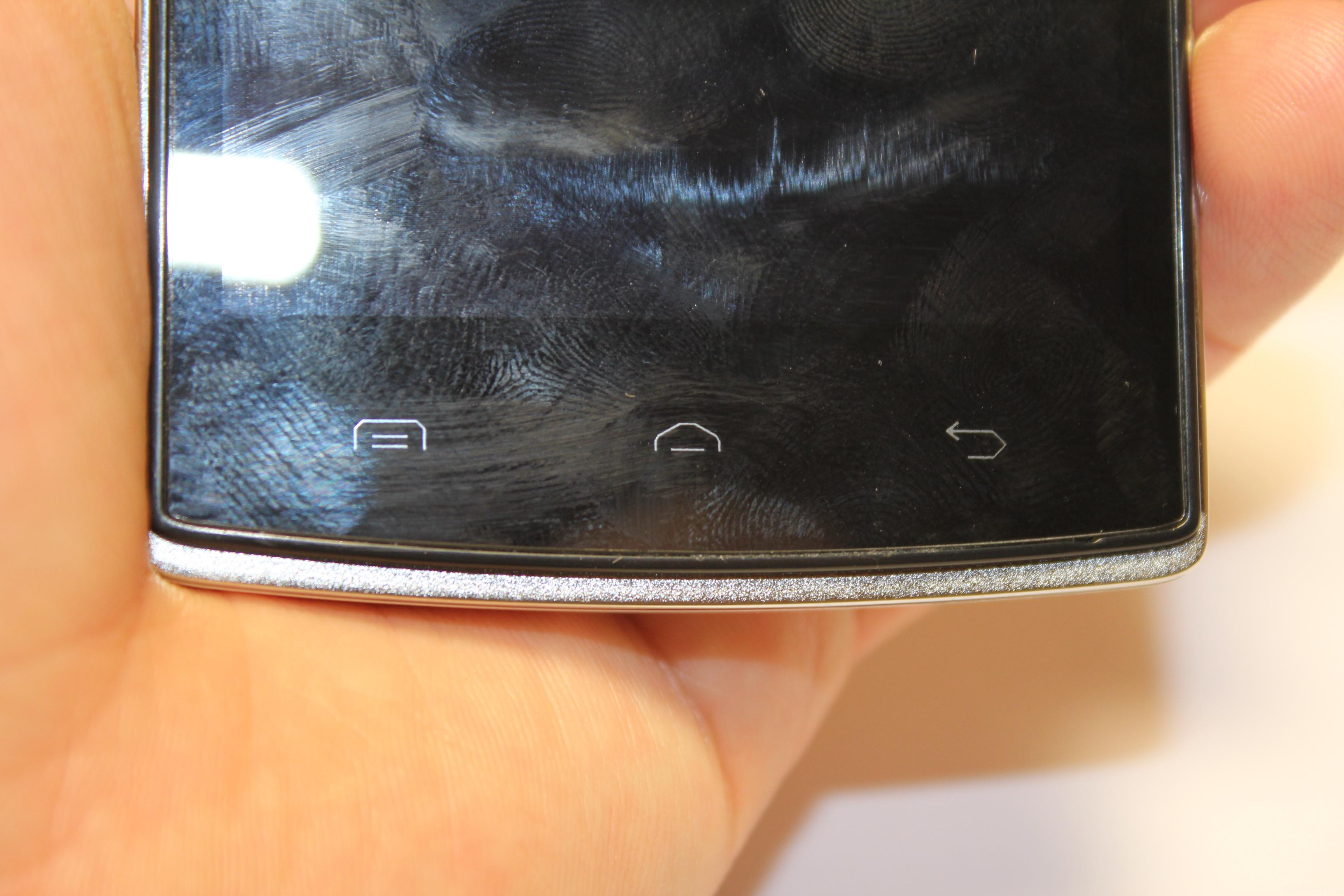 The capacitive keys on the bottom work well, but they are not backlit.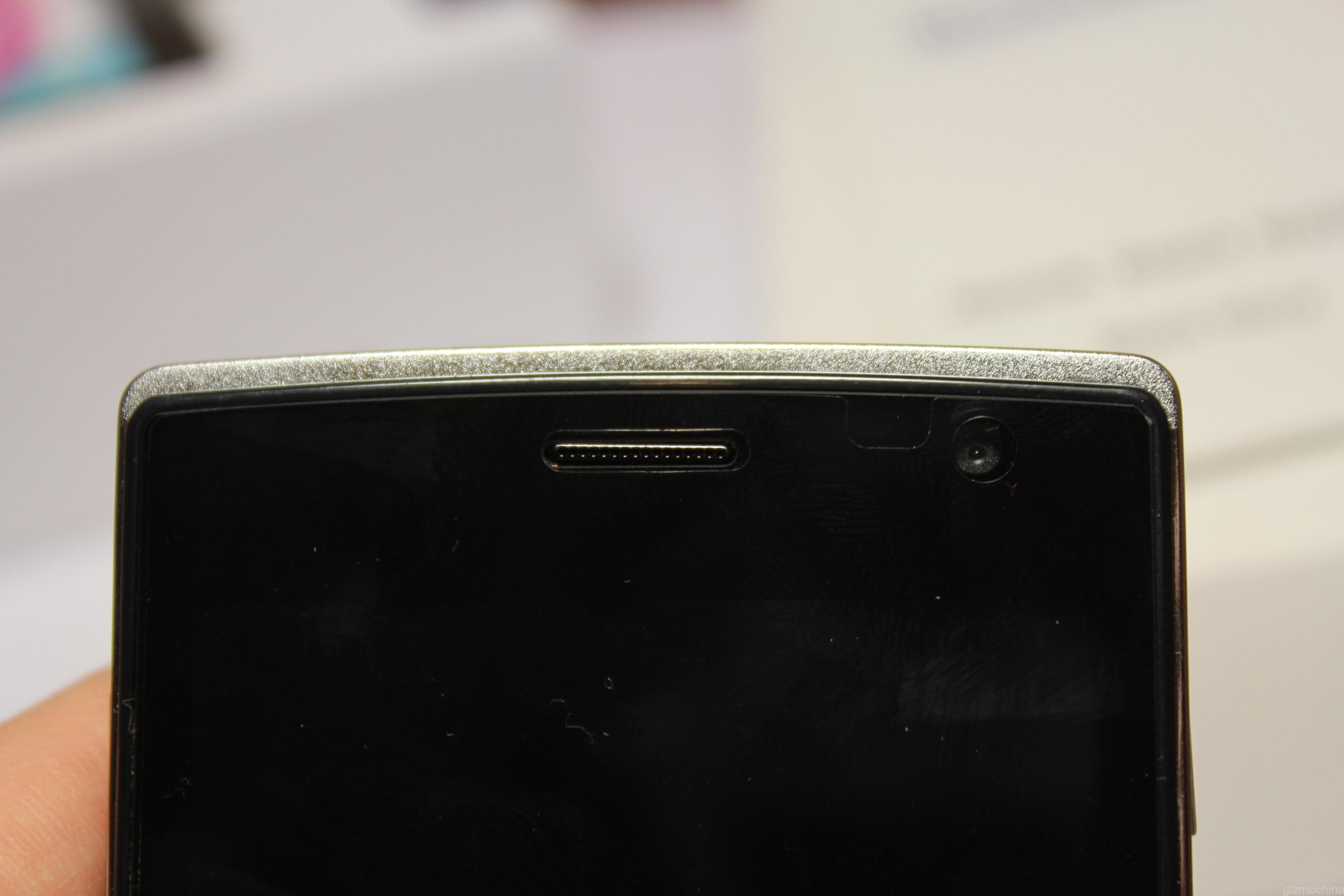 The top side of the front spots the earpiece along with the front facing snapper.
Removing back cover is quite easy using your nails. Under the hood, there are two SIM card slots (one regular, other micro SIM) and the microSD card slot for storage expansion.
The battery capacity is 2000mah.
FIRST IMPRESSIONS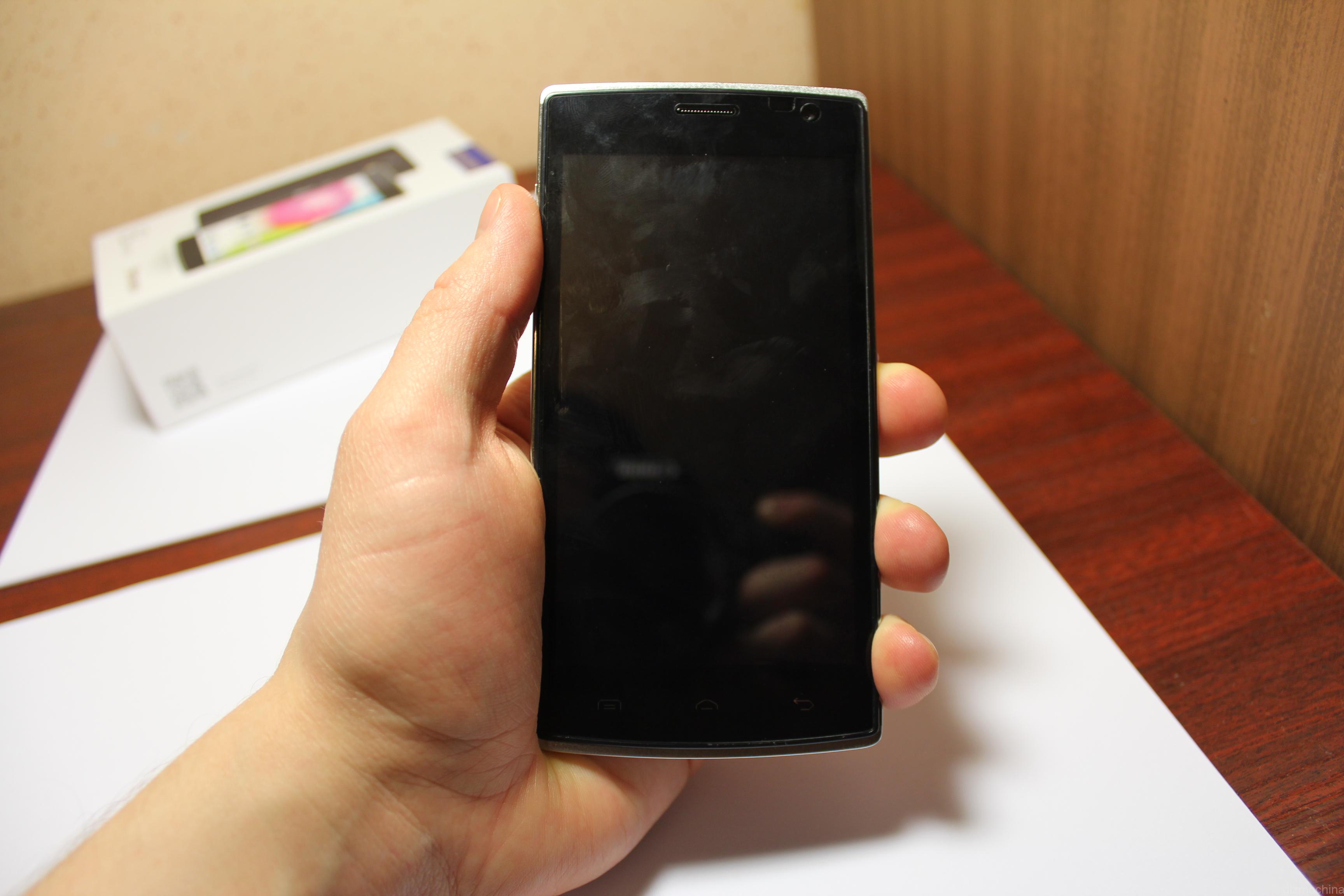 Overall, the Blackview Breeze looks very similar to the OnePlus One and the materials used in its design are very similar. Also, the device seems to be quite well made, but it spots only plastic materials. However, you can't get a metal frame for such low price. In addition, the phone is very compact and is easily manageable with one hand, which is becoming a rare thing these days. In the end, you are getting a nice compact smartphone with a decent built quality.
DISPLAY
The display is quite low resolution (480ⅹ854), which does not reach HD quality. Still, it is decent looking with great viewing angles and colour reproduction. Moreover, it is bright enough, so you can see what's on your screen even in direct sunlight. Also, the touchscreen responsiveness is great and I didn't notice any issues. In the end, you are paying just over $70 and for this price, the display is very good.
UI, Functionality, Performance
The device is running Android 4.4.2 Kitkat and the UI is clean, simple as it is almost stock Android with just a few added features by Blackview. Overall, scrolling through menus is smooth and responsive, I did not get any lags. Also, multitasking is decent as I had tons of apps running in the background, but could still do stuff without a lag.
The Blackview Breeze comes in with some basic apps pre-installed like torch, calculator, calendar etc. All of these apps are running smoothly, open up and close fast.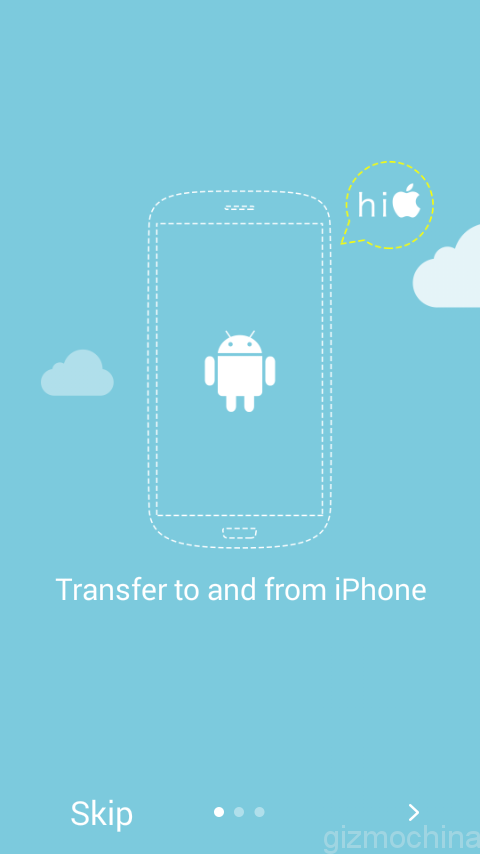 This "Hi Apple" app lets you transfer the content from your iPhone to Blackview Breeze. Well, we don't say that this device is better than the iPhone, but why not include this app?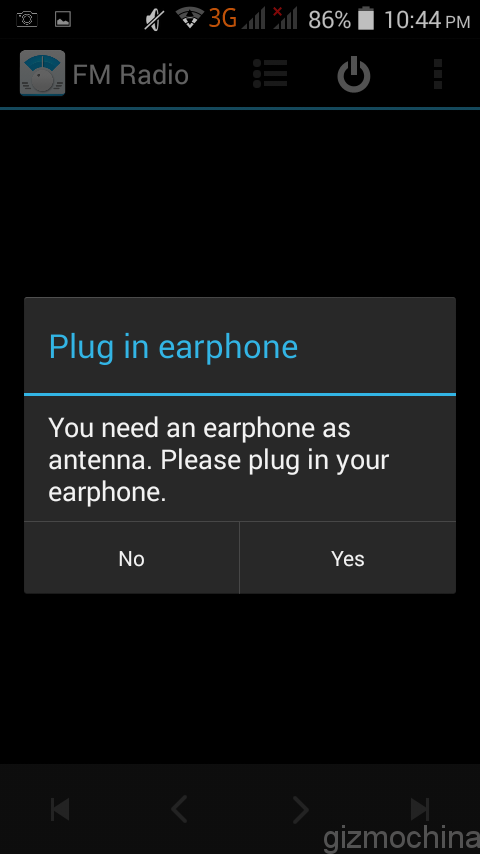 The included FM radio is a nice addition for a $70 phone.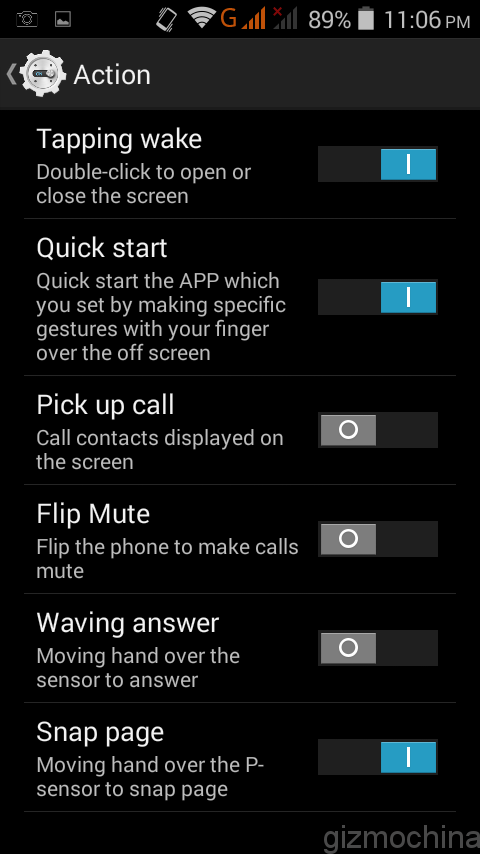 You can also find some gesture controls included. I don't really use any of them in real life except one – tap to wake. This is a great functionality and works great all the time.
MULTIMEDIA
The gallery app is very simple, but gets the job done. Scrolling through photos is fast and smooth. Also, zooming in or out works perfectly.
The video player app is simple as well, but works very well. I tested the video playback on both 720p and 1080p. And… was surprised how good it was! Both videos played very smoothly and scrolling is lag-free. Honestly, I expected some lag from a $70 phone, but I was surprised that it gets the job done flawlessly.
There is a basic music app. I tested out both internal and external output. The speaker on the back is not the best out there, but is good for the price. I can say the same about the quality via headphones.
Browsing experience is also good. Scrolling, zooming in and out is great. Page loading times are good, too.
BENCHMARKS
I never care about benchmarks, but still, I know that some of the readers may be interested, so I ran the Blackview Breeze through the Antutu test.
The Blackview Breeze scores a respectable 19410, which is pretty decent for a $70 smartphone.

GAMING
Honestly, I did not expect anything from this device as far as gaming, but it turns out that even graphically intensive games like Asphalt 8 can be played on this device. Yes, the graphics levels are not on par with flagships, but still not that bad. I had some frames dropped and a few little lags, but overall, it exceeded my expectations and I'm happy about it. Of course, the device is not designed for gamers, but it will get the job done when you need to burn some time.
CAMERA
Camera app is simple and easy to use. It has some basic settings you can adjust.
Picture Quality
We have to tell you that our review unit is a pre-production model, so picture quality may improve with the retail units. Anyway, we took the device for a spin for both outside and inside pictures to give you guys some impressions about the 8mp sensor abilities in this cheap device.
We have to say that the picture quality is good for a $70 device as it captures a decent amount of details for the 8mp shooter. We may want to a bit better auto saturation levels adjustment, but it is not that bad. Also, the exposure tends to lock in (we mainly used tap to focus technique) on the darker side, so the pictures came out a bit darker. Still, the 8mp shooter gets the job done for a low-end smartphone very well.
Once you take the device inside, the shutter speed becomes significantly slower. Also, you have to make sure to stand still as the sensor is prone to the camera shake. Still, if you are holding the camera tight, you can produce some okay looking images, which spot the quality, which is clearly enough for social media (When was the last time you printed out the picture out of your smartphone?).
Finally, the device has a capable shooter and we haven't seen anything better in the sub $70 price range.
BATTERY LIFE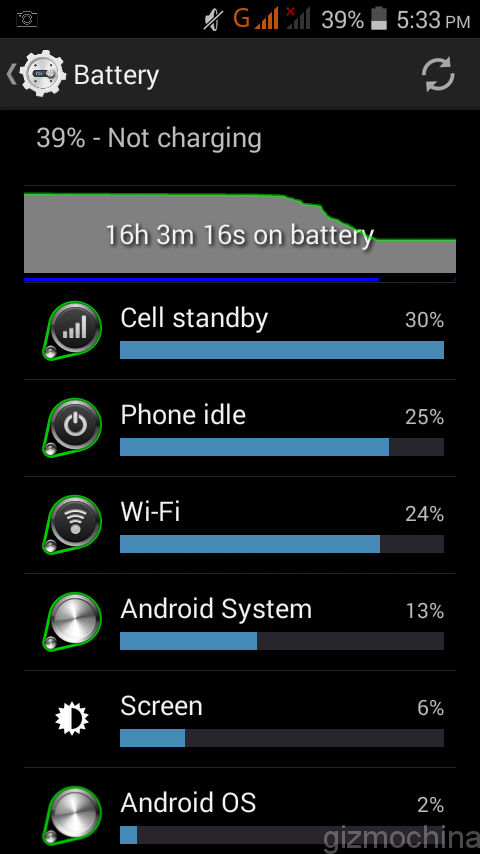 Since we have a pre-production model, the device seems to be taking a bit too much of juice on the standby mode. Still, during our testing, we managed to go through the day, which consisted of using either 3G or Wifi all the time, watching Youtube, a bit of gaming and browsing the web. Not bad at all. What is more, the battery is user replaceable and the rear cover is easy to remove.
CONCLUSIONS
So there you have it, the "OnePlus One Mini" wannabe device, which is priced at amazingly low $70-75. For this price range you can't have it all, but still everyone is looking for a decent device, which can fulfil your daily tasks. Honestly, we were a bit skeptical before making a review of it. However, the device proved itself to have very fluid day to day performance. It is even possible to play graphically intensive games (yes, there are a few frames dropped there and there, but not a deal breaker). What is more, you can enjoy watching Full-HD movies although the screen's resolution is not HD. Still, the screen quality is decent and it provides quite accurate colour along with the good brightness levels and great viewing angles since it is a good old LCD panel. Moreover, the build of the device is a bit plasticky, but so is the original OnePlus One. Anyway, the Blackview Breeze is made out of quality plastic and feels sturdy. The only complaint is that the power on/off key could have a better tactile response. To fix that, you can use a tap to wake function more often, which is way better way of turning the display on. A very good thing is that the device is very compact and is more than manageable with one hand. Furthermore, the camera is good for a $70 device as it can capture a good amount of details. Yes, it struggles in the low light, but if you want to have a good low light performer, you may need to pay at least $200-300 more.
Finally, a decent battery life, 2 SIM card slots, one Micro SD card slot (which actually works with 64GB cards as well), the compact and sturdy design, decent camera and good performance, additional stuff that comes in the retail packaging is really a great value for $70 phone.
In case you got interested in the device, you can buy Blackview Breeze for as low as $67.99 from these RELIABLE resellers for the lowest prices: