ZTE Nubia Z9 Mini Review – Meet a Midrange Flagship
ZTE is one of those major Chinese manufacturers, which is widely known for its devices not only in China, but also internationally. What is more, their Nubia sub-brand is known for offering high quality for a price, which is lower than competitors like Apple or Samsung. In the past few years Nubia managed to prove that with the Z5 mini and Z7 mini smartphones, which received positive reviews. This time around, we have a just announced ZTE Nubia Z9 mini. Let us unbox it and our first impressions.
We wanted to say thank you for GIZTOP.COM for sending this device for a review!
VIDEO
You can check out our video review if you see all you need to know in under 14 mins:
SPECS
| | |
| --- | --- |
| Display | 5″ 1080p resolution (Full-HD) |
| Processor | Qualcomm Snapdragon 615, 64bit, 1.5GHz Cortex A53 quad core + 1.0GHz Cortex A53 quad core;  GPU: Adreno 405 |
| RAM | 2GB |
| Camera | 8MP Front/16MP Back, f/2.0 aperture |
| Connectivity | Bluetooth, 3G, 4G LTE, GPS, WIFI, GSM,EDGE, GPRS, UMTS, HSPA, HSPA+, Dual SIM standby (nano SIM slots) |
| Battery | 2.900 mAh Li-polimer (non-removable) |
| Dimensions | 141.3 x 69.8 x 8.2 mm (5.56 x 2.75 x 0.32 in), 147 g (5.19 oz) |
| OS | Android 5.0.2 Lolipop |
| Storage | 16GB (can be expanded up to 128GB via Micro SD) |
As far as the specs go, the Nubia Z9 Mini goes into the upper mid-range devices category. It does not spot a top of the line chip, but Snapdragon 615 processor has proven to be an excellent choice in the this category. Also, it is a 64-bit chip and Nubia Z9 Mini uses this architecture to the full extent as it comes with the Android 5.0.2 out of the box. Other noticeable specs are the powerful cameras, huge battery and the Micro SD card slot to supplement the 16GB of pre-installed storage.
UNBOXING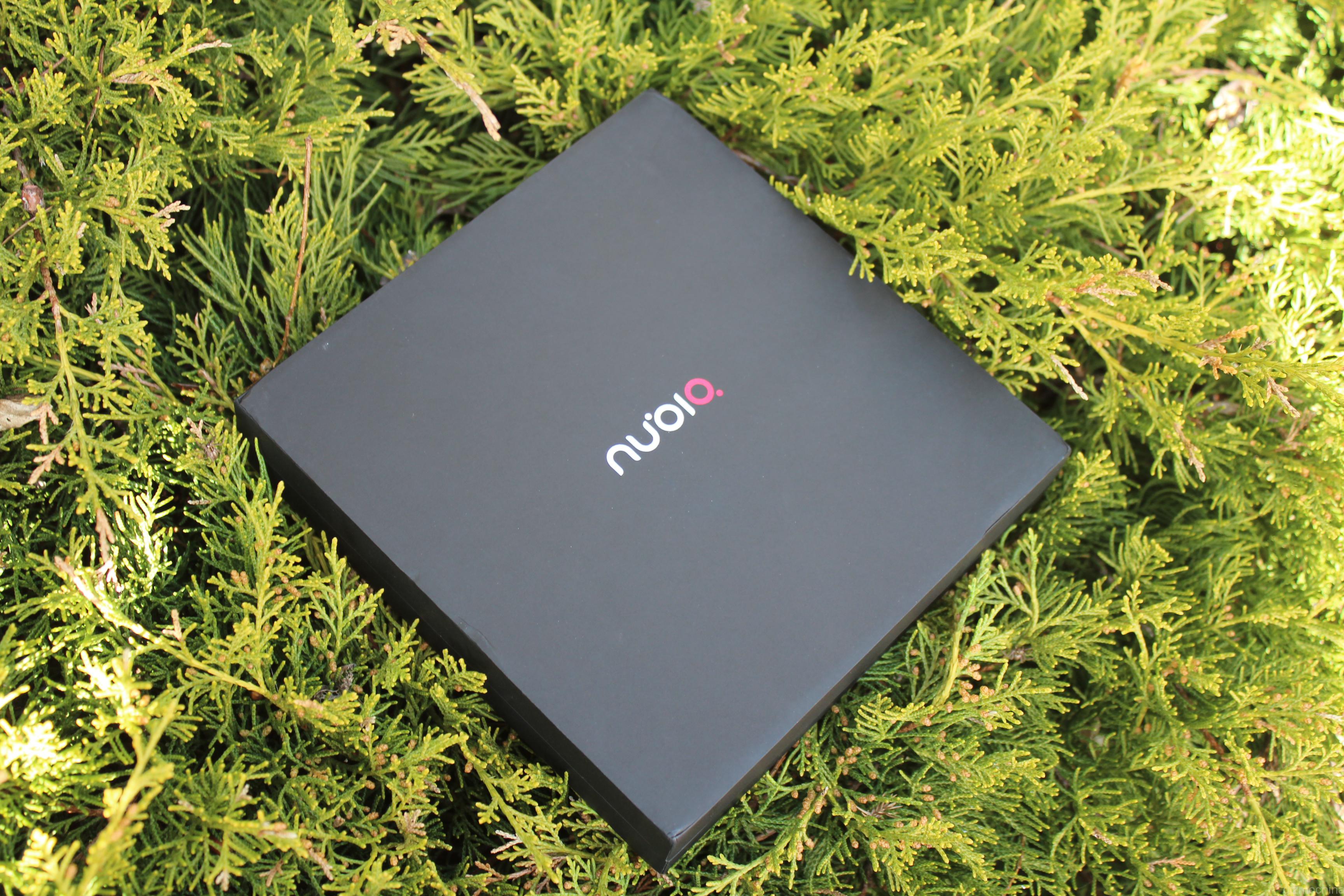 The device comes in a black box, which has a minimal design. On the back of it you can find a list of basic specs and some info, which is, however, in Chinese.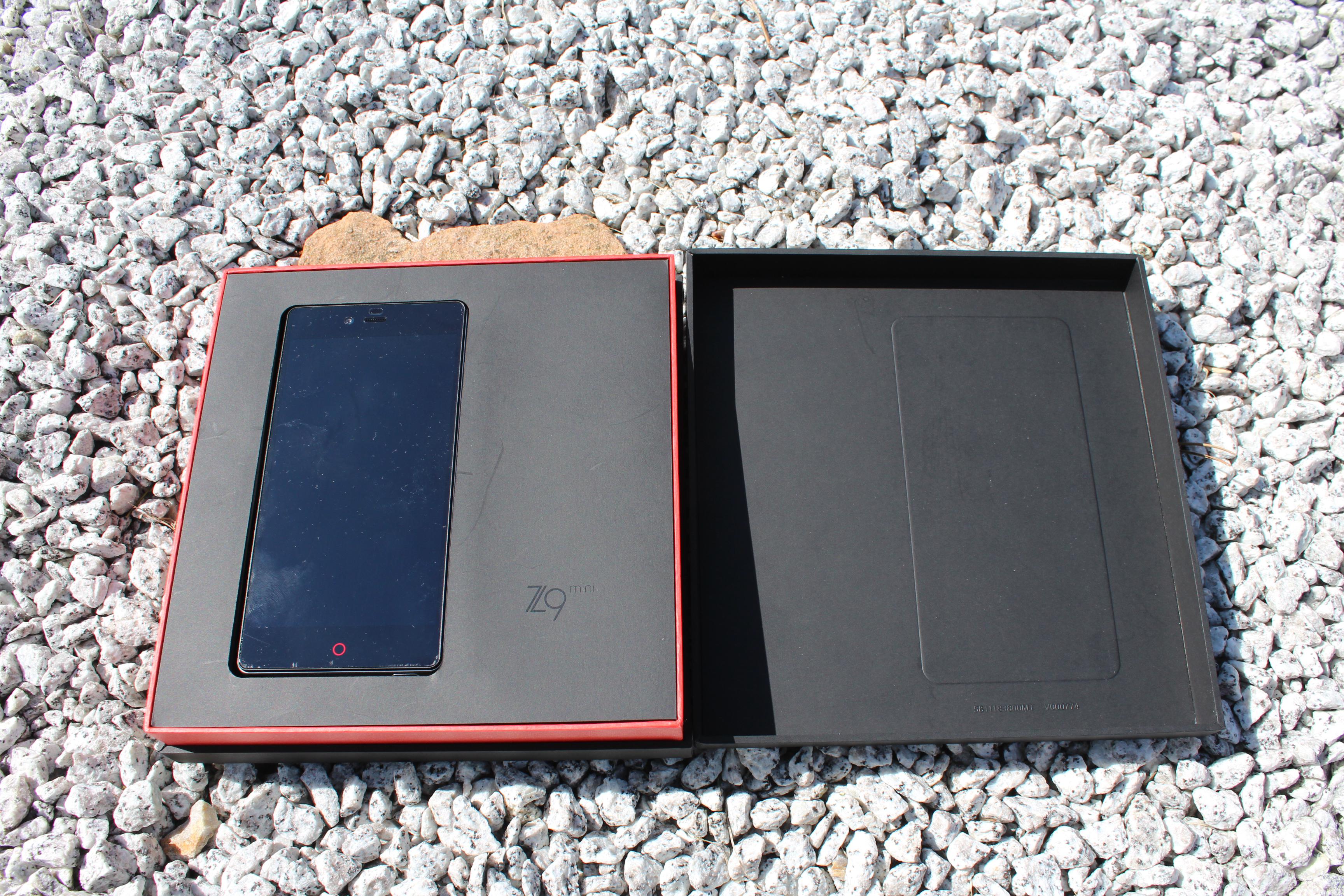 The first thing that comes out of the box is the smartphone itself. It was wrapped up in the plastic, but I removed it as I have the device for a few days already. Our review unit comes in a black colour, but there is also a white version. I will get back to it later.
If you take the top off, you will find a "drawer" embedded on its side. There is the place where the envelope containing SIM ejector tool and some instruction manuals are.
Other contents include a nice flat micro USB charging/syncing cable. It spots the design similar to what we have already seen from the OnePlus. Anyway, it definitely looks and feels great and stands out from the crowd of usual cables that come out of the box.
Moreover, there is the US charging brick, which can be used anywhere in the world with a help of the adapter.
Overall, the whole presentation seems to be great and it is a pleasure to unbox all the contents. Everything seems to be made out of quality materials and is organised neatly.
DESIGN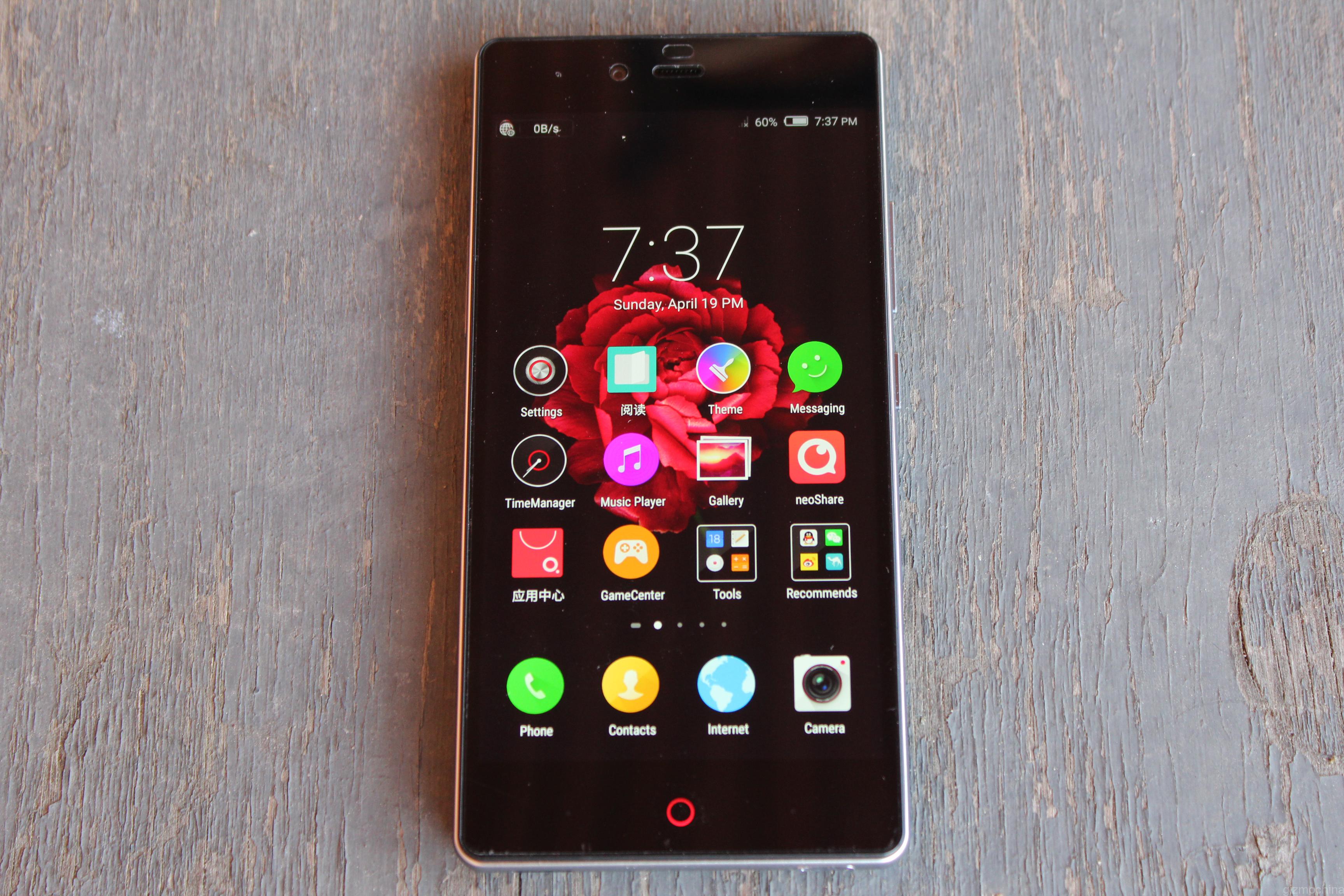 Once you first take the device into your hands, it feels like a solid piece of hardware, which has a great built quality. Also, since the device "only" has 5 inch 1080p display, it is a very compact smartphone. The display itself is sharp, vivid, bright and has great viewing angles. A great LCD panel.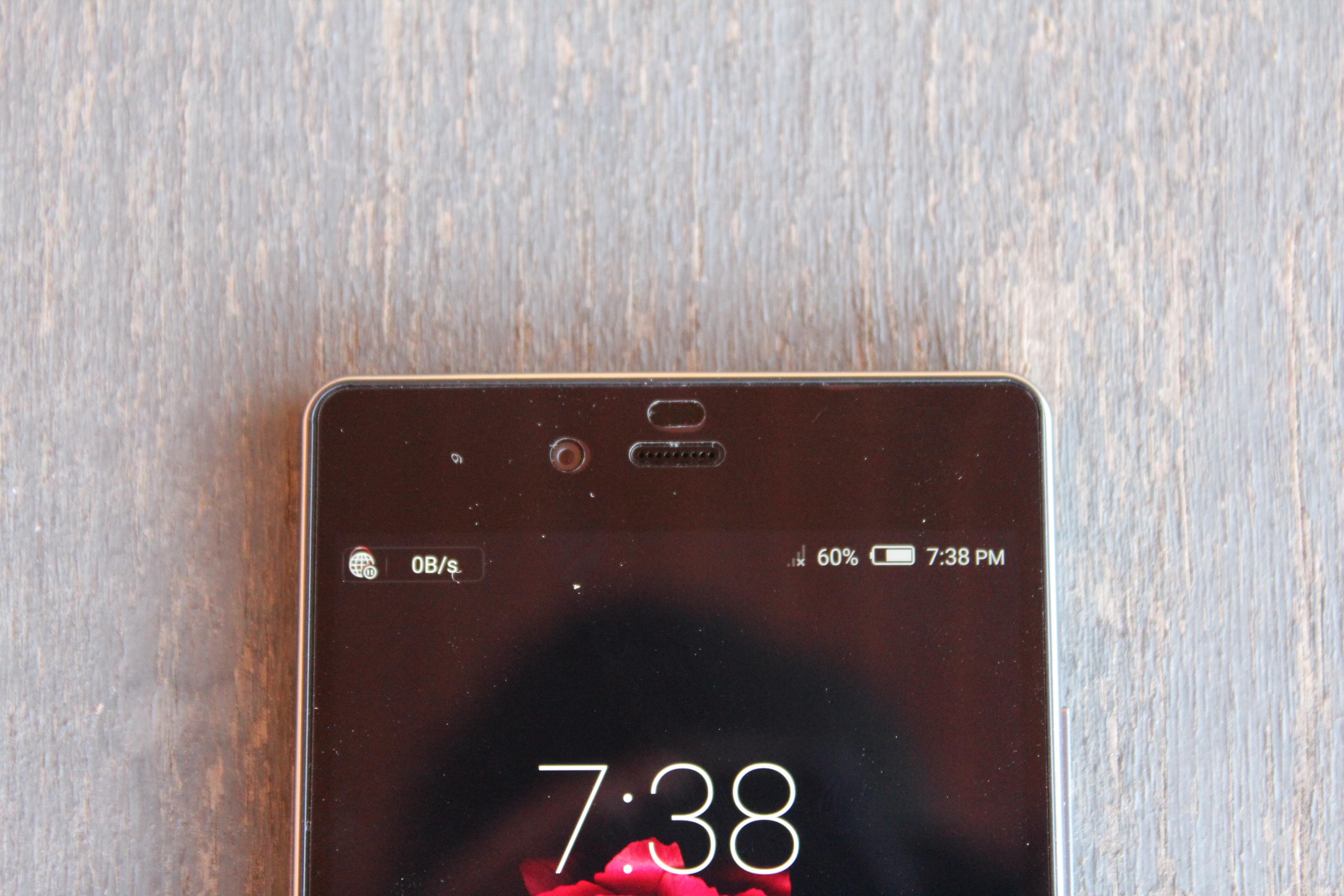 Let's start by taking a closer look at the front top. Here you can find an earpiece, proximity sensor and the 8MP snapper with f/2.4 aperture.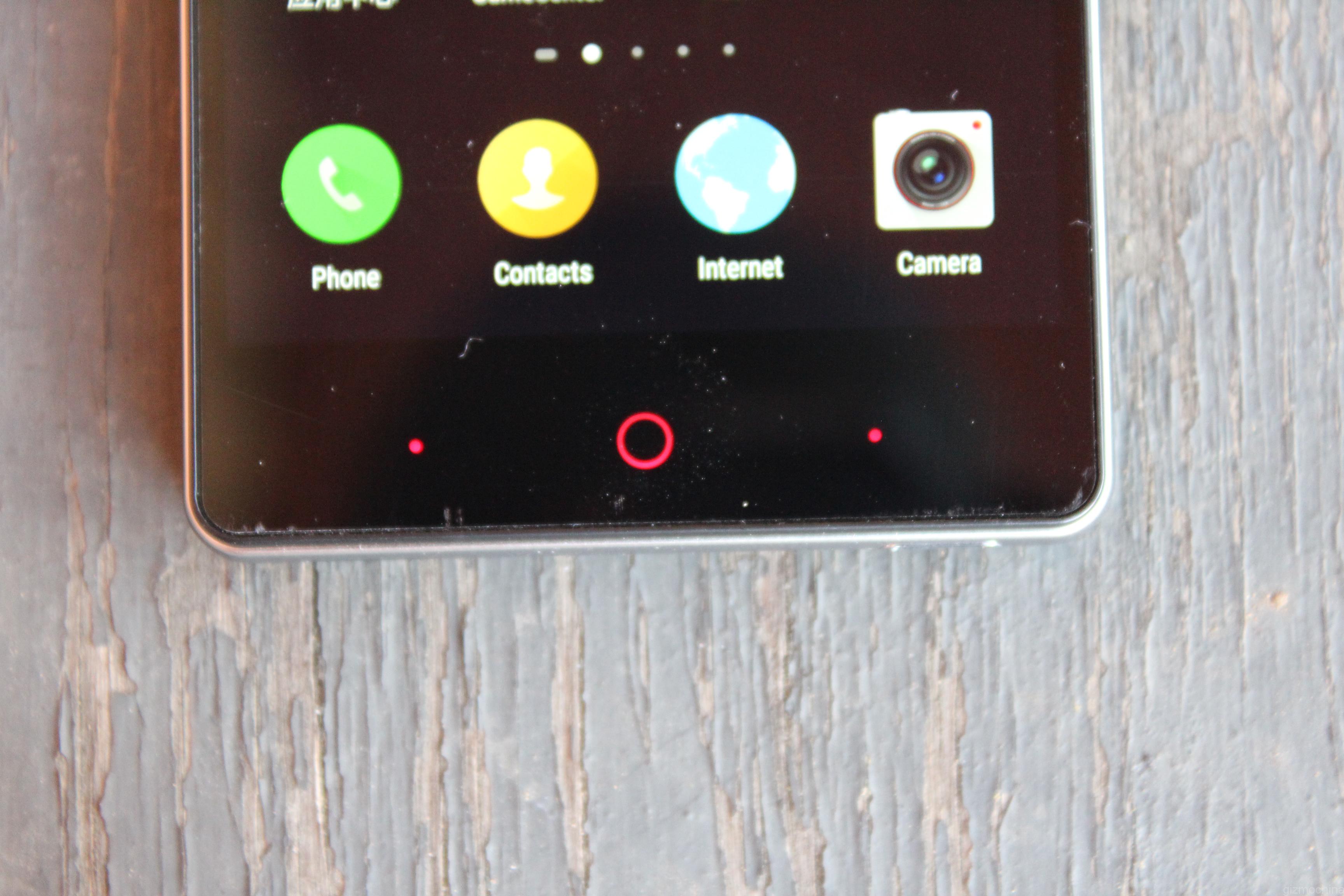 On the bottom there are typical Nubia-style capacitive keys. The programmable back and menu keys light up once you press it only. The home button at the middle has a signature Nubia pulsing effect once you press it. Moreover, it looks like it is always light up once you are outside since it has a red coating. You cannot say the same about the back and menu keys.
A great thing about these keys is that you can adjust its brightness (including auto mode) to either make it visible in the sunlight or make it dimmer to save power.
In addition, they are very responsive and convenient to use.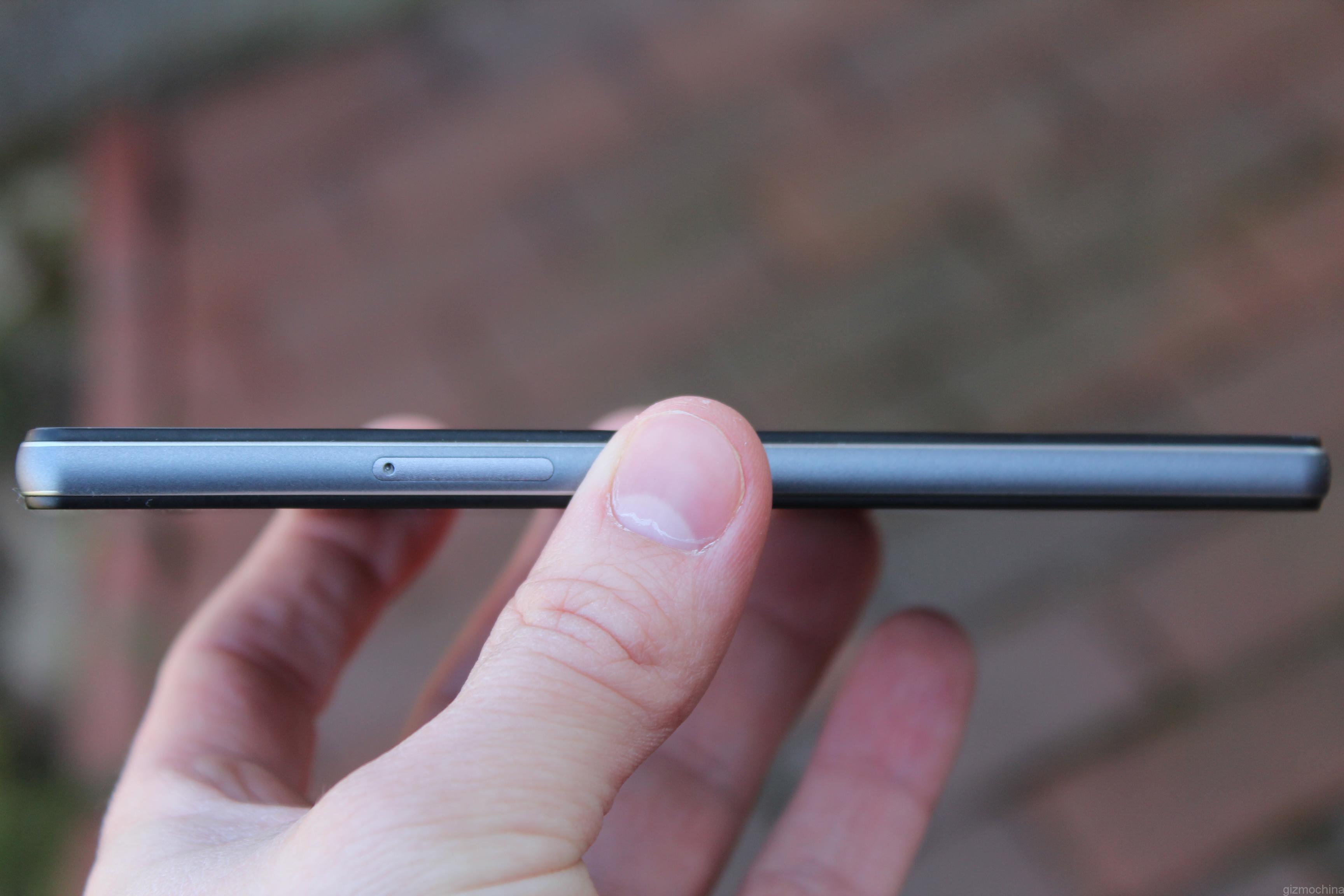 The device spots an alloy frame, which, however has a plasticky feeling coating on top of it. Not sure why Nubia made that, but most of the people would say it feels like plastic. On the other hand, it definitely feels sturdy and well made.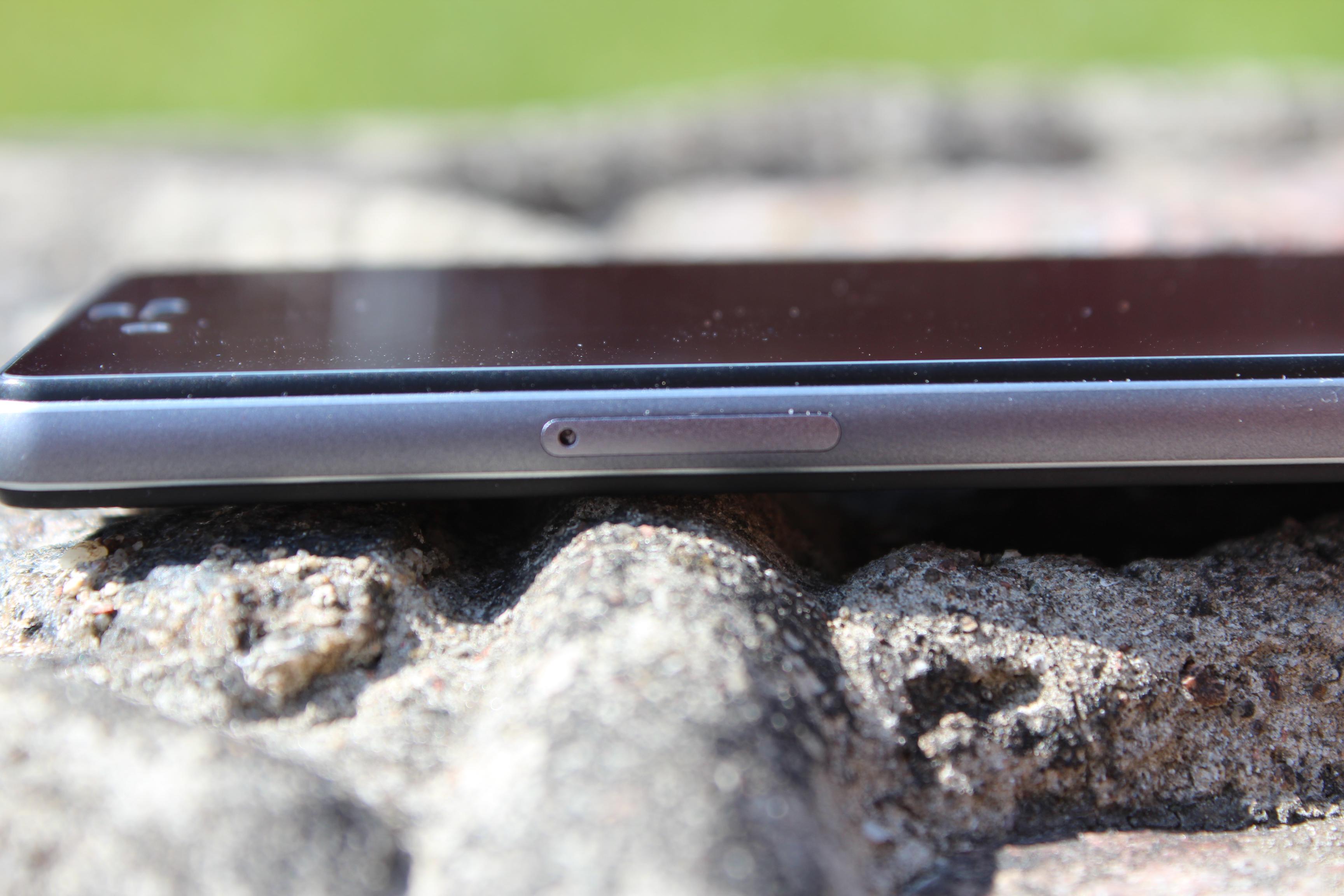 On the left you will find a dual Nano SIM cards slot. Since the manufacturer decided to implement Nano SIM card standard to be in the same league with the iPhone, you may need to cut your card if you are not using this type of card yet. The device supports 2G, 3G and 4G LTE bands with each band (GSM 850 / 900 / 1800 / 1900 – SIM 1 & SIM 2
CDMA 800; HSDPA 850 / 900 / 1900 / 2100; TD-SCDMA 1900 / 2000; LTE band 1(2100), 3(1800), 7(2600), 38(2600), 39(1900), 40(2300), 41(2500). The device supports 2G, 3G and 4G LTE bands on both slots.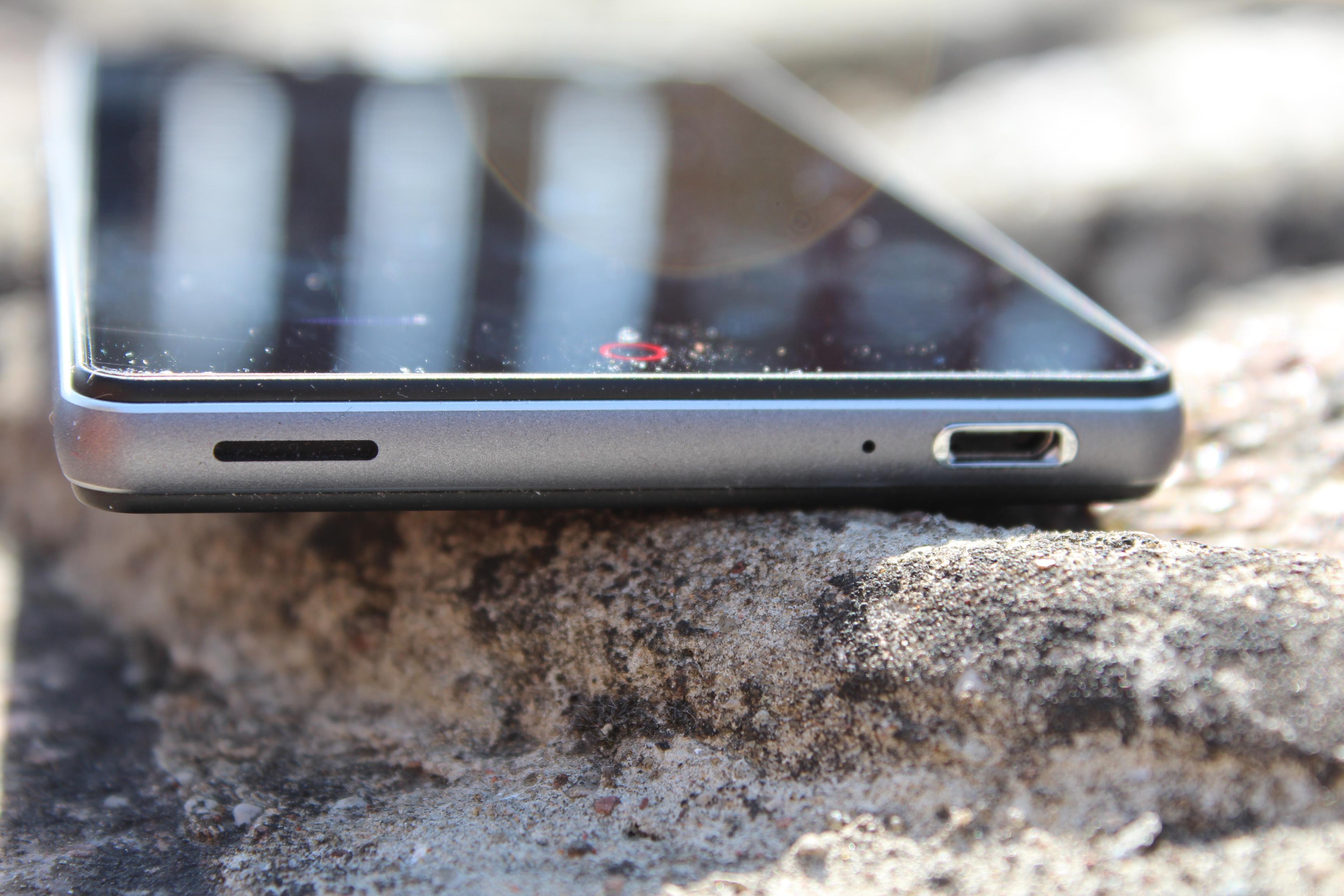 On the bottom you can find a speaker, mic and the micro USB charging port.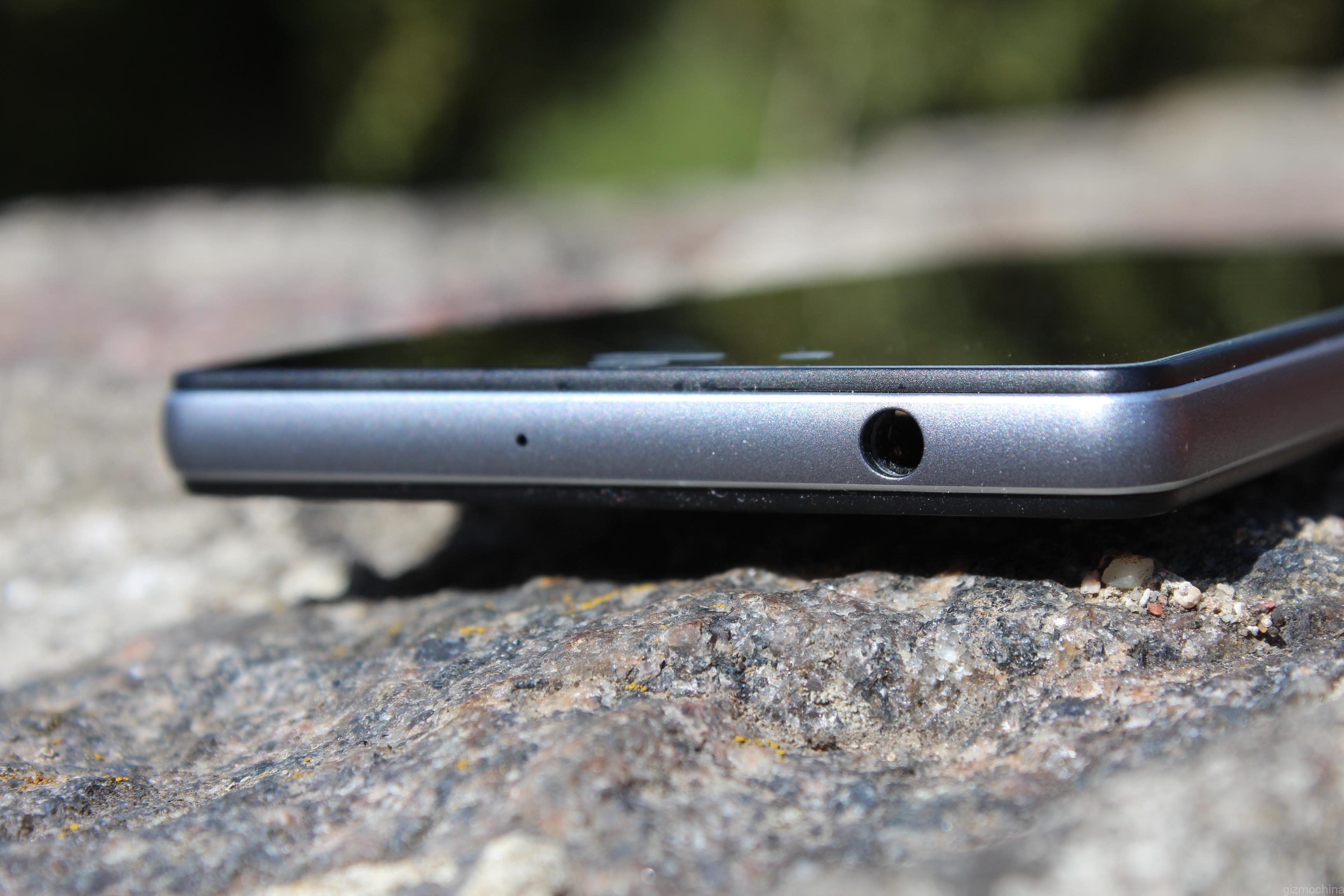 On the top of the device there is a secondary mic along with the headset jack.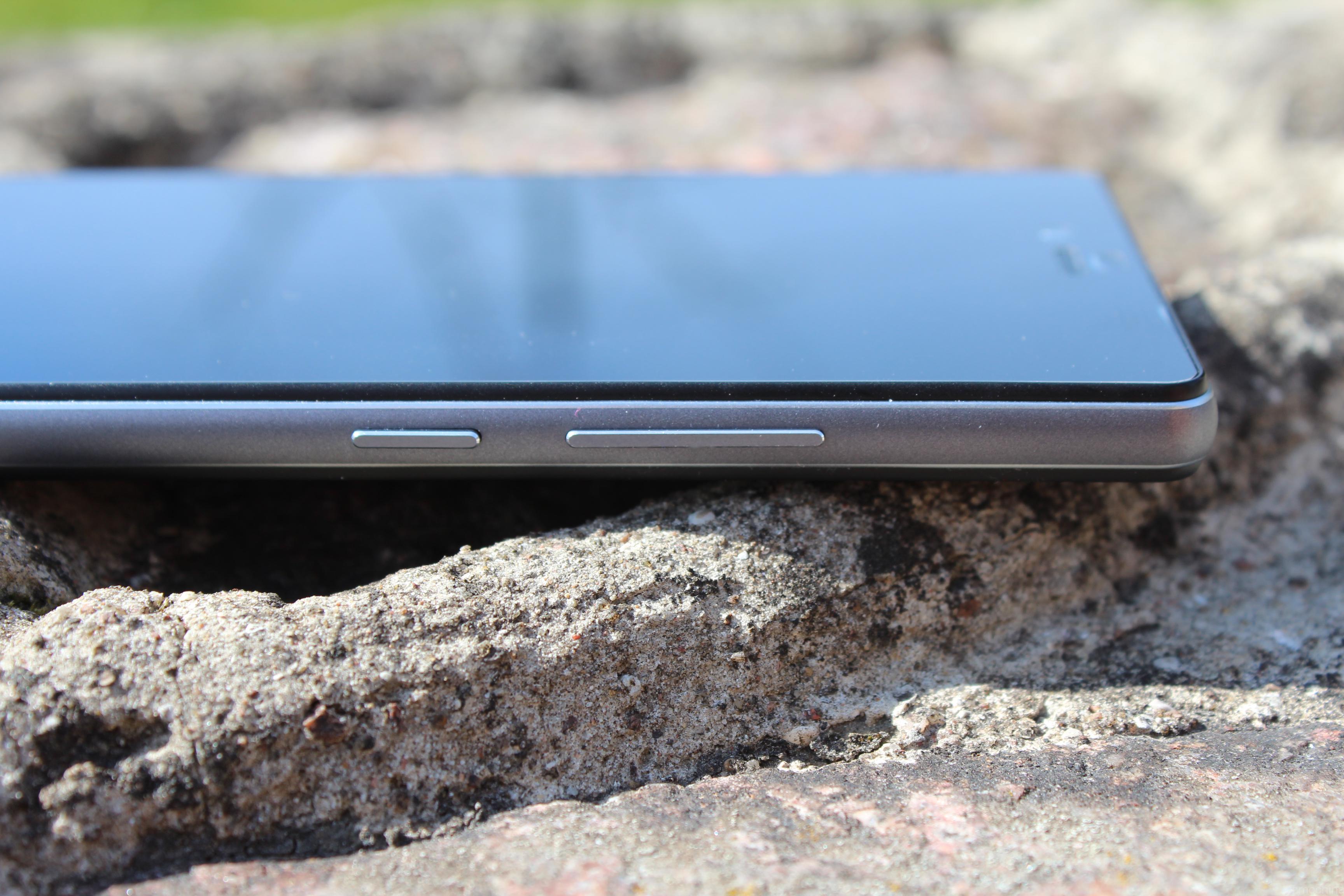 On the right there is a volume rocker and the power on/off key. They are made out of metal and have a great tactile response.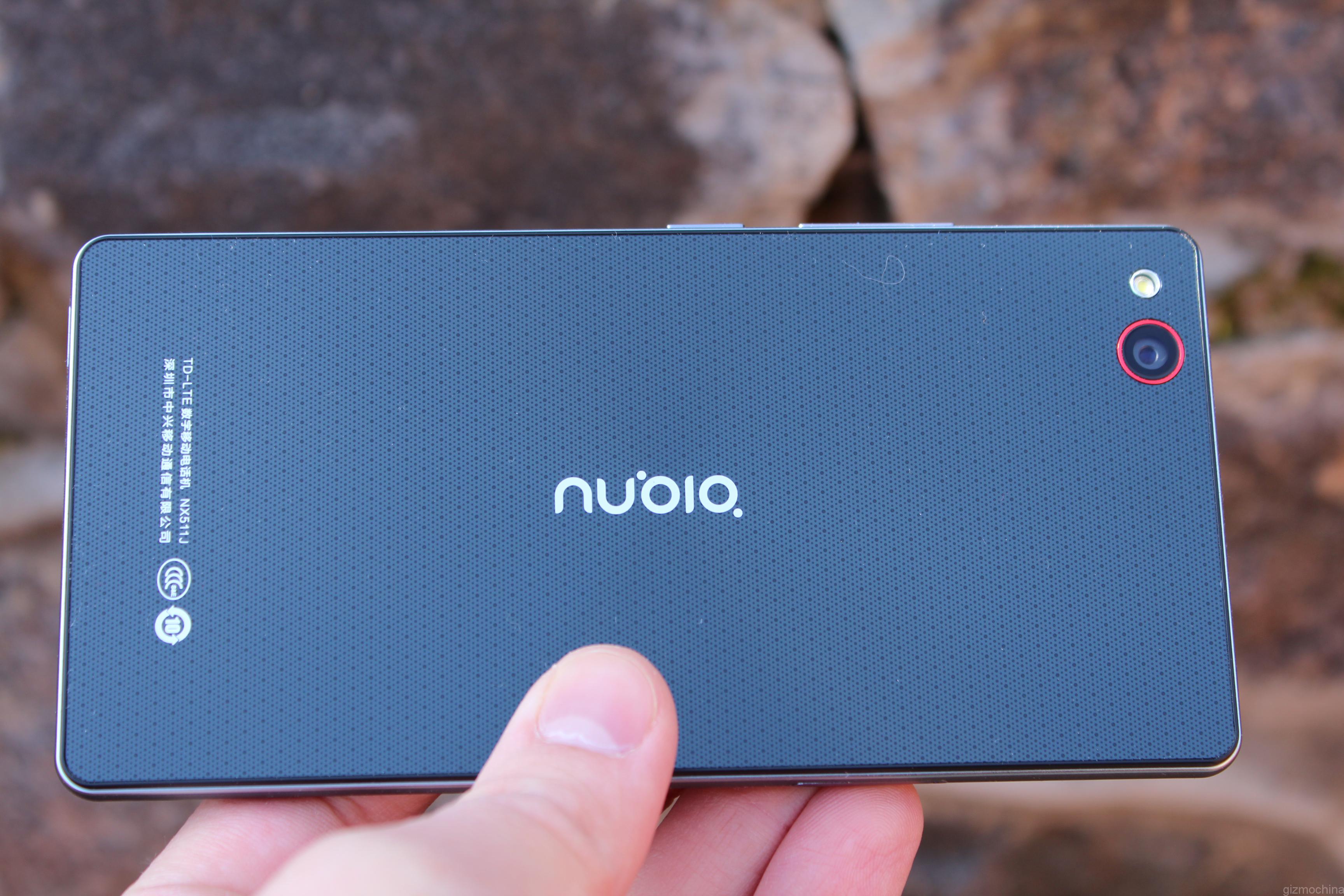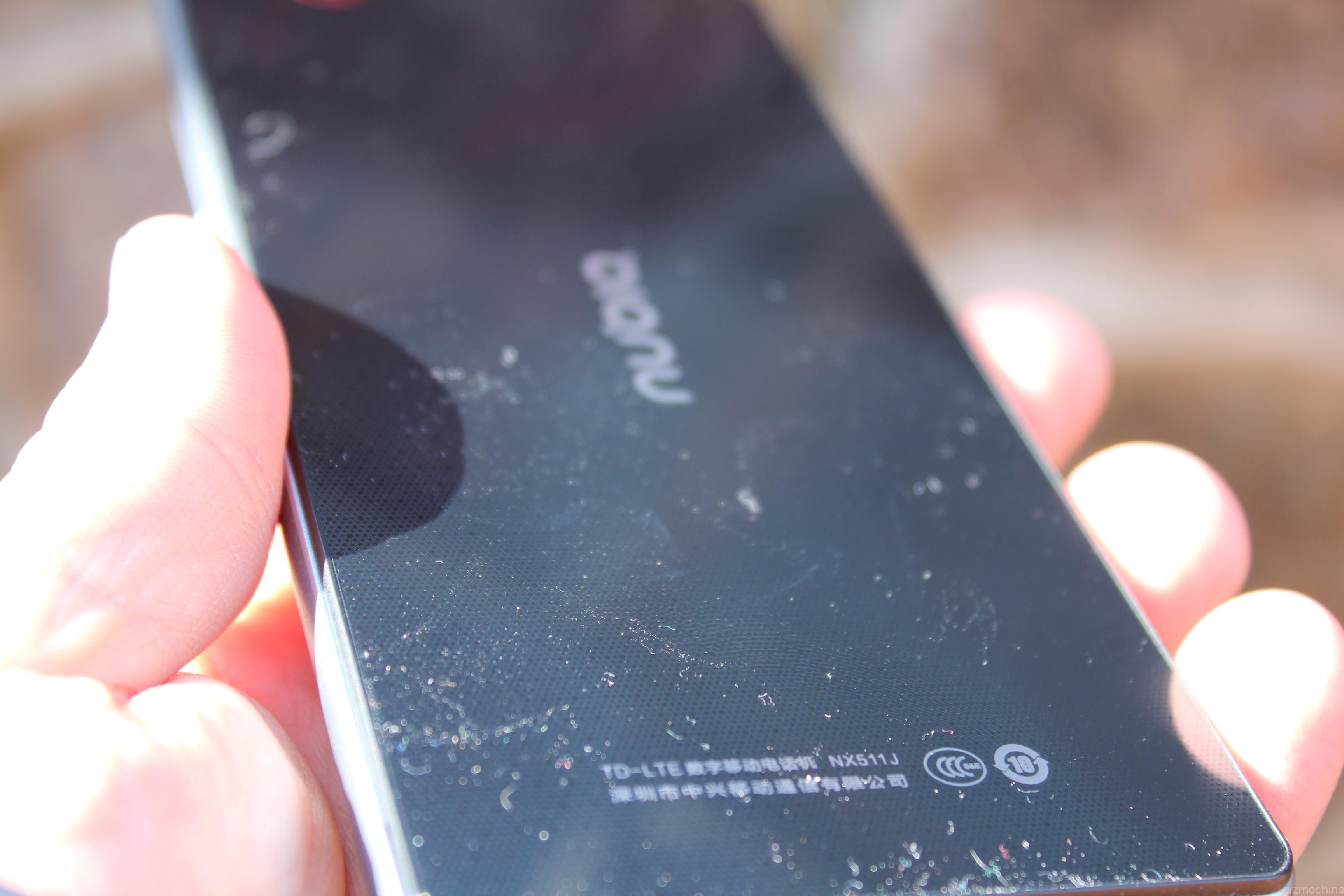 The back plate is made out of plastic, but feels like glass. It is glossy and thus attracts fingerprints, smudges and dust easily, but this is common to all glossy surfaces.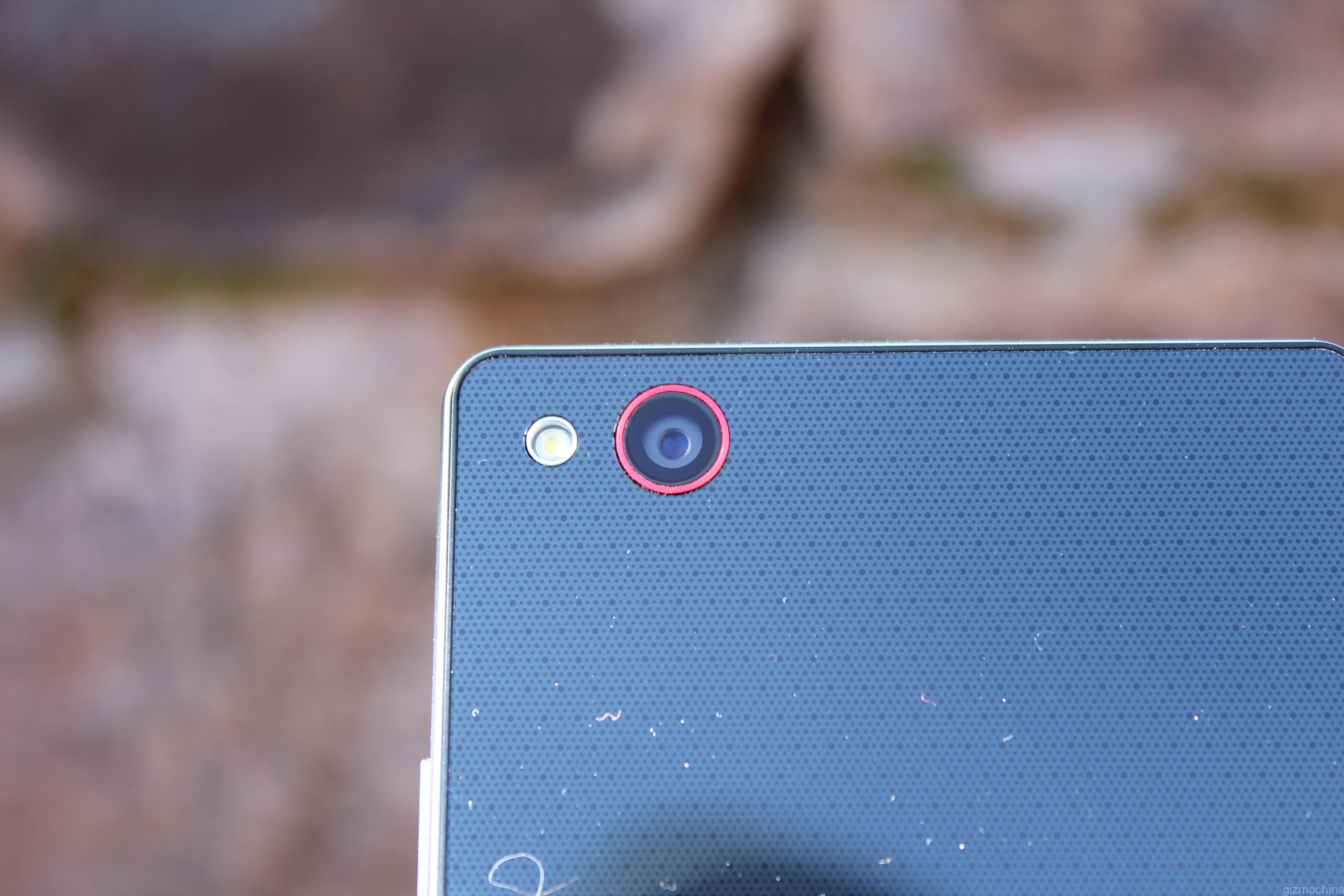 On the top left corner there is a 16MP shooter with f/2.0 aperture and a single LED flash.
The back plate can be very easily removed. Under the hood you will find a micro SD card slot (up to 128GB). The battery, however, is not removable. Also, there will be more interesting cover choices like wood coming soon.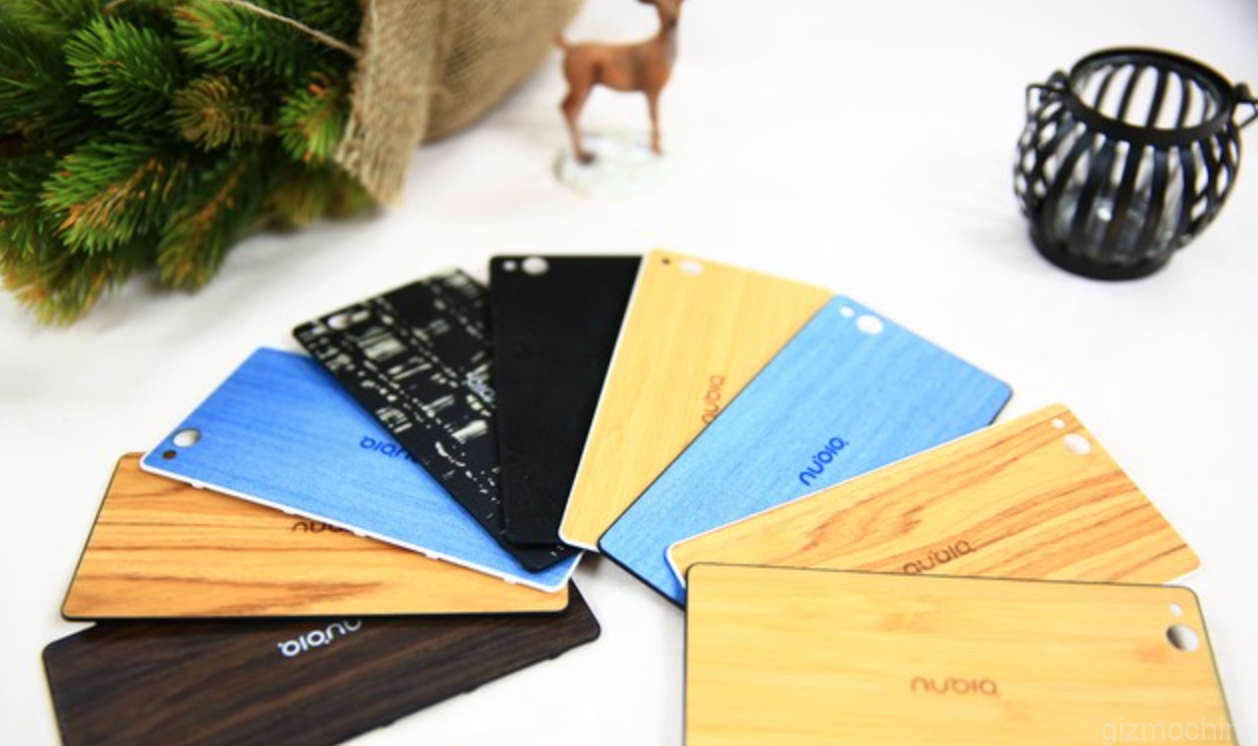 What I like about the back plate is that it is so easy to remove it, but once you put it back it stays firm.
Overal, Nubia Z9 Mini has a great design and solid built quality. Also, it is really compact and feels a lot less bulky in the hand than e.g. the vivo Xshot.
Here is the gallery of the device:
THE DISPLAY
The display on the Nubia Z9 Mini is bright, sharp and vivid. Also, the colour reproduction seems to be natural, but on a warmer side. A pleasant panel to look at. It is a bit reflective in the direct sunlight, but it may be due to the pre-installed screen protector. All in all, I'm happy about it as it spots usual positive aspects of quality LCD screens.
You can adjust many different settings to make the display look more appealing to your eyes.
UI and PERFORMANCE
The device spots a Nubia UI 2.8 on top on Android 5.0.2 out of the box. It is really snappy and performs well. The device does not have Google services pre-installed, so you would need to side load it yourself as there is already easy way to root it.
Anyway, I'm pretty sure that you can just ask a reseller to root and install Google services, so you won't need to waste your time.
The Nubia UI offers a lot of functionality, but keep in mind that some of the translations may sound weird, but they are still understandable. Well, this is a Chinese ROM, I'm pretty sure that the there would be a different situation if Nubia releases an international ROM for this device.
As usual to Chinese devices, they offer a lot of customisation options and Nubia Z9 Mini is no exception here. You can choose from tons of themes, wallpapers and do other tricks to make the device look the way you want.
The device offers a lot of other customisation and settings options, so you can be sure that you are taking the full control of your device.
You can also simplify things and enter the "Easy Mode". Here you can see all the basic apps and the increased icon size. It looks neat and performs smoothly. It may be useful for beginners or for those who only need the basic functionality out of their smartphone.
BENCHMARKS
Here are the synthetic benchmark results for those who care. I ran through the Antutu test and the Nubia Z9 mini managed to get a score of 30467, which is just below LG G3.
GAMING
As far as gaming goes, the device can handle it without a sweat. Even more graphically intensive games run great and I didn't notice any lags. Also, the graphics look nice, almost like the ones on the high-end Snapdragon chip based flagships.
MEDIA AND ENTERTAINMENT
The music app looks nice and offers some sound tweaking functionality. It is not laggy, but, however, it is not as responsive as e.g. Poweramp player I'm currently using on my smartphone.
The speaker quality is above average. It can play quite loud, but the sound is not that rich as on some other flagship devices. Also, you can easily cover the mono speaker and can barely hear a sound. I suggest checking out the video review to hear how it sounds.
The gallery app is simple and easy to use. It is responsive, but it takes just a tad more time to load up the pictures from the micro SD card. It is due to the large picture size of 16MP.
The video player can play 1080p videos easily and there is no lag whatsoever if you scroll the video back and forth. Check out the video playback in the video review.
The browsing experience could be better on the pre-installed browser. It is quite choppy and the browser does not have Google search engine. Anyway, I used the Google Chrome since the day one.
CAMERA
The device spots a 16MP Sony sensor with f/2.0 aperture. The camera interface is full of features, yet easy to use. Each of the feature you select seems to be working fast. Just keep in mind that some of the Chinese-English translations sound a bit weird.
You can shoot in either auto mode or go pro and adjust a lot of settings if you wish so. It may be nice to play with, but I found an auto-mode to be fantastic.
The auto-focus speed is just blazing fast. Seriously, it may be faster than the vivo Xshot and be on par with other respectable flagships like iPhone 6 or Samsung Galaxy S6.
PICTURE QUALITY
The picture quality is actually very good and I'm impressed with it. It captures plenty of detail, pictures look sharp and the colour reproduction is true to life. On the other hand, the auto-mode has some issues with the dynamic range as all the objects in these pictures doesn't get the same level of exposure. Once you take the device inside the house, the pictures don't look that sharp, but still quite good. The colour reproduction looks to be natural as well.
The device performs well in the low light as the pictures were taken in very poorly lit situations. Also, the low aperture number lets you capture the photos very fast. The LED flash is not the brightest I've seen, but does an okay job illuminating the objects in complete darkness. You can also capture some good looking night pictures outside.
All in all, the Nubia Z9 Mini has a really good camera, which is fast, easy to use, has a lot of features. The image quality is definitely one of the best you can get out of the midrange device and may even be on par with some flagship devices.
Selfie Camera
The selfie camera has 8MP with f/2.4 aperture and can capture some really good selfies with lots of detail. This picture (definitely not the best photo of me) was taken inside, where the lighting was really poor. Still, the sensor managed to capture a reasonable amount of detail and the colour reproduction is accurate enough.
Also, there is a "Smile" function. The camera understand when you are smiling and takes pictures automatically. This feature works great and it is fun to use.
VIDEO QUALITY
The device can only shoot maximum 1080p videos, but it can capture some good looking footage. The videos come out sharp and smooth. However, the continuous auto-focus seems to be struggling a bit. Anyway, I like what I see here.
BATTERY LIFE
The 2900mah battery is a juicy pack for a device with 5 inch screen size. In real life it is fantastic. You can easily go though the day even if you are a heavy user. It will last you two or two and a half days on an average use. I'm really impressed.
CONCLUSIONS
Overal, for the price of under $300 internationally, the Nubia Z9 Mini can be called a mid-range flagship device. It spots a great design and decent sheet of specs. Also, it spots a beautiful 5 inch display and it makes the whole device compact and easy to manage in one hand. The addition of dual nano SIM card as well as micro SD card slots is a great thing. Also, the UI is fast and responsive, has a lots of customisation options, but has some artificial English translations.
What is more, I didn't have any issues with performance even when device had to handle some more intensive tasks.
My favourite part of this device is the camera, which has a flagship grade quality. It is not ideal as it sometimes struggles with the dynamic range, but it can be adjusted using a rich PRO mode. You can capture some great looking pictures and the auto-focus speed is amazingly fast.
The battery life is amazing. As I said, you can be 100% sure that it will get you through the day on the heavy use and will last you up to two days on average use.
On the other hand, the Nubia Z9 Mini does not come with Google services out of the box. At least on the version I have. You would have to ask your reseller to install it or do it yourself, which is actually easy, but for now you would need to root the device. This is at least on the Chinese ROM.
Also, the smartphone comes with some Chinese apps, which are useless in the West. However, it is easy to remove most of them without even rooting the device.
Last thing is that the back cover attracts fingerprints and smudges very easy. I would choose a white version since it would not be that visible.
All in all, I would call the Nubia Z9 Mini a midrange flagship device. Despite a few shortcomings it looks to be a great offering in the $300 devices category from the respectable smartphone manufacturer.
If you have any questions, please do not hesitate to use the comments section below.
If you are interested in the device, you can buy ZTE Nubia Z9 Mini for €279.99 from Giztop.com.