Gionee M5 To Sport Dual Batteries To Provide Up To Four-Day Battery Life
We have seen some innovative products from Gionee in the past few years, like the once world's thinnest smartphone – the Gionee Elife S5.1. While the Elife series have several super slim smartphones, it looks like the company is focusing more on the features and overall specs in this series in 2015. The upcoming Gionee Elife E8 does look promising, but earlier today, we came across another potential product from the company called as the Gionee M5 that could be quite popular.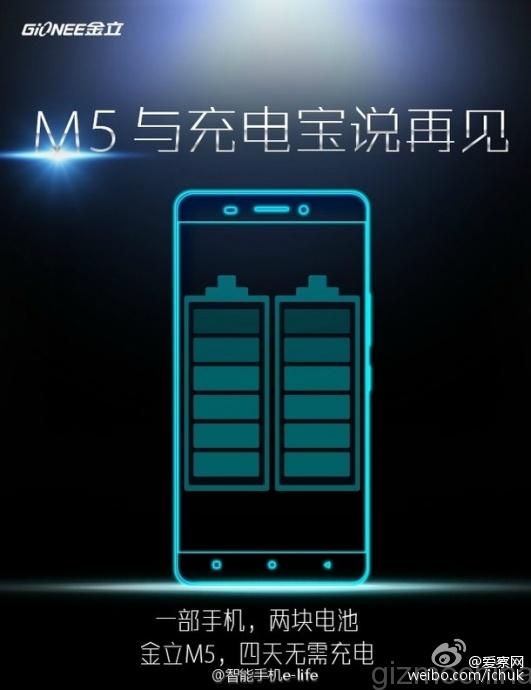 The highlight of the phone is going to be its dual battery design. Yes, the Gionee M5 is said to come with two different batteries inside, which should provide up to four days of battery life. Moreover, users can even use the phone with one of those batteries, which means the phone will still be running when the second one is kept for charging. So, with the two fully charged batteries, users should be able to get about four full days of charge.
While we don't know the rest of the features of this Gionee M5 handset, this alone should be garner a lot of attention among buyers. Battery life has always been one area where smartphone manufacturers have yet to find the ideal solution, but it looks like Gionee may have made a break through.
Of course, its still early to say whether how long the phone will last with both the batteries fully charged. However, if this turns out to be true and if the batteries are bigger than at least 2500 mAh, then four day battery life shouldn't be an impossible task.
Anyways, the company is yet to reveal more official details about the device. So stay tuned for more information in the coming days.