Xiaomi cuts down Redmi 2 Price To 599 Yuan ($96)
Xiaomi has just announced that it will be reducing the price tag of its popular Xiaomi Redmi 2 handset from 699 Yuan to 599 Yuan. That's a 100 Yuan drop from the original price tag, which translates to around $16 reduction. So, now the Redmi 2 can be bought for just $96 which makes it a steal!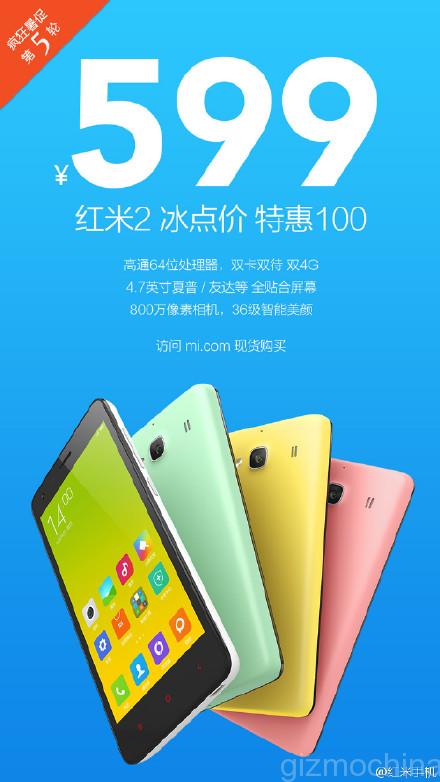 It looks like the company is really shaking things up to reach its target sales of 100 million units by this year end. So, slashing the price tag of the already cheap Redmi 2 to 599 Yuan will definitely boost sales.
The Redmi 2 features great specs for its price. It comes with 64-bit Snapdragon 410 chipset clocked at 1.2GHz with 1GB RAM. There is a 4.7-inch display up front with 720p resolution. The rear camera is of 8MP while the front one is of 2MP. There's 8GB of expandable internal storage along with a 2200mAh battery. It runs on Android 4.4 MIUI 6 and supports 4G LTE networks.
Just a couple of days before, we reported that Xiaomi had managed to sell over 34.70 million smartphones to customers in the first half of 2015. While this is over 33% increase as compared to last year, its still short of company targets.
Earlier this year, Xiaomi had said that it aims to sell around 80 million to 100 million smartphones in 2015. In the first half, the company could not even sell half this amount, which is probably why it will look for ways to increase says to a considerable extent in the second half.
Meanwhile, if you are looking to buy the Redmi 2 outside of China, you can check out the listing on giztop. Its currently in stock in a number of colors and you have the option of choosing the 2GB version too!