First Half 2015 Sales Performance: Huawei vs Xiaomi vs Meizu
We know that everyone is eager to see which Chinese company performed the best in the first half of 2015. Now, thanks to the sales figures released by analysts as well as the respective companies, we can do a comparison on the performance of these three smartphone manufacturers in detail.
Xiaomi had a pretty good first half among these three companies, and it also boasted of the maximum sales in this time period in the domestic market (China). The company managed to sell about 34.7 million handsets overall, which is 33% higher than its previous year's figures.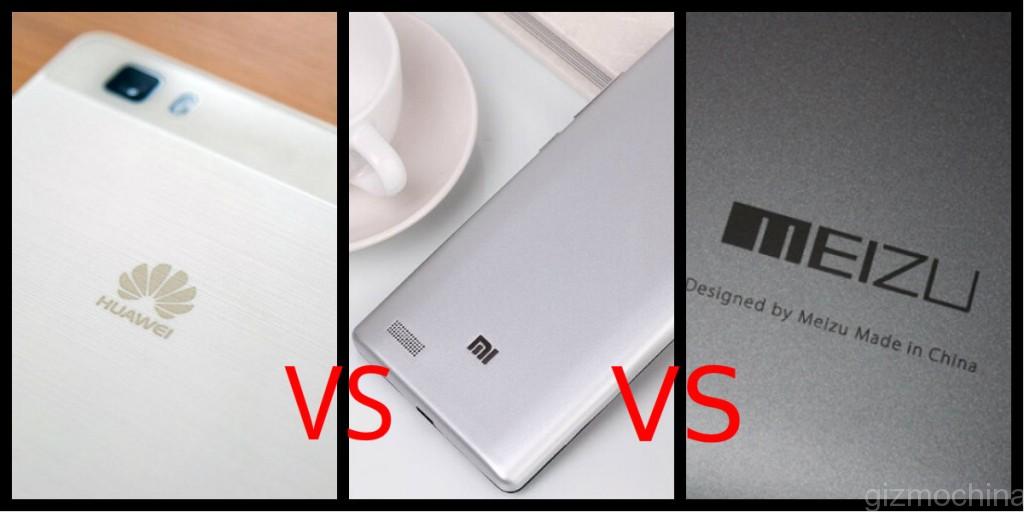 On the other hand, Huawei managed to sell much higher than Xiaomi, mainly due to its strong overseas sales. The company sold around 50 million handsets in the first half of 2015, which is 44% higher than Xiaomi's figures. However, in the domestic market, the sales are lower than that of Xiaomi.
Coming to Meizu, the company did quite well as compared to last year. It sold around 8.9 million units in the first half. But as you can see, its nowhere near the amount of sales from Xiaomi or Huawei. The lack of concrete international presence will have definitely hampered the total sales, along with limited production capacity. But since Meizu is expanding its product portfolio in the second half with Meizu M2 Note, Meizu MX5 and possibly MX5 Pro, we can expect better results. Also, the company is planning to enter newer emerging markets like India, which could further boost its sales to a great extent.
Now, lets take a look at the approximate quarterly sales figures of the three companies. Both, Xiaomi and Huawei have increased its sales in the second quarter of 2015 as compared to the first one. Huawei managed to sell about 11 million in Q1 2015 and 20 million units in Q2 2015 in the domestic market alone. We still have no idea about the individual quarterly performance of the remaining 19 million in overseas sales.
Even Xiaomi has a better Q2 2015, generating about 20 million unit sales as compared to 15 million in Q1 2015. However, interestingly, Meizu's sales decreased by almost 22% in the second quarter. In Q1 2015, Meizu managed to sell about 5 million units, however in the second quarter the sales figure was just 3.9 million. Things may not be as bad as it looks as Meizu had one of the best Q1 2015 sales figures till now. So, the company could not keep up with the growth in the second quarter which naturally led to a decline in sales.
| | | | |
| --- | --- | --- | --- |
| | | IN Millions | |
| COMPANY | Q1 SALES | Q2 SALES | HALF YEARLY SALES |
| XIAOMI | 15 | 20 | 34.7 |
| | | | |
| HUAWEI | 11 | 20 | 50 (19m overseas sales) |
| | | | |
| MEIZU | 5 | 3.9 | 8.9 |
To conclude, Xiaomi is still going strong in the domestic market, inspite of a slowdown in the smartphone shipment growth.  Huawei is doing well overseas, while Meizu still has a long way to go before it catches up with both these giants.
So, which is your favorite Chinese company among these three?
[socialpoll id="2280537″]