Xiaomi Had An Impressive First Half Of 2015, Sold 34.70 Million Handsets
We all know that Xiaomi is expanding its foothold, both in China as well as International markets such as India with a number of new product releases. Looks like, the strategy is working for the company as it sold over 34.7 million handsets in the first half of 2015. This marks an impressive 33% increase as compared to last year's first half sales.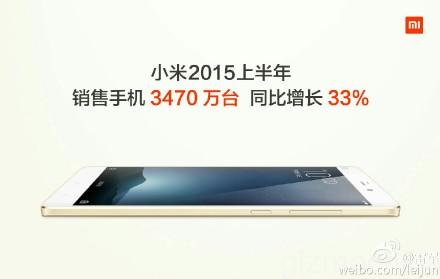 While we can say that the company's growth rate may have slowed down a bit, these figures are impressive because, for the first time, Chinese smartphone market slowed down this year. So, even in this slow market, Xiaomi managed to post good figures.
Kevin Yang, an analysts of IHS Technology further adds that these figures are the actual devices sold to the consumers. He also says that Xiaomi managed to sell about 19.72 million handsets in the Q2 2015, taking the total to the above mentioned 34.70 million. Despite the increase in competition from new flagships from Huawei and Meizu, he expects the performance in the second half of 2015 to be the most crucial.
Xiaomi had earlier told us that it aims to sell a lot more handsets this year, around 80 million to 100 million. If it were to reach anywhere near this figure, the company will have to sell at least 45 million handsets in the second half of 2015. 
To be honest, this looks possible, given the fact that we will soon see multiple smartphone releases from the company like the new Xiaomi Mi5, Redmi Note 2 (possibly two variants) and even the Snapdragon 820 powered Xiaomi Mi5 Plus.
Anyways, lets see if the company manages to reach its goal of 80 million in the second half, especially with the increased competition from domestic manufacturers.