OnePlus 2 4GB RAM Version Spotted On GFXBench
We are just a few hours from the official unveiling of the OnePlus 2 flagship killer smartphone, but news about the device is still coming pretty fast. Now, 4GB RAM variant of the OnePlus 2 has been spotted on the benchmark website, GFXBench, revealing a bunch of information about its performance and specs.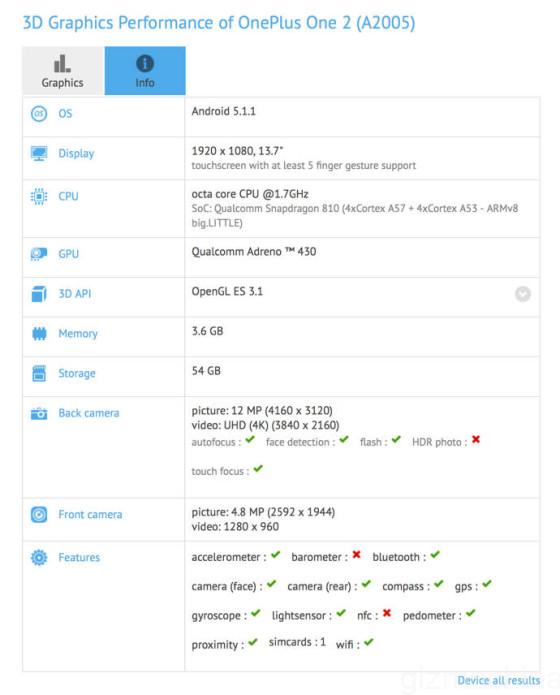 The OnePlus 2 A2005 model will reportedly come with 4GB RAM, which is not a surprise given that the company had confirmed this earlier. The listing also reveals that the phone comes with Snapdragon 810 under the hood, which was also confirmed. However, the cores are clocked at a modest 1.7GHz, probably to avoid over heating issues. We still don't know whether it will be under clocked to such an extent in the final model that will be released later today.  
One interesting thing spotted here is the 13.7-inch 1080p display. Now, we have heard rumors about a possible OnePlus 2 tablet launching soon, however, 13.7-inch is quite large even for a tablet device. So, for the moment, we could assume that the device was probably connected to an external display. Other known specs include 64GB storage, Android 5.1, 13MP rear camera, and a 5MP front facing shooter.
As for the 3D Graphics performance, the OnePlus 2 model posted decent totals. In fact, the on screen Manhattan test, it scored better than the Galaxy S6. Offscreen test results were also at par with the Samsung flagship.
Performance wise, we expect the final model to be much better. Remember, there was a OnePlus 2 model which scored around 63K on AnTuTu? Well, that's the kind of performance we expect from the new OnePlus 2! Stay tuned for more updates in the coming hours.