Qualcomm Officially Unveils Snapdragon 820 With Custom Kryo Cores
After months of teasers, Qualcomm has finally made the Snapdragon 820 chipset official. This is the next generation version of the existing Snapdragon 810 chip and the company has a lot of expectations from this new age chip.
The Snapdragon 820 will use custom Kryo cores instead of the standard ARM ones. While the company had been using custom cores for some time, in Snapdragon 810, Qualcomm decided to go with standard ARM cores. That clearly didn't work out well for the company as its back with custom cores for its new generation version.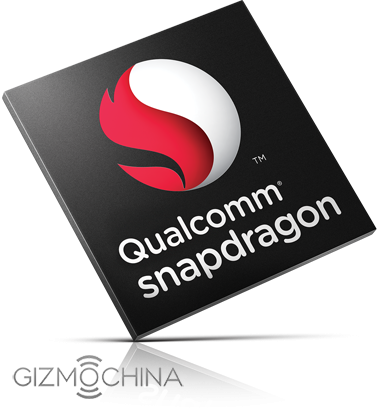 The 820 is a quad-core Kryo CPU which comes with the company's Symphony System Manager, an intelligent resource management tool for Snapdragon that extends control of task scheduling and power management across the entire processor. The custom cores promises up to twice the performance as compared to the cores inside the Snapdragon 810. Also, they are going to be much more efficient, translating into better battery life. The efficient Hexagon 680 DSP should further help in increasing the battery life of the device powered by the 820 SoC.
In the GPU department, Qualcomm went with the new generation Adreno 530 which promises 40 percent improvement in graphics performance and efficiency as compared to the previous generation Adreno 430. The new chip also comes with the Spectra ISP which now supports sensors up to 28MP in size.
In the connectivity department, the Qualcomm Snapdragon 820 brings the latest X12 LTE modem which supports Cat. 12 download speeds (600MBps max) and Cat.13 upload speeds (150MBps). This is made possible thanks to the tri-carrier aggregation for downloads and dual-carrier aggregation for uploads. The chip is also the first commercial CPU to support the latest LTE-U technology which enables it to access LTE connections in both licensed spectrum and unlicensed spectrum. Finally, for Wi-Fi, the chip supports the 2×2 MU-MIMO 802.11ac connections.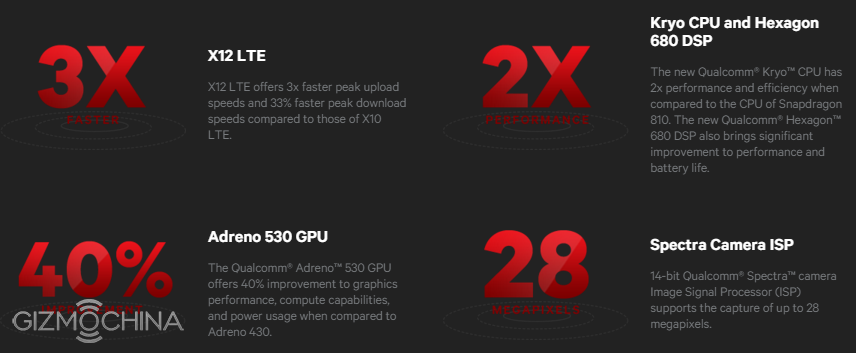 The Snapdragon 820 chip comes with the new Quick Charge 3.0 technology which is four times faster than traditional charging methods and up to 38 percent faster than Quick Charge 2.0.
On paper, with the custom Kryo cores clocked at 2.2GHz, Adreno 530 and X12 LTE modem, the Snapdragon 820 turns out to be a powerhouse. However, we will have to wait for a couple of months at least to see its real life performance given that the first 820 powered smartphones will only meet us by early next year.