Huawei Shows Off Its New Quick Charge Tech, Its Really Really Fast!
In a year alone, Huawei has released a number of new devices such as the Huawei P8, Honor 7, Honor 7i, Mate S etc. There are also a few handsets which are coming soon such as the Huawei Mate 8. This really proves that the company is focused on its smartphone division. Now, this Chinese giant has just unveiled a new charging technology which is better than most other quick charge tech that we have seen till now.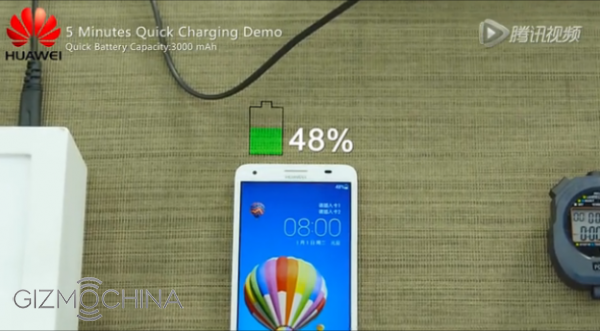 Although the company is yet to officially name it something specific, Huawei's Quick Charge tech can charge your large battery within a matter of minutes. And this is not just a claim, as the company released a video a couple of days back to prove it.
In the video, which you can see above, Huawei has taken a 3000mAh battery and placed it inside its prototype Quick Charge enabled device. You can see that within a matter of minutes, here its just 5 minutes, the battery charged from 0% to 48%. So, you get half a day's worth of usage within the time you made a coffee for yourself. That's really impressive and much faster than existing quick charging technologies.
But before you get too excited, we will have to remind you that this is just a prototype Quick Charge technology. It will take some years to make the tech viable for your everyday smartphones. But once it hits the market, you no longer have to worry about your phone's battery as a simple 5 minutes of charging can get you running for hours.