Zeblaze Cosmo flash sale on Bangood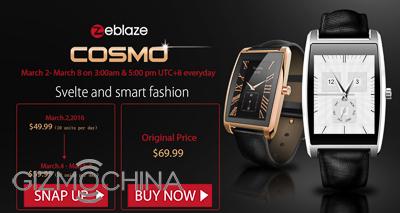 Banggood are currently running a limited Zeblaze Cosmo flash sale.
The Zeblase Cosmo normally retails at $69.99 however between the 2nd – 3rd of March Banggood have 10 units of the Zeblaze Cosmo smart watch available at just $49.99
A second Zeblaze cosmo flashsale  will also be run between the 4th – 8th of March, where 20 units of the Zeblaze Cosmo smart watch will be available at $59.99.
The Zeblaze Cosmo flash sale  will be running between 3am -5pm (UTC+8) on the dates above, you will need to be quick as the numbers are very limited.
Zeblaze have been listening to the needs of smart watch users and have worked to overcome a lot of the problems that plagued earlier watches.
For this Zeblaze's third smart watch they have improved almost every aspect of the watch, it is up to 60% more powerful than previous models ensuring that menu operation is super fast and the wait between applications loading is almost instant, they have also managed to reduce battery usage up to 30% this has been made possible thanks to their use of the latest Medieatek MT 2502c soc.

.
The striking design of the Zeblaze Cosmo smart watch is made up of the 316L grade aluminium chassis, which is not only strong but also light weight and provides the perfect mount for the 1.61″ IPS screen with a resolution of 256 x 320.
Speaking of the screen it is manufactured form 3D Arc glass to give viewing angles up to 160 degrees.
A metal crown can be found on the right hand side of the Cosmo, this is used as an additional control for the watches features.
The real leather strap helps to give the watch a really premium look and feel, Zeablaze have also looked at smaller details like the usage of stainless steel screws to prevent sweat based rusting that has affected some China based smartwatches in the past.
The Cosmo also supports a range of health monitoring functions, sedentary monitoring as well as being able to control several phone functions and provide users with a wide range of notification and alerts.
Please feel free to leave comments or questions below
Regards Shane
Original article posted on gadgetz.tv