AnTuTu: Top 10 Smartphones Of Q1 2016 (Features 5 Chinese Flagships)
Every quarter, AnTuTu reveals the top smartphones in the market, and iPhones and Samsung Galaxy flagships have pretty much been on top of the rankings. However, this year, with more and more Chinese smartphone manufacturers releasing powerful handsets, there has been a slight reshuffle in the list. The new AnTuTu top 10 performance smartphone list for Q1 2016 contains 5 Chinese flagships. Not surprising since we have seen some powerhouses from Chinese handset makers in the past few months.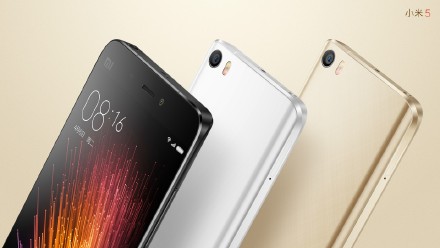 Last year, since AnTuTu went cross platform, iPhone 6S Plus pretty much dominated with the Apple A9 underneath. But now, things have reshuffled, with Xiaomi Mi 5 flagship on top with a score of 136,875. In case you are wondering, AnTuTu has taken the average score of a device, taking into consideration at least 500 different data samples. This statistic is for the first quarter of 2016, starting from Jan 1 to March 31.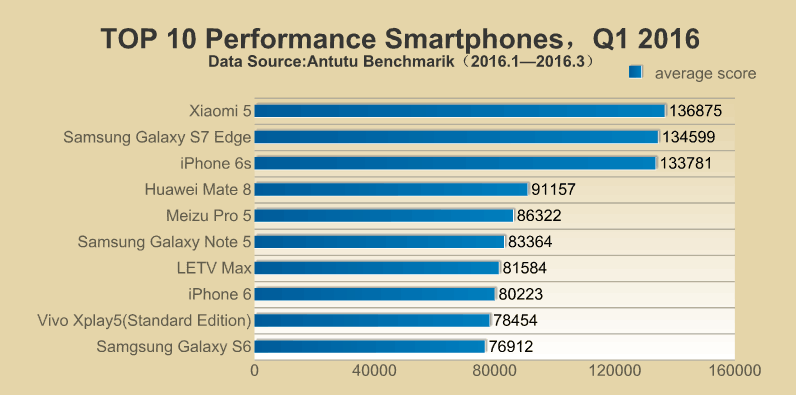 After the Xiaomi Mi 5, there's the Galaxy S7 / S7 Edge. One thing to note here is that Galaxy S7 could have beaten Mi 5, if it was not using 2K display which does take a toll on the scores. Next up was iPhone 6S, with a score very close to the S7. After these three phones, comes the Huawei Mate 8. But there's a difference of 42K points between the third and the fourth place. Still, seeing Kirin 950 in the list is pretty impressive and shows how much the Kirin family has evolved in the past few years.
Rest of the places are taken by last year's models, except for Vivo XPlay 5 Standard edition with Snapdragon 652. Now, you must be wondering why the XPlay 5 Elite version didn't make it to this list, especially considering it comes with Snapdragon 820 and a whopping 6GB of RAM. AnTuTu has given an explanation for this as it says that only 18 data items were available for the device, which was too low. So, although the phone's average comes out close to 130298, it wasn't included in the list. Maybe in the Q2 results, we will see this powerhouse included.
So, do you think this list will change in Q2 2016? Which upcoming phone are you most excited about?