Meizu Pro 6 Price To Be As High As Galaxy S7 Edge?
After waiting for about a week, Meizu will finally unveil the Pro 6 flagship tomorrow at an event in Beijing. The phone has been making the rumor rounds for the past one month, and we already know a lot of details about the device. But when it comes to Meizu Pro 6 price tag, we are still unsure. Rumors say that the phone won't be cheap, and we could be seeing it in the 3000 Yuan range ($465).
While we still have no official information on the Pro 6's price, Meizu's VP, Li Nan, like always, have given us a clue, at least that's what we think.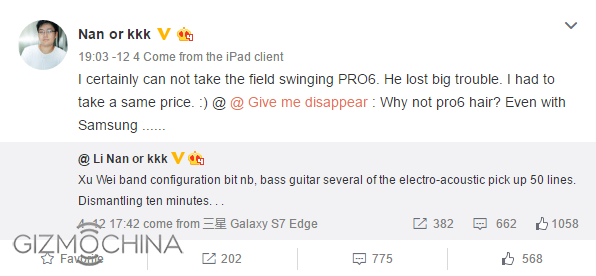 This afternoon, Li Nan posted something on his official Weibo page. Nothing unusual about the post, except that it was sent using the Galaxy S7 Edge. To those unfamiliar with Weibo, you can see the device that was used to post the message on his/ her account, which is what some sharp fans managed to point out.
When asked, why use Samsung instead of Meizu, Li Nan replied by saying that he naturally couldn't hang out with the Pro 6 in hand. So, he decided to take a similarly priced product, namely the Galaxy S7 Edge.
Now, is Li Nan hinting that the Pro 6 is priced close to S7 Edge? If that's the case, then expect the Meizu Pro 6 to retail at 5000 Yuan ($773). Well, that would be just too high. Even HTC was smart enough to price its new HTC 10 at $700 which less than what we initially expected.
 RELATED: Major leak reveals pictures & benchmarks of the Pro 6 flagship
To be honest, $773 for Meizu Pro 6 is just too far-fetched. So, we better wait for the official Pro 6 price tag revealed by the company tomorrow. If earlier rumors are to be believed, it should be anywhere around $460.