Xiaomi Max Won't Feature The Mi Logo Up Front, Screen Will Be Bigger Than 6-inches
Although Xiaomi has a lot of products in the market, mainly smartphones targeted at different user segments, the company is yet to release a true phablet. Looks like that's going to change soon as the company has confirmed that the Xiaomi Max is going to be the first large screen smartphone from the company. The closest thing to a phablet till now was the Xiaomi Mi Note, so this should come as good news to all phablet lovers.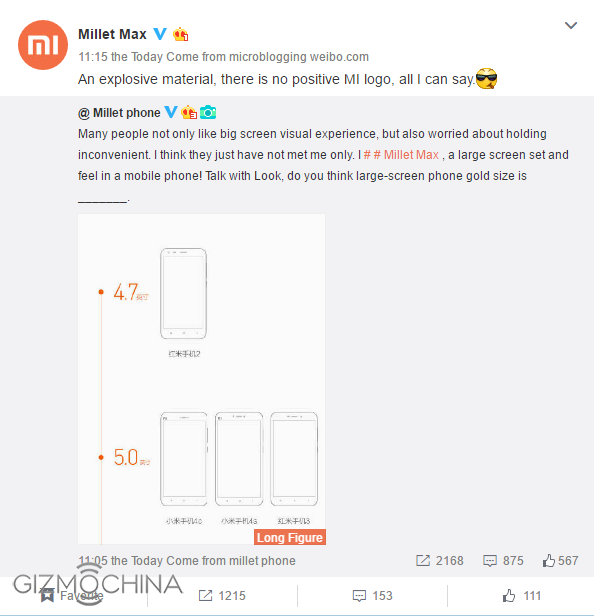 Now, Xiaomi has just revealed more details about the Xiaomi Max. The official weibo account of the smartphone revealed that the Max won't come with the traditional Mi logo on the front. So, it looks like the company is trying to differentiate the Max from the other Mi series smartphones. The Redmi series doesn't have this Mi logo up front, so it's no surprise that the Max is also not going to come with the logo on top of the display.
Another interesting feature revealed by the company is the size of the screen. Xiaomi released a long image (added at the end of the post) wherein it showcased the screen sizes of its products in the increasing order of size. Naturally, with the Xiaomi Max still not released, there was a large gap between the Xiaomi Mi Note and the Xiaomi Mi tab. Although it was obvious that the Max was going to feature a display upwards of 5.7-inches, the company just confirmed this today. Also, it looks like the phone could feature a 6-inch+ display, which would be in line with recent rumors which state that the phone comes with a 6.4-inch screen.
Remember the render we had seen yesterday? That didn't have the Mi logo on top and still looked like an enlarged version of the Mi 5. You can read more about that from here.
Moving on, latest news suggests that the phone will come with Snapdragon 820, 6.4-inch display, fingerprint ID and full network support. You can expect the Max to launch sometime in May for a price tag of around 3000 Yuan ($463). Stay tuned for more details.