More Xiaomi Max Details Leaked: Two Versions, One With Snapdragon 820
Now that all the major smartphones from Xiaomi are out, our eyes are turned towards the new product from the company, namely the Xiaomi Max. Xiaomi has already confirmed that the phone will be announced on May 10, alongside a couple of other important products. Now, more details about the Xiaomi Max have been leaked.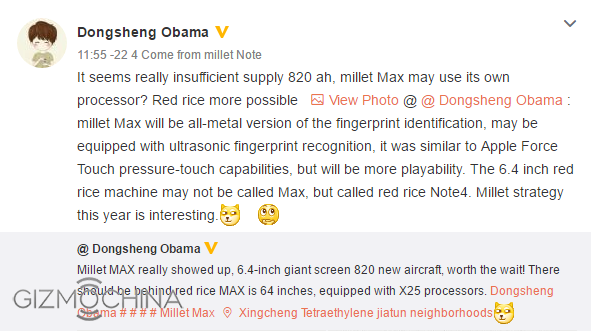 According to new rumors, the Xiaomi Max will come in two versions. The top-end variant will be powered by the Snapdragon 820 chipset and there will be other features to play around as well. For example, the phablet is said to come with an all metal body with a fingerprint sensor. Now, while the company hasn't revealed any features of the device, it is rumored that this could be Qualcomm's Ultrasonic sensor. If true, it would join the likes of a few handsets announced that come with this sensor like the Le Max Pro and Le Max 2. Other rumored features of the Xiaomi Max include 3D Touch like pressure sensitive display with a lot more options than Apple's iPhone 6S Plus.
RELATED: Watch Xiaomi Mi 5 Scratch, Burn & Eventually Break In A Video
It is said that Xiaomi could be planning to call the high-end version as the Xiaomi Big and the standard version as Xiaomi Max. Further, it is rumored that a Redmi phablet is also in the works and could end up being called as the Redmi Note 4.
So, this was about the high-end Xiaomi Big. But what about the standard version? This particular model should most likely feature a less powerful processor like the Snapdragon 650, as revealed by a recent GFXBench listing. Other features are unknown but considering the chip inside, it should be mid-range.
Remember that most of the details leaked today come via rumors, so take this with a pinch of salt.
Xiaomi will officially unveil the Max, Mi Band 2 and MIUI 8 on May 10. So, looks like its going to be a busy day for Chinese tech fans.
Stay tuned for more details.