Huawei Sold Over 208,000 Units Of the Honor V8 In The First Flash Sale
On the same day that Xiaomi announced the Xiaomi Mi Max phablet, Huawei announced their affordable flagship smartphone, the Honor V8. The phone came with similar specs and design as the Huawei P9 series, but at a much lesser price tag, making it a good option for buyers who are in the lookout for a cheap yet powerful flagship. What's more, the phone is large, featuring a 5.7-inch display and you get a variant that has 2K resolution as well. So, overall, despite its Honor branding, the phone is quite powerful.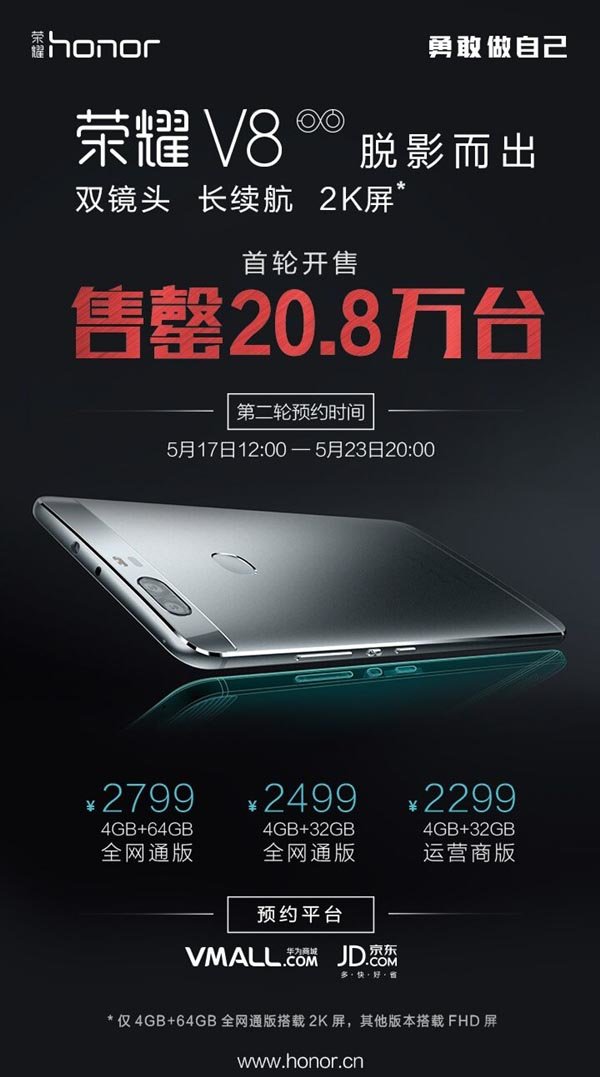 The first batch of Honor V8 went for sale in the flash sale today and the phone was immediately sold out. The company has now revealed that it sold a huge number of units today, 208,000 in total which means the phone has been well received by customers in China. While this is a great achievement for the Honor series, if you remember, even the OPPO R9 flagship lineup received a similar kind of response from consumers. We saw that OPPO managed to sell around 180,000 units of the R9 in the first day of launch, but that was through both online and offline channels. In four days, this number reached to an impressive 400,000.
In case you are wondering, the next flash sale for the Honor V8 is going to be on May 24 at 10 AM in China.
The Honor V8 comes with a similar 12MP dual camera setup as the Huawei P9 series, but without the Leica branding. We have compared these two devices in detail to see why P9 is costlier despite both phones having same specs. You can read more about this comparison from here.