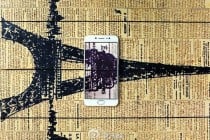 In a couple of days, Vivo is going to launch two new phones: the Vivo X7 and Vivo X7 Plus and what better way to herald their launch than featuring them in a photo shoot.
The images we've laid our hands upon are that of the Vivo X7 and as you can see the phone does look nice against the selected backgrounds.
The phone which is aimed at selfie lovers will feature a 16MP front facing camera, a 5.2" FHD screen, a Snapdragon 652 processor, a fingerprint scanner embedded in the home button, 4GB RAM, and a generous 64GB built-in storage for storing those gorgeous selfies.
The price is still a closely guarded secret but expect it not to be cheap as Vivo says the X7 is part of a premium mid-range line.