Unannounced Xiaomi Altun hits Geekbench, could be the new Redmi model
Another Xiaomi phone has been spotted on Benchmark website Geekbench, not too long after the Xiaomi Capricorn was sighted benchmarked on Geekbench. The device was listed by the code name Xiaomi Altun on the benchmark site. While it is difficult to tell the particular device this one is,  it is speculated that the Xiaomi Altun could be the new Redmi model, probably Redmi Note 4.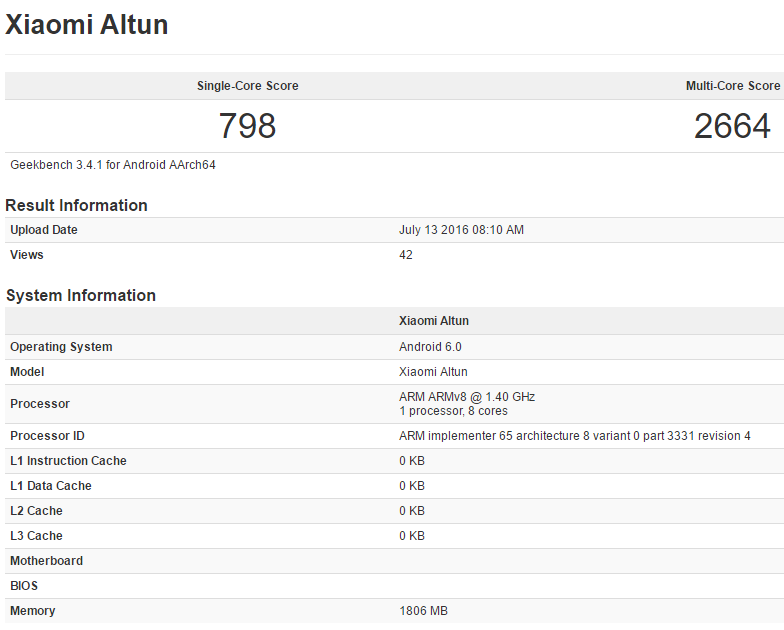 According to the listing, the Xiaomi phone is powered by an octa-core CPU and packs a 2GB RAM under its hood. The device runs Android 6.0 Marshmallow but the chipset isn't disclosed. All the time the phone's results were logged, the field that normally lists the chipset in use was consistently left blank.
Quite curiously, the Xiaomi branded phone was discovered to have been tested a good 25 times on Geekbench since the month of May. The log of the device's performance revealed a fairly consistent results sheet except for the last test. The last test performed resulting in the lowest tallies in the various categories scored by the phone. The device had a single-core score of 798 and a multi-core score of 2664. The highest single-core score, 980, was produced on a test conducted May 8th. The peak multi-core score of 4076 was the result of a Geekbech test dated June 30th.
Recall that earlier this month, the Xiaomi Capricorn, another device with a beautiful code-name, passed through Geekbench.  The Xiaomi Capricorn was tested with a Snapdragon 820 chipset on board, coupled with a quad-core 2GHz CPU, 3GB of RAM and Android 6.0.1 (Marshmallow) was installed.
(via)