Xiaomi Capricorn With Snapdragon 820 & 3GB RAM Spotted, Could Be Mi Note 2
Several Xiaomi executives have confirmed that a couple of flagships from the company are coming in the second half of the year. While we still haven't got a release date, rumors state that the launch could be anytime around the end of July or August this year. The company's top-end flagship that should meet us soon will be none other than the Xiaomi Mi Note 2 and it looks like the lower end version of the Mi Note 2 or the Mi5S has just been spotted on the Geekbench benchmark.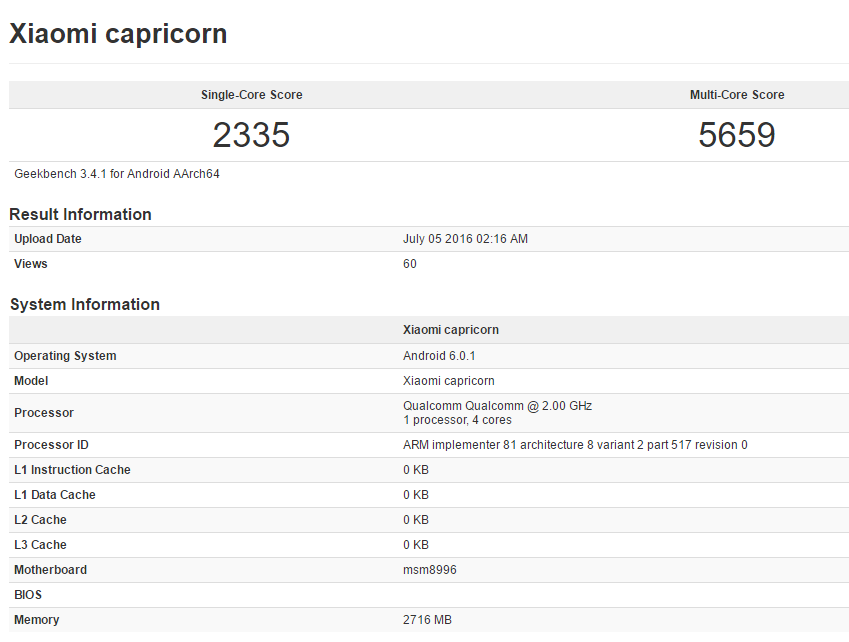 A new model called Xiaomi Capricorn was found on the Geekbench test results page a few days back. The listing reveals that the phone will come with the Snapdragon 820 chipset (MSM8996) clocked at 2Ghz with 3GB RAM and Android 6.0.1 version. This isn't exactly top-end hardware for a flagship device, so it's either a test device or the base / low-end variant of the Mi Note 2 / Mi5S. The reason why we say this is a Mi device is because Xiaomi has a tradition of naming their flagship models with zodiac signs. In case you are wondering, here are the different code names for the Xiaomi Mi phones that have been announced till now.
Xiaomi Mi2/S = Aries
Xiaomi Mi2A = Taurus
Xiaomi Mi3 (TD-SCDMA) = Pisces
Xiaomi Mi3/4 = Cancro
Xiaomi Mi Note = Virgo
Xiaomi Mi4C = Libra
Xiaomi Mi5 = Gemini
Xiaomi Mi Note 2 / Mi5S = Capricorn??
So, Xiaomi Capricorn definitely hints that this is a Mi device and not a Redmi model (Xiaomi uses popular fashion brand names such as dior, gucci for Redmi models). So, it's a matter of whether it's the new Xiaomi Mi Note 2 or the Mi5S. The scores on the benchmark are quite decent for a flagship model. It scored 2335 in the single-core test and 5659 in the multi-core test.
RELATED: Metal Xiaomi Phone With Dual Cameras Spotted, Could Be Redmi Note 4
We are not quite sure of the release date of the new Xiaomi devices, but expect them to be in the coming weeks. There have been rumors about a release on July 25, but till now, we haven't got any confirmation from the company.