Top 20 Smartphone Manufacturers in China H1 2016
by Habeeb Onawole Aug 25, 2016 5:03 am3
A statistical agency, Beijing Sino Statistical Agency, has released its own results for market sales of major phone manufacturers in China. The stats which is separated into 3, viz.: offline, online, and a combination of both, covers data from 20 different companies for the first half  of the year.
Online Sales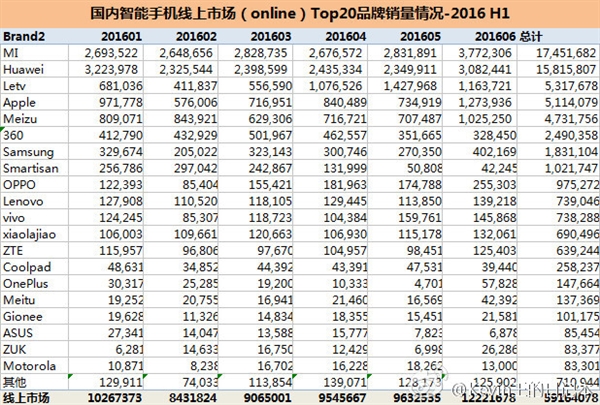 Xiaomi will surely be happy with this seeing as they have reportedly discredited IDC's report. Xiaomi sold over 17 million smartphones via its online channels, which is over 1 million more than that of Huawei's 15,815,807 devices. The interesting thing about the online sales is that the sum of the sales of the 3rd (LeEco), 4th (Apple), and 5th (Meizu) companies is not even as much as Huawei's sales.
Samsung comes in 7th place with 1.8 million devices, OPPO comes in at number 9 with 975,272 devices and OnePlus takes the 15th spot with just 147,664.
Offline Sales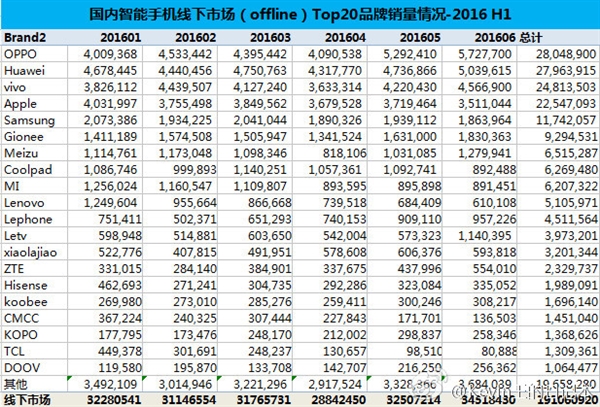 The streets is where the tide of battle changes. OPPO takes the first spot with a whooping 28 million devices and is followed closely by Huawei with 27,963,915 devices. Vivo comes in at number 3 with 24,813,503 devices, Apple is next with 22.5 million iPhones sold which is nearly double that of Samsung who takes the 5th spot with 11,742,057 phones.
Xiaomi takes a hard beat and manages to remain in the top 10 by clinching the 9th position with 6.2 million devices but forfeiting the 6th, 7th, and 8th spots to Gionee, Meizu, and Coolpad respectively.
READ MORE: Xiaomi Redmi Note 4 Official Images
Total Sales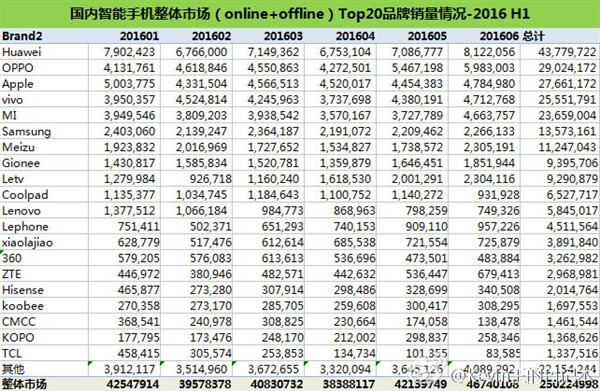 Huawei is clearly the winner with a total of  43,779,722 devices and they lead OPPO with over 13 million devices who comes in second with 29,024,172 phones. Apple still remains in the top 3 with over 27.5 million phones. Vivo comes in 4th position and Xiaomi ends the top 5 with 23,659,004 devices sold for the first half of 2016.