Pixel Phones Makes Up for 10% of HTC's Annual Shipment
by Habeeb Onawole Oct 5, 2016 2:14 am5
Google finally launched the Pixel phones amongst other devices yesterday after weeks of waiting. It is no news that both phones are manufactured by HTC as that was one of the key details leaked back when the phones went by the codename Sailfish and Marlin.

But the question is what percentage of HTC's annual shipment do the phones have. An account on Weibo "@Daren mobile phone chip" seems to have the answer to the question. According to the account, HTC got an order for 500,000 units for each of the Pixel phones. Summing both together gives you 1 million units and info says the Taiwanese company's shipment for this year is 10 million units. That gives the Pixel and Pixel XL 10% of the annual shipment.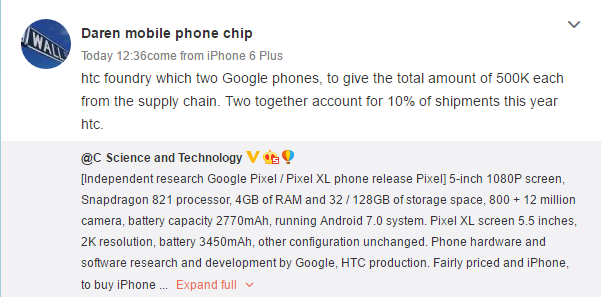 It's no news that HTC is suffering a sales decline in recent years. But 10 million shipments pales in comparison to what other big name manufacturers like Huawei that shipped 60 million devices in the first half of the year and others like OPPO, Vivo, and even Xiaomi ship out annually.
READ MORE: Samsung Files Patent for Bendable Smartphone Display
The company's major focus has been on VR lately and they are a force in that field but if the decline continues, HTC or at least the mobile phone manufacturing section might see the same fate as Nokia or maybe Blackberry.