Xiaomi CEO: No Plans to Launch Small Screen Phone
by Habeeb Onawole Oct 12, 2016 1:20 am0
In the last 2 years or more large screen phones have become mainstream. Even manufacturers like Apple who used to make small screen phones have joined the bandwagon. However, that doesn't mean there are no small screen phones anymore, it's just that they seem to be a dying breed. The only small screen phone that comes to mind that was released this year is the iPhone SE with its 4.0 inches screen. Other flagships have decided not to go below 5 inches.
That takes us back the topic. Xiaomi's flagship phones, the Xiaomi Mi 5 and Xiaomi Mi 5s both have 5.15" screens and they fit nicely when you hold them, allowing for a more comfortable grip and better one-hand use.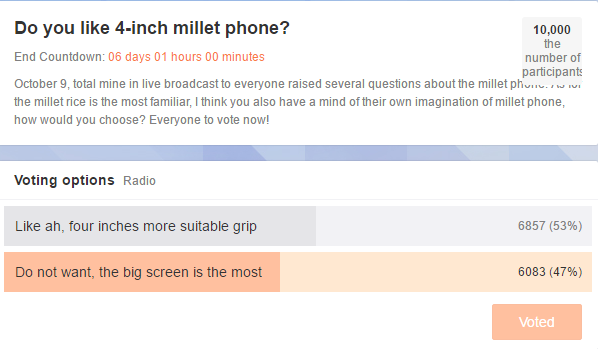 But Xiaomi decided to run a poll to determine if their fans prefer a phone with a 4 inches screen over a large screen phone. While the outcome of the phone favoured the small screen size, the margin wasn't large 52.3% against 47.7%. The CEO, Lei Jun, then proceeded to post on Weibo that the company really has no plans to make a phone with a screen smaller than 5 inches. So if you were hoping to pick up a Xiaomi phone with a small screen, that will not be happening.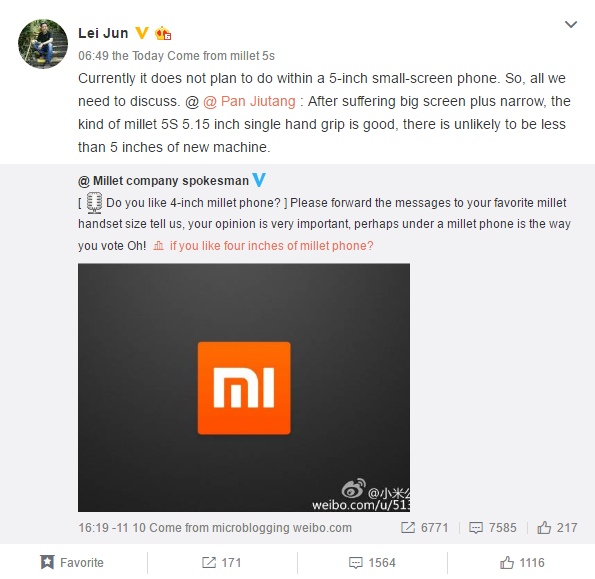 READ MORE: Huawei Teases Honor S1 Smartwatch Ahead of October 18 Event
Back when phones with small screens were the rave, mobile media consumption was not this high. Now people are starting to spend more time consuming content on their phones than sitting in front of a TV screen, and there is no better way to do that than on a large screen phone. Media houses know this, that's why their focus is now directed towards mobile consumers. Mobile gaming as also evolved a great deal. Shooters, racing, and sports games are better on a large screen than a small one.