LeEco's "Mysterious" Phone's Unknown Chip Said to be Helio X27
Yesterday we brought news of a mysterious LeEco smartphone leaked on Weibo sporting an unknown MediaTek Helio chip which leaked online. The device was shown running the CPU-Z software which shows details of the main devices on your phone or PC.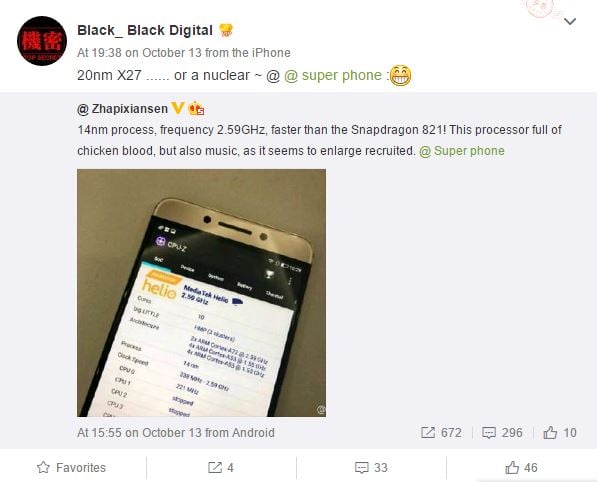 CPU-Z showed the LeEco phone as running a MediaTek Helio SoC (System On Chip) with a clock frequency of 2.59GHz. Other details on the display include the fact that the processor uses a 14 nanometer (14nm) process, deca-core three cluster design, four Cortex-A53 cores running at 1.55GHz, another four Cortex-A53 cores running at 1.55GHz, and two Cortex-A72 cores running at 2.59GHz. This CPU set up is inconsistent with MediaTek's known Helio chipsets.
Now, the Weibo user, Black Digital claims that this is a new chip, the Helio X27. However, he says that 14nm manufacturing node as mentioned in the CPU-Z data is wrong and the chip is manufactured on a 20nm process.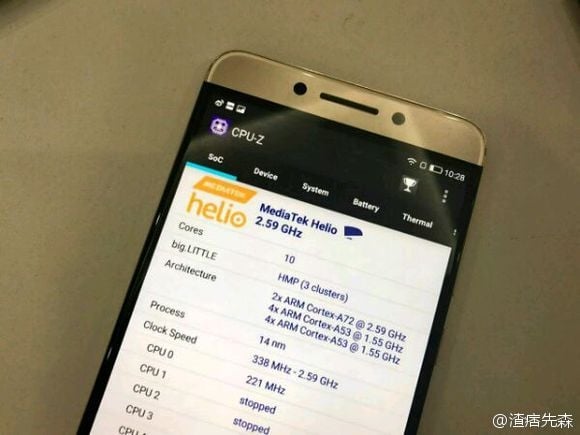 At present,  the Helio X20 uses the TSMC 20nm process, and features two 2.0GHz Cortex-A72 cores, four 2.0GHz Cortex-A53 cores, four 1.5GHz Cortex-A53 cores, while the Helio X25 uses a 16nm process and comes with two 2.5GHz Cortex-A72 cores, four 2.0GHz Cortex-A53 cores, four 1.55GHz Cortex-A53 cores. The Helio X30 architecture is given as two 2.8GHz A73 cores, four 2.2GHz A53 cores , and four 2.0GHz A35 cores, built on the 10nm FinFET process.
Read More: 10000mAh Equipped Oukitel K10000S Coming Next Week
The thing is, the Helio X27 is a new chipset that MediaTek would probably announce soon, but until then, it is an alien SoC. It is non-existent at present so we can take this as an unauthentic information. As stated earlier, an inquiry has been made to LeEco and an official response is still being expected.