Mysterious LeEco Phone Leaks With An Unknown MediaTek Helio Chip
Not long after releasing the Le Pro 3, LeEco is in the news again as the company is likely preparing to unveil another smartphone. The mysterious device was recently spotted in a leaked render but it comes in with some bit of mystery surrounding its chipset.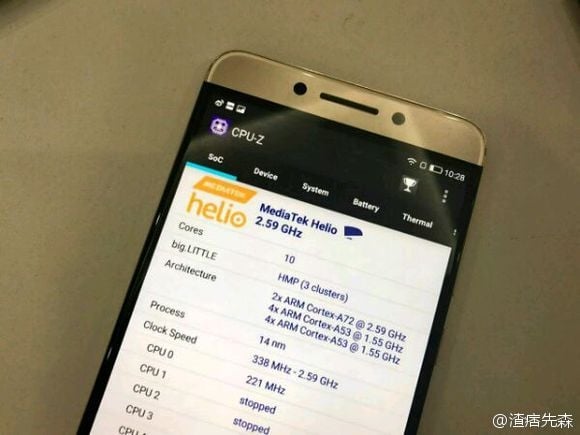 The leaked render spotted on Weibo is said to be that of a LeEco smartphone with its processor shown on the display as a MediaTek Helio chip with a clock frequency of 2.59GHz. Other details on the display include the fact that the processor uses a 14 nanometer (14nm) process, deca-core three cluster design, four Cortex-A53 cores running at 1.55GHz, another four Cortex-A53 cores running at 1.55GHz, and two Cortex-A72 cores running at 2.59GHz.
Read More: Snapdragon 821 Battle: LeEco Le Pro 3 vs Xiaomi Mi 5s Vs Xiaomi Mi 5s Plus
None of the known MediaTek flagship processors use such clock frequencies, from the Helio X20, X25, to the P20. Even the Helio X30 which was recently announced doesn't feature such, so it is confusing attaching this frequency setting to any of the MediaTek chips. Since this was leaked on Weibo, an inquiry has been forwarded to LeEco's official Weibo account and a response is expected soon to determine if this is indeed a LeEco phone.