OPPO Edges Huawei to Top Q3 2016 Phone Sales in China, Vivo Comes Second
The Chinese smartphone market continues to be dominated by the quartet of Huawei, OPPO, Vivo and Xiaomi for another quarter running. IHS Research analyst, Kevin Wang has just revealed via Weibo the ranking of the top Chinese smartphone manufacturers based on sales in Q3 2016. The list features some huge surprises which we never saw coming as OPPO was listed to have sold more phones than any other company in Q3, 2016, edging Huawei out of the top position it had occupied in Q1 and Q2 2016. The BBK subsidiary recorded a total of 22 million units in sales for the third quarter.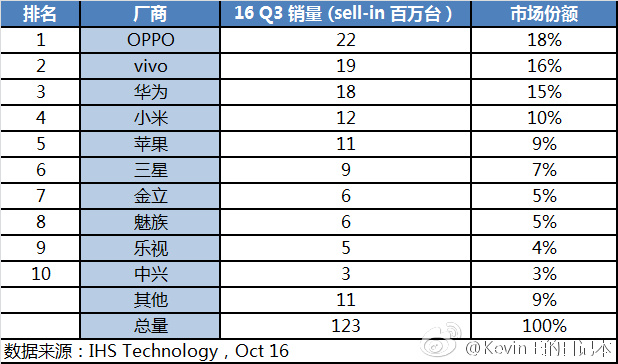 The IHS data also showed Vivo, another BBK subsidiary, came ahead of Huawei to clinch the second position with a total of 19 million units in sales. Huawei surprisingly dropped to the third position with a total of 18 million units in smartphone sales.This is way down from the 32 million units the company was listed to have sold by IHS research data in Q2 2016.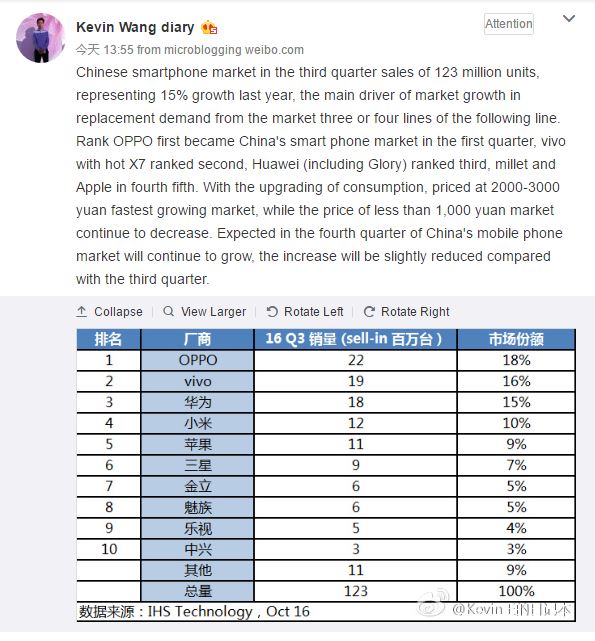 Innovative start up Xiaomi maintained its number 4 position on the ladder from the previous quarter with 12 million units sold in Q3. This however is lower than the 15.22 million units the company was recorded to have sold in Q2 2016.The top five was complete by US based company Apple who sold a total of 11 million units in the quarter under review.
Read Also: Q2 2016 Chinese Smartphone Sales Ranking: Huawei Right On Top, Xiaomi In Fourth
In all, a total of 123 million units were sold cumulatively by all the known Chinese smartphone brands in Q3 2016. This figure is said to represent a 15% growth from the same period last year. The IHS Resarch Director for China also predicted a slight growth in phone sales for the fourth and final quarter of the year but the increase is expected to be reduced compared to that of Q3.