MediaTek's Helio P35 Using 10nm Manufacturing Node Could Power Mid-Rangers Next Year
The next big leap for smartphone chipsets is moving towards the much more power efficient 10nm manufacturing node. Reports have already revealed Apple's new A11 chipset, Huawei Kirin 970 and even Mediatek's Helio X30 / X35 chipsets are said to be manufactured using this new age process.
While all the chips mentioned above are high-end processors that should end up in flagship phones, new rumor from China states that MediaTek could consider using the same 10nm manufacturing node for its budget Helio P35 chip as well. MediaTek's P series chipsets which is the company's 'Performance' series usually end up in mid-range phones that cost anywhere between $150-$400. If you remember, Helio's latest P series chip is the Helio P20 that should be found inside the upcoming Meizu X smartphone.
RELATED: First Helio P20 6GB RAM Smartphone, Umi Plus E Available At $199.99 Today
Like some of you may have already noticed, it is said that MediaTek will skip a few numbers in naming its new P-series chip (so likely no Helio P30) and jump directly to Helio P35. This could be because the new mid-range chip is expected to come with some great specs, very similar to the flagship Helio x30.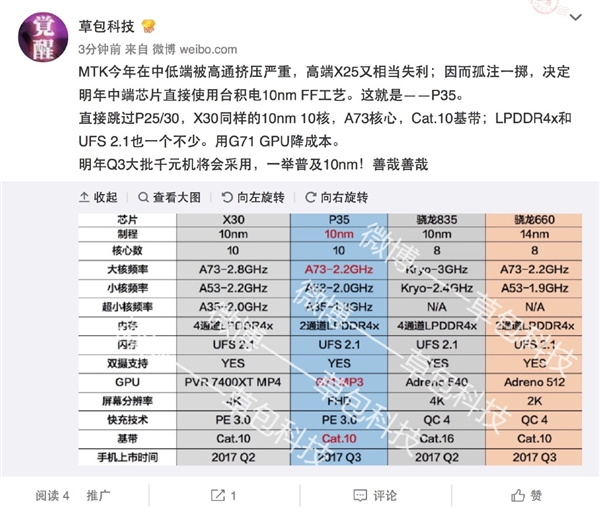 The weibo post which revealed this info has even given a picture comparing the specs of the Helio X30 with Helio P35 and Snapdragon 835. We can see that Helio P35 and Helio X30 have the same 10 core architecture (2 x Cortex A73 + 4 x Cortex A53 + 4 X Cortex A35), however, the clock speed is a bit lower than the X series chipset. Another major difference should be in the GPU department, wherein the P35 is said to feature Mali-G71 MP3 GPU instead of the PowerVR graphics on the X30. Other rumored features of the P35 include dual channel LPDDR4x memory and 1080p display resolution support.
The user further said that the Helio P35 is expected to debut in the third quarter of next year and will be popular among 1000 Yuan mid-rangers ($150-$300 phones) because of its super-efficient 10nm manufacturing node.
So, what do you think, will 2017 finally be the year when MediaTek chipsets are good enough to take on Qualcomm's Snapdragon series?