Rumor: Snapdragon 835 To Use Octa-core Kryo Architecture, Release In Q2 2017
We are all excited for the upcoming Qualcomm Snapdragon 835 which the company officially announced recently, along with Quick Charge 4.0 technology. However, the chipmaker is yet to give out essential details about the chipset, so we still have to rely on rumors and leaks for filling in those details.
A few minutes back, we reported about the upcoming Helio P35 chipset and its specs and the same source has also revealed details about the upcoming Snapdragon 835 chipset as well as Snapdragon 660 processor.
The user says that Snapdragon 835 will bring back octa-core architecture instead of quad-core architecture used by the previous generation Snapdragon 821. The cores are still Kryo, so there will be 4 x Kryo  @ 3GHz and 4 x Kryo @ 2.4GHz. Other rumored features of the 835 include Adreno 540 GPU, 4K display support, UFS 2.1 standard for storage, dual camera support and LPDDR4x four channel memory support.
READ MORE: OPPO Find 9 Rumored As Coming in March Next Year with Snapdragon 835
While what you read above are just rumored specs of the Snapdragon 835, Qualcomm today at an event in Shenzhen, China officially announced that its next generation Snapdragon series chipsets will come with the super fast and world's first Gigabit-class X16 LTE modem. It promises up to 10x faster speeds as compared to first generation 4G LTE devices.
Coming back to the rumors, it is said that the next generation Snapdragon 660 chipset will feature an octa-core design (4 x Cortex A73 + 4 x Cortex A53) manufactured on a 14nm manufacturing node with Adreno 512 and 2K display support.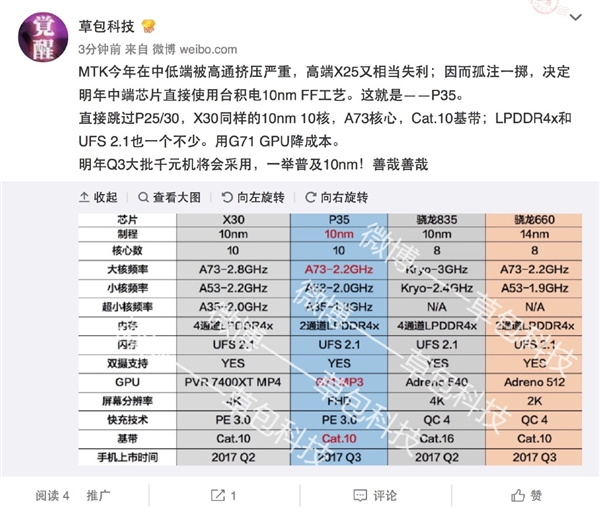 Qualcomm Snapdragon 835 is said to debut in the second quarter of 2017, while the Snapdragon 660 phones should only be available by the third quarter of next year.