MGCOOL Cam 360 Dual Fish-Eye Lens Brings Better Panoramic View
MGCOOL Cam 360 is a sports camera with a difference as it adopts dual fish-eye ultra-wide angle lens which is reputed as being able to capture the entire 360 degree screen, thus bringing better panoramic views. The camera lens literally works like fish eyes, hence the name fish-eye lens. Each of the lens is close to or equal to 180 degree wide angle and both work together to give a wide angle view.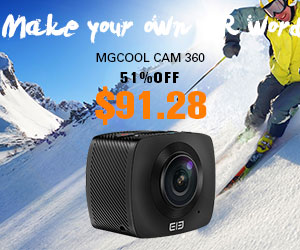 There are some fish-eye camera which uses just one lens but the MGCOOL Cam 360 comes with dual lenses and this makes it possible to avoid the shooting effect caused by conversion of the lens. It prides itself as having the same setup as Samsung's own 360 camera as well as Ricoh, and LG Panoramic camera. They all use dual fish-eye lens design in order to achieve better panoramic effect.
We are not going to bore you with the optical principle behind the workings of the MGCOOL Cam 360's fish-eye camera but suffice it to say that the production quality speaks for itself. What you get is high impact video and phot shoot.
Read Also: Bundle up! Get bonus accessories with every MGCOOL Cam 360!
You can learn more about the MGCOOL Cam 360 from MGCOOL's official website right here, or instead visit her fan page on Facebook from here.