Likely Samsung Galaxy S8 Benchmark Data Appears
What is said to be the benchmark data of Samsung's next generation Galaxy S8 flagship has appeared online. The device suspected to be the Samsung Galaxy S8 was spotted on Geekbench datatbase, uploaded as very recently.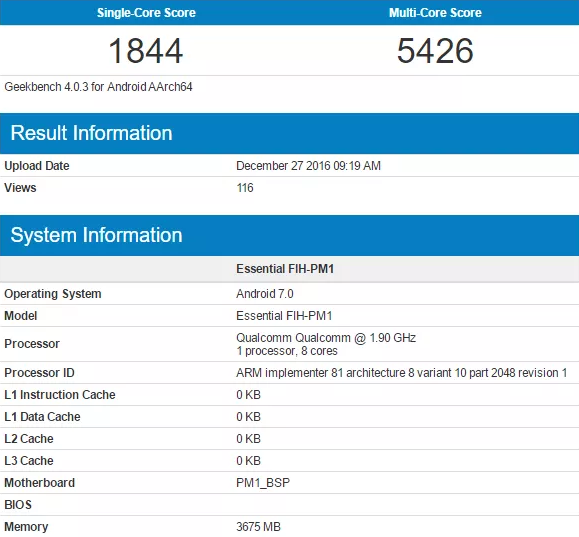 The Geekbench datatshowed the Galaxy S8 which is equipped with a Snapdragon 835 chipset recording a single core score of 1844 points and a multi-core score of 5426 points. When compared to the Apple A1o-powered iPhone 7's score of 3300 on the single-core and 5400 on the multi-core test, the score posted by the Galaxy S8 is somewhat disappointing. We need not despair over that, though, as the device is still a work in progress and perhaps didn't run on full steam. The processor was listed as an octa-core chip clocked at 1.90Ghz, so the clock frequency may have been reduced.
Read More: Samsung Galaxy S8 Plus Phablet May Get S-Pen Accessory; Galaxy Note Series to be Killed?
As usual, Geekbench data usually reveals little about the specs of the device. In this case, the Galaxy S8 is revealed as running Android 7.0 Nougat out-of-the-box and would have 4GB RAM crammed inside. In addition, earlier rumors had tipped the Galaxy S8 to be the first device to use the Bluetooth 5.0 technology and lots of other innovative features. The flagship is said to also come with a design devoid of a physical home button and would have a curve display. The launch date of the Galaxy S8 is presently enmeshed in controversy, as the initial MWC 2017 launch date is now rumored as unlikely.