How to Convert Your Black Xiaomi Mi MIX to the Elegant Pearl White Color
by Habeeb Onawole Jan 9, 2017 2:24 am1
This year is the first time Xiaomi would attend  the Consumer Electronic Show (CES) ever since it was founded in 2010. During their presentation, the company unveiled three new products: a Pearl White variant of the Xiaomi Mi MIX, the Xiaomi Mi TV 4, and the Mi Router HD.
The Mi MIX was released last year and was only available in black. Later, rumors of a white variant were circulating and not until 2 months later did it finally launch. Xiaomi hasn't given a specific date when the new color variant will be available for purchase, but if you own a black variant and want to give it that elegant white pearl look, you might want to see what this Weibo user came up with.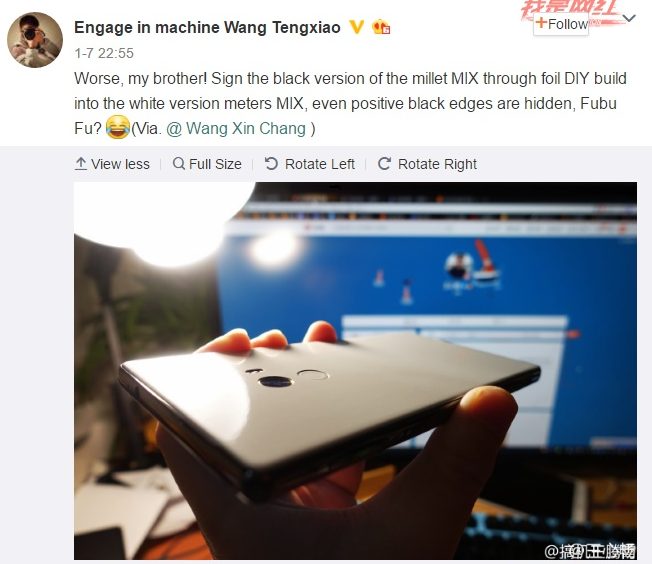 The post made by a user whose Weibo name translates to Engage in Machine Wang Tengxia shows a DIY method of changing a black Mi MIX into white. All you need for the task is a piece of white foil, a stencil cutter, some glue if the foil doesn't have an adhesive, and steady hands.
Step 1: Place the foil over the back of the phone, making sure there are no air bubbles trapped underneath and that it shows the outline of the camera and LED flash.
Step 2: Using the stencil cutter, gently trace out the piece of foil covering the camera and LED flash and peel off the foil.
Step 3: Fold the excess foil over the sides and up to the front bezel.
Step 4: Cut out the foil covering the front camera.
Step 5: Cut off all excess foil remaining.
Step 6:  Now you have a pearl white Xiaomi Mi MIX.
READ MORE: Get a Beautiful and Affordable Xiaomi Redmi 4A for $100
Basically this should be as easy as applying a skin to your phone but might be a little difficult since it has not been pre-cut from the factory.
Do you own a black Mi MIX?  Why don't you give this a try and let's see how it goes.