Qualcomm Snapdragon 660, 630 & 635 Chips Rumored, Details Leaked
In a bid to maintain its stronghold on the mid-range and low-end smartphone market, Qualcomm isn't only setting its eyes on flagship chips but also on mid-range and low-level chips. The company is now rumored to be working on a couple of new chipsets identified as Snapdragon 630 and Snapdragon 635 SoCs.

Both the Qualcomm Snapdragon 630 and Snapdragon 635 chips are said to be enhanced versions of the highly efficient Snapdragon 625 chipset which Xiaomi recently announced would feature on its Redmi Note 4X smartphone. The SD 625 is known to have very efficient power management and heat reduction such that battery life is extended. Thus, the  Snapdragon 630 and Snapdragon 635 are expected to have such features and even more.
According to the leak, both mid-range chips would use eight Cortex-A53 cores in an octa-core arrangement. Some would have preferred the superior Cortex-A73 cores but then, it's just a rumor until Qualcomm goes official with it. We don't have further details of both rumored SoCs but since they are upgrades of the SD 625, we expect them to come with features such as support for LPDDR3 memory, LTE Cat. 7 baseband and a clock frequency of 2.0 – 2.2GHz as well as the Adreno 506 GPU or higher. The SD 625 came with these features, so an upgraded version would pack a more strengthened lineup.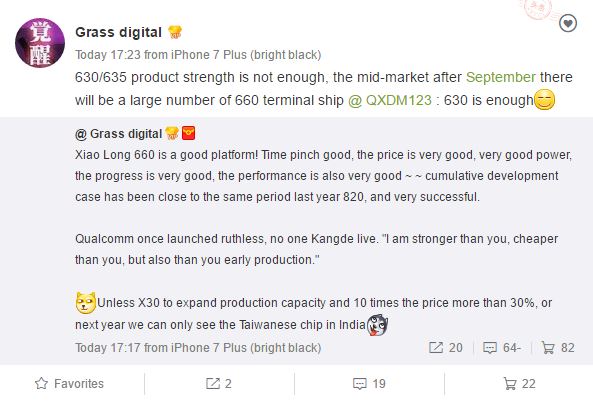 Related: Qualcomm & Leadcore Said To Join Forces To Make Low-End Chips: MediaTek in trouble?
In addition, Qualcomm is also said to be working on a Snapdragon 660 chip which would be manufactured using Samsung 14nm LPP process and have an octa-core arrangement which may be a combination of the Cortex-A73 and A53 cores. The SD 660 is said to come with the Adreno 512 GPU and support dual-channel LPDDR4X-1866 memory, UFS 2.1 storage, up to 24MP camera, LTE Cat. 10 and three carrier aggregation. The rumor added that OPPO, Vivo and Xiaomi will feature the chip in their upcoming smartphones. The Snapdragon 660 is expected to be available in September.
(source)